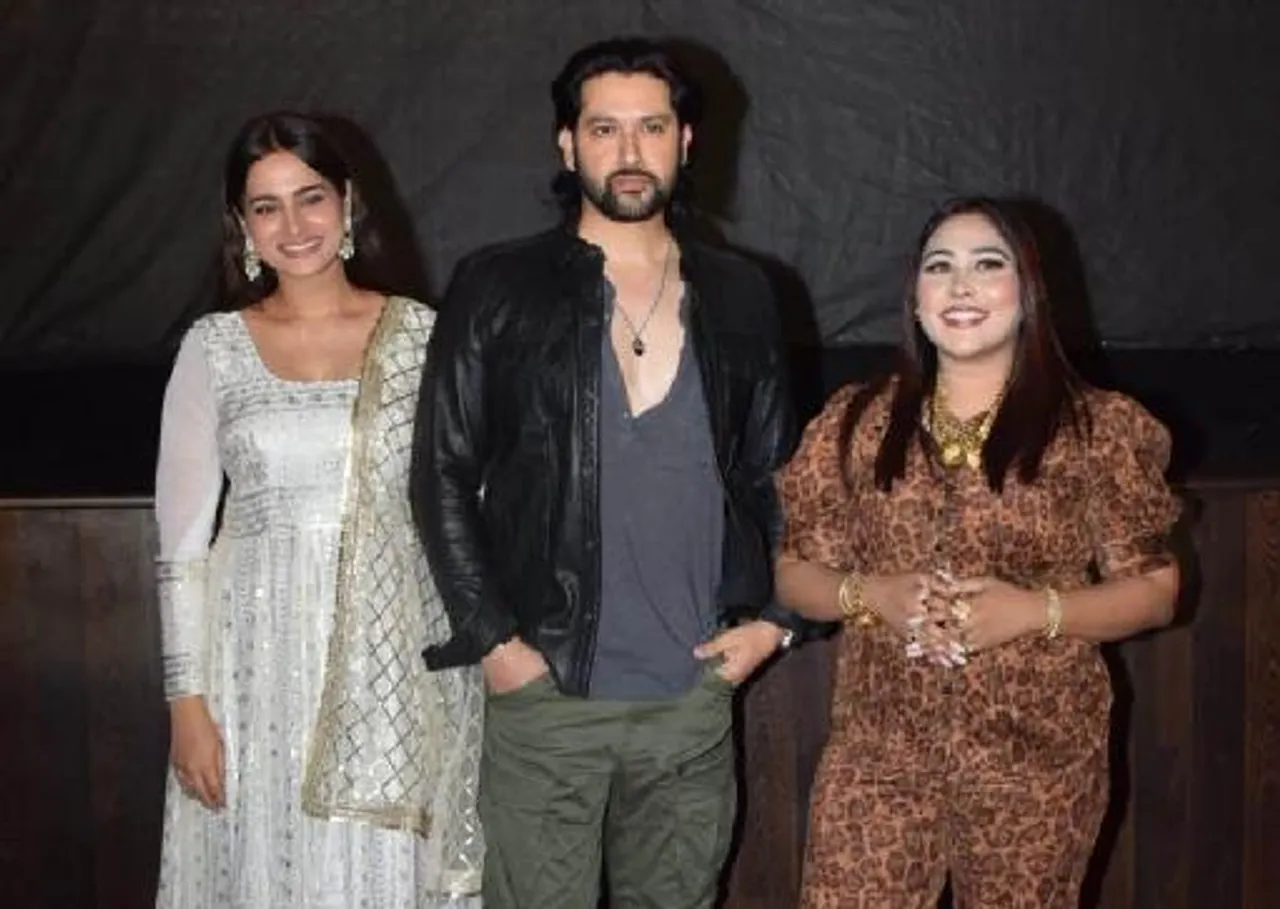 Seeing the trend of music videos, Bollywood stars have also started working on albums. A beautiful music video "Taveez" featuring Aftab Shivdasani, Ayesha Khan, and Heer who has given many hits in Bollywood has been released on the official channel of BCC Music Factory. Sung by Afsana Khan, the song was launched in a grand manner at PVR Icon, Mumbai where Aftab Shivdasani, Ayesha Khan, Afsana Khan, Lyricist Youngveer, Music Composer Goldboy, Choreographer Tanish Sharma, Lyricist Saaj and the Founder of BCC Music Manish Sharma were present. The song has been shot beautifully, with which a lot of dancers, choreography, and locations are amazing.
Let us tell you that Afsana Khan, who has sung the popular song 'Titliya Varga' and was a contestant on Bigg Boss, has captivated the hearts of people with her voice in a very short time. Punjabi Singer Afsana Khan has given many consecutive hit songs and now she has come up with Taveez which is connecting with the hearts of people.
Speaking to the media at the song launch, actor Aftab Shivdasani said that I had not done any music video for many years, when the offer of this song came to me, I accepted it immediately because it has beautiful music, amazing singing, wonderful location. Then I also found its title very attractive, a beautiful, deep, and meaningful title. Its words are very relatable. When you see the song why the title has been kept, you will understand."
In the song, Aftab is seen dashing in the beard look, nowadays he is also sporting a light beard in real life. In response to a question, Aftab said that this look of mine is fitting perfectly in this song. The song is very beautiful, it is getting amazing responses.
Ayesha Khan, who is playing the female lead opposite Aftab in the song, told that when you see the song, it will be justified why it has been named Taveez. There comes a time in everyone's life that he or she thinks of wearing a Taveez. Now whenever people hear the word Taveez, they will remember this song.
I have been watching Aftab Shivdasani's work. The most helpful thing for me in this song was that Aftab sir was with me. I used to ask him for opinions or suggestions on every matter. His experience has been a huge plus point for me.
Manish Sharma, Founder, BCC Music Factory said that Aftab is a fantastic actor and a wonderful human being. He said yes to doing this song, it's a big deal for us, for our music company. Hope everyone will like the song.
Aftab further said that, in the field of music, every phase has a different test. Melody used to run a lot in the nineties. I believe that the melody is timeless. Today all kinds of different types of songs are being made, but melody is always alive. Melodious songs are always in people's minds. I am fortunate to have got a chance to do so much work in my career. The more experience you get, the better you become. How can I grow as an actor, this has been made possible by experience, I am thankful to all the fans and cinema lovers for my career graph. I want to keep working with good people in the future. There are good and bad people in every industry, but if you do good deeds, you will get better results.
Singer Afsana Khan told that Aftab Shivdasani has been my favorite actor for many years. Ayesha Khan is also a great actress. The chemistry of both is looking amazing in this song.