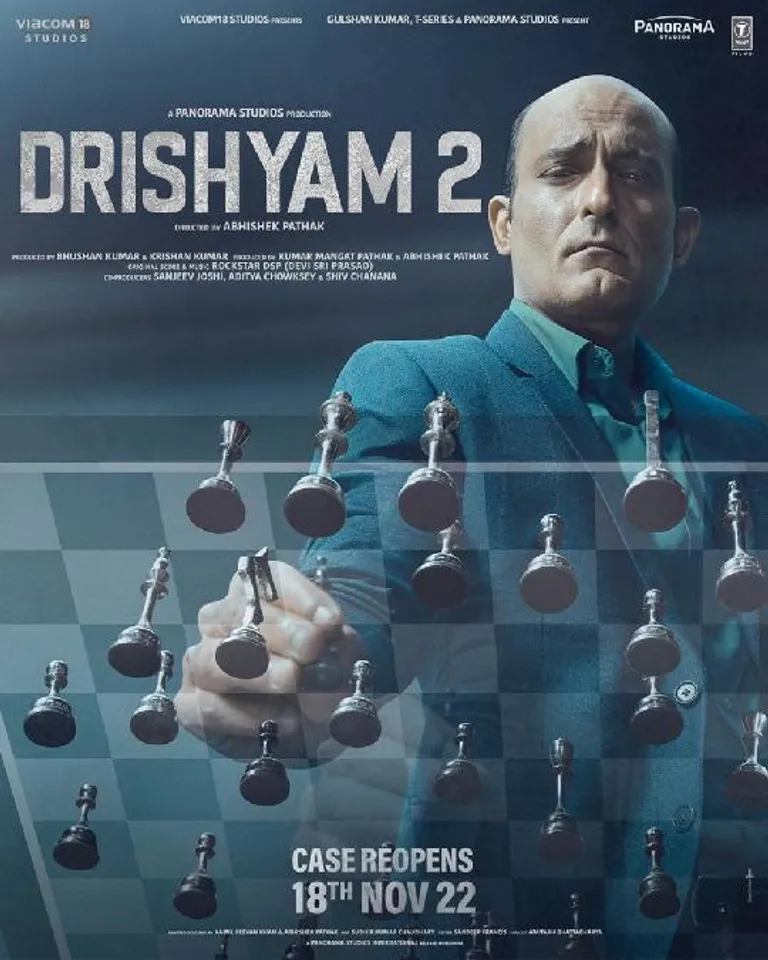 Right after teaser release, the makers of Drishyam 2 unveils the first look poster for Akshaye Khanna from the thriller.
The official handle of Panorama Studios dropped the poster on social media. It said, "Dushman ko haraane ka mauka aksar dushman aapko khud deta hai #Drishyam2 Case Reopens on 18th November, 2022. @PanoramaMovies @ajaydevgn #AkshayeKhanna #Tabu @shriya1109 #RajatKapoor @ishidutta #MrunalJadhav @AbhishekPathakk #BhushanKumar @KumarMangat #KrishanKumar @andhareajit @ThisIsDSP #SanjeevJoshi @AChowksey #ShivChanana @Viacom18Studios @TSeries #Drishyam2 #VijaySalgaonkar"
On the poster, Akshaye Khanna is seen sharply dressed in a suit, while he is seen playing chess, with an intense and grim look on his face. And he will be seen helping Tabu's character in finding her missing song.
Helmed by Abhishek Pathak, the film also stars Ajay Devgn, Tabu, Ishita Dutta, Akshaye Khanna, Rajat Kapoor, and Shriya Saran in the lead roles.
Drishyam chronicled the story of a family man Vijay Salgaonkar, played by Devgn. He did all he could to protect his family after an unfortunate incident involving his elder daughter brought them under the police's scanner.
Tabu essayed the role of Meera Deshmukh, Inspector General of Police. Now, in the sequel, the makers have promised to take the audience on a "yet another thrilling journey, the film is slated for 18th November, 2022 release.