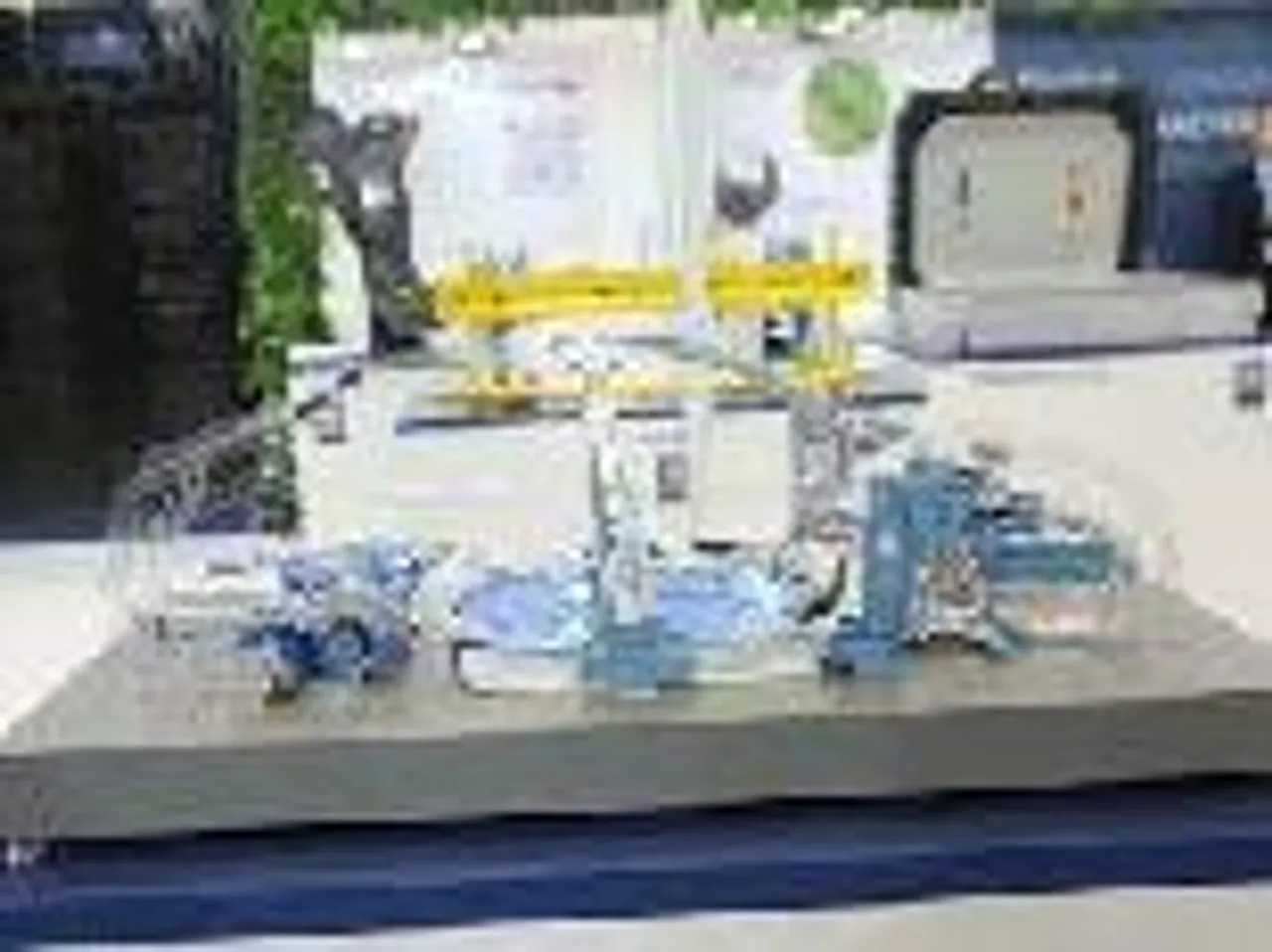 With 2 plants in Pune and 1 in Chennai, the Company will expand business to a total of four hot stamping lines this summer, to meet the needs of the OEM

Gestamp presents its innovations and products of its three business units (BiW, Chassis & Mechanisms) focusing on a safer and lighter mobility for the ICE, connected and electric mobility of the future

Helping the clients accelerating the transition towards electrification is key for Gestamp in India
​Gestamp, the Spanish multinational Tier 1 supplier, specialized in the design, development and manufacturing of components for the automotive sector, announced its fourth hot stamping line in India at the 16th Auto Expo 2023-Components fair where the company is showcasing its array of products and innovations such as Extreme Size Parts, Battery Boxes, Cell-to-Pack concepts, Joining Technologies, Chassis innovative Lightweight Solutions or Active Frunks. With this new development, Gestamp aims to raise the bar in terms of its relevance in India as a leading player for automotive parts sector as the Indian automotive sector grows exponentially to emerge as the third largest automotive market in the world.
Gestamp looks forward to 2023 in India with a new hot stamping line to open later in the year that adds up to the existent two in Pune and one in Chennai. Since its inception in 2006, Gestamp India has followed a strategy (as it is globally) to be substantially close to its clients, co-developing solutions in close proximity to the OEMs. Gestamp is able, due to its R&D capabilities, to co-develop projects jointly with Indian customers and help them on the road to electrification.
Glyn Jones (Country Manager and President of Gestamp India) said, "With three plants in the country and one R&D center, the Company has put the focus on the growing awareness of the need to have safety standards that match the standards of Global NCAP. Of all the elements of safety of the car, the most important is the car body structure, due to the protection that it provides to passengers when a collision takes place. Hot stamping, a technology Gestamp is the world's biggest player, has been key in this process and as the driving force behind Gestamp India´s growth."
The trends and changes in the mobility of tomorrow-present automotive manufacturers and their suppliers with a variety of new opportunities. The greatly increased weight of electric vehicles due to the integration of battery boxes and the resulting changes in vehicle structure and dynamics are just a few examples that Gestamp has to take into account when developing its products and technologies. Furthermore, aspects such as safety, lightweight construction and a reduction in CO2 emissions continue to play a decisive role. Against this background, the R&D teams will be presenting core innovations and technologies from Gestamp's three business units at the Auto Expo 2023-Components: BiW, Chassis and Mechanics (Edscha).
BiW
In the BiW area, Gestamp will present some innovations and technologies from the Company´s ICE/EV portfolio. Hot stamping in India for Indian OEMs is very important due to the new GNCAP crash requirements, as conventional parts need to be not only safer but also lighter.
Sachin Bhoutkar Director R&D BIW India said: "This new product family offers a unique combination of increased crash & safety, light weight, lower costs and CO2 reduction in a single product. This hot stamped steel solution with different material properties and thickness combinations helps our OEMs to achieve offer a significant reduction in assembly time. Extreme size parts represent an optimal solution for the design of new electric vehicles and make it possible to largely cope with crash & safety in the vehicle body and also help to reduce complexity of the battery box."
Gestamp is also working on the development of safer and lighter battery electric vehicle (BEV) solutions specifically designed for urban mobility and is showcasing for the first time, a multi-material battery box made of aluminium and FRP along with steel and aluminium battery box parts. These materials represent a solution for small electric vehicles and point the way to the future of mobility. With classic battery box developments and now with new cell-to-body concepts, Gestamp has harnessed intelligent ideas to achieve a significant reduction in the overall weight of electric vehicles while ensuring a high level of safety at the same time. This intelligent concept for urban mobility is part of another product family of innovative battery concepts developed by Gestamp R&D.
In combination with the innovative battery concepts, Extreme Size Parts fit seamlessly into the current BiW concepts in India, allowing Gestamp to offer customers less complex and more efficient solutions. Extreme Size parts are a new generation of body parts that integrate multiple functions as one-piece solutions in Giga-Stamping.
Gestamp will also be exhibiting some new developments as an extension of its product and technology portfolio to be prepared for the mobility requirements of tomorrow. This includes Engineered Products and related technologies such as Multistep, laser technology, as well as an insight into its aluminium competencies. The use and combination of different manufacturing and joining technologies from the company's broad portfolio will offer diverse technical solutions.
Chassis
Ralf Koorman Head of the Chassis Engineering Department in Bielefeld, Germany, said: "Safety is key for Gestamp, especially the complex chassis components in the front and rear axles of a vehicle are subjected to high loads and forces while at the same time playing an important role in the safety of the vehicle. Located in the lower part of the vehicle, chassis is an imported component and contributes to the full vehicle crash performance. That is why it is so important to develop different ideas and solutions for modern and future-oriented components that meet current and future e-mobility requirements in the chassis."
Gestamp delivers validated chassis components from small vehicles to larger ones, from research into advanced technologies, first concepts with design and development, prototyping to complex component testing. The fully integrated production processes in the concept phase include flexible platform solutions for different vehicle powertrains (electric vehicles, plug-in hybrid vehicles and internal combustion engines), with optimal performance and safety requirements being met with minimum weight and the lowest possible CO2 impact.
The introduction of so-called "HighPerTubes" (high-performance-tubes) in the development of the rear axle suframe has resulted in an improvement, especially in electric vehicles, by increasing crash performance while reducing weight at the same time.
In order to meet the current requirements in terms of performance, CO2 reduction and minimal weight while at the same time being extremely robust, Gestamp Chassis follows an integrated approach to design and manufacturing, which is underpinned by a constant pursuit of continuous improvement and design optimization.
Mechanisms
Gestamp's third business unit in India, well known under the brand name Edscha, showcases for the first time in India at the Auto Expo. In May 2022, Edscha signed a joint venture agreement with Indian automotive supplier Aditya Auto Products & Engineering with location in Chakan, The cooperation thus extends to the development, manufacture and distribution of hinge systems, door checks, latches and parking brakes. Through the 50:50 joint venture, Edscha secures direct access to the Indian market.
"With innovations such as the Active Frunk," Edscha Sales Director VW-Group Jörg Paulus said, "we offer a state-of-the-art solution specially tailored to electric vehicles. Where there is still a combustion engine in most vehicles today, space is freed up in the electric vehicle that can be used as an additional luggage compartment, for example." The Active Frunk combines an actuator for automatic opening and closing of the front lid with a hinge for active pedestrian protection.
In the area of sliding doors, Edscha develops customized solutions for passenger cars and commercial vehicles. In addition to the lower, middle and upper roller, the focusing on the rails developing, among other things, a multi-part rail in which both aluminum and plastic components can be used.