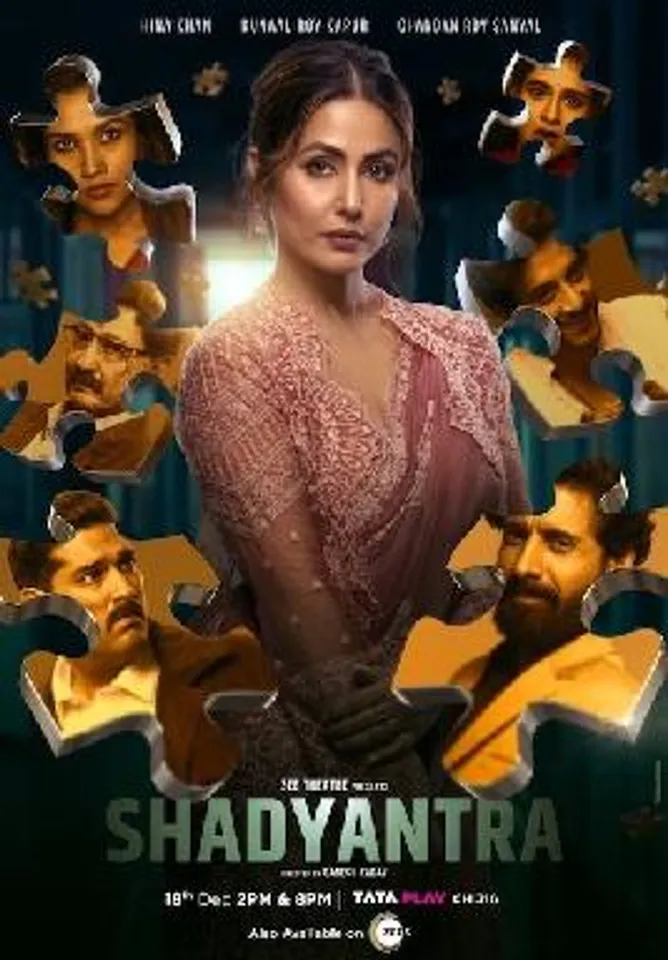 Hina Khan - #Shadyantra se behaal? Ya rach rahi hai Natasha khud ka koi jaal? Catch the #Premiere of Shadyantra on December 18 on @ZEE5India and at 2PM and 8PM on @tataplay Theatre #ChandanRoySanyal #KunaalRoyKapur @shrutibapna #AnangDesai #GaneshYadav"
The murder mystery stars Hina Khan, Chandan Roy Sanyal and Kunaal Roy Kapur, helmed by Ganesh Yadav, 'Shadyantra' is on the lines of a traditional Agatha Christie mystery but it also offers many layers.
The teleplay narrates the story of a married couple, Rohan Tiwari and Natasha Malhotra Tiwari. 
Sharing the teaser, Hina Khan wrote, "Main phasi hu jhooth aur fareb ke jaal mein. Kisne racha ye #Shadyantra? @KunaalRoyKapur #ChandanRoySanyal @Zee_Theatre" 
Hina Khan as Natasha is the heiress of a construction company but leads a contented life far removed from business intrigue. Then a shocking murder changes Natasha's life forever and investigating police officer Mohan Khanna arrives to solve the mystery. 
This murder mystery is all set to be on-air at Tata Play Theatre on December 18. It will also be available on Zee5. The teleplay also stars Shruti Bapna, Anang Desai and Sumukha.