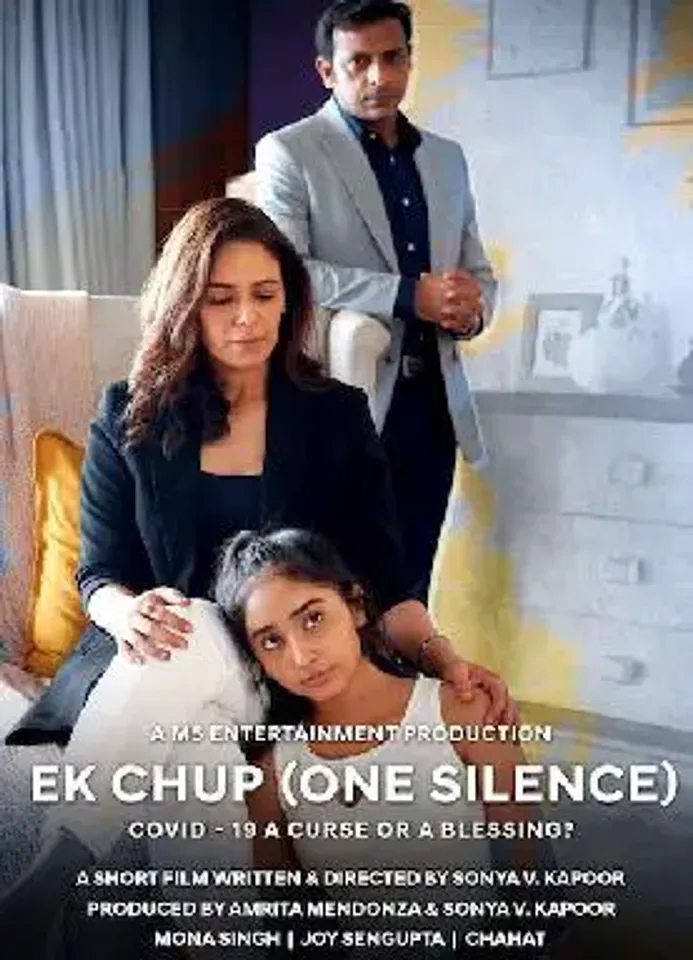 After making head-ways with her stint in Laal Singh Chaddha, actress Mona Singh makes a comeback to short film space, unveils the first look poster for Ek Chup (One Silence).
Ek Chup' is produced by Amrita Mendonza and Sonya V.Kapoor under their banner M5 Entertainment. The film revolves around a couple and their daughter, it talks about domestic violence during lockdown.
Sharing the first look poster, Mona Singh captioned it, "EK CHUP (One Silence) - Presenting the poster of my upcoming short film. A small piece of a strong social message on Shadow Pandemic. Writer & Director @sonyavkapoor, Producer @amritamendonza, @m5entertainmentproductions @m5entertainment @joysengupta97 @iamchahattewani  #EkChup #shortfilm #filmposter #films #filmfestival #launch #comingsoon #drama #m5entertainment"
The film also star Joy Sengupta and child artist Chahat. The film is based on a very important issue, namely, the shadow pandemic of violence against women and domestic abuse during the Covid-19 lockdown days. It was UN Women that first termed it as the 'shadow pandemic' – a pandemic within a pandemic.
Sharing about the same, Sonya V Kapoor who wrote and directed the film shared, "Friends Presenting My upcoming short film - Ek Chup. 
Ek Chup is Written and Directed by Meeeeee…Produced by @amritamendonza and Starring @monajsingh along with @joysengupta97 and @chahattewani, Ek Chup is a very important film as its based on 2 very important issues - Shadow Pandemic during Covid and the Silence that surrounds it hence the title of the film – Ek Chup ( One Silence). COMING SOON Pls give your blessings"
In this film, the female protagonist also believes in the philosophy of life that says 'Silence is Golden' and that is the base of the quirky story.