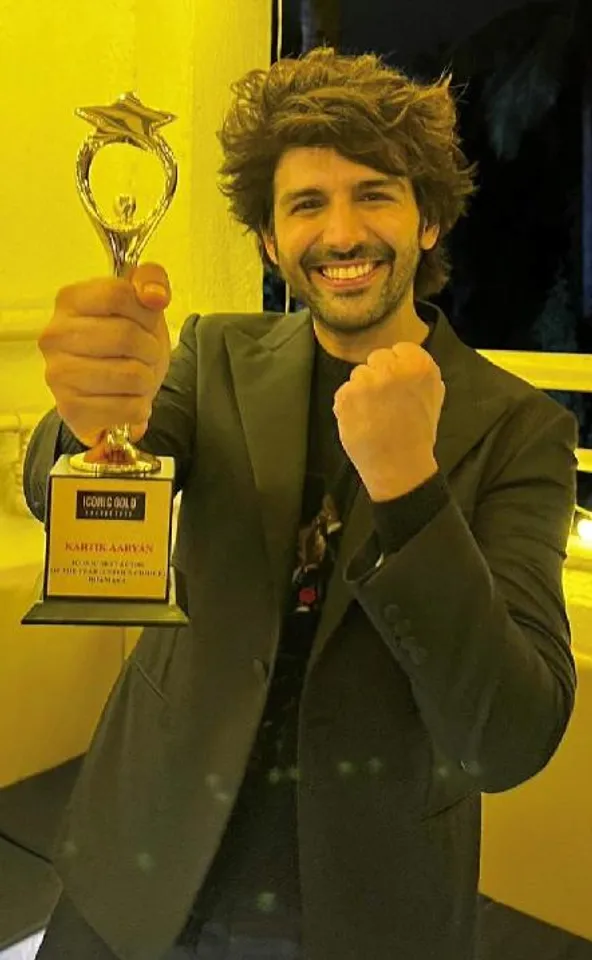 Sushant Singh Rajput's demise opened a can of worm, the dark of entertainment industry, where newcomers are being bullied and pushed into corner to take drastic steps. Lately few media portals have been running negative articles about another non-filmy actor Kartik Aaryan. 
 When asked about negative press articles and individuals trying to hassle him, Kartik said, "I don't read such articles. I really don't, and No one trying to hassle me, there is nothing like that, look here, I just won an award, and I am happy" 
 
Kartik Aaryan took home the trophy for Best Iconic Actor of The Year Award 2022. When asked about winning the trophy, he said, "I am really happy about winning the award and this evening has turned iconic for me, I think I want to thank Iconic Awards for making my whole year" 
 
Kartik bagged the award for his stellar performance in Dhamaka, which is written and directed by Ram Madhvani who also produced the film with Ram Madhvani Films, RSVP Movies, Lotte Cultureworks, Global Gate Entertainment and Lionsgate Films. 
 
Talking about the film and shooting it during the pandemic, Kartik said, "When this movie was planned a year ago, Ram Madhvani, RSVP Movies, and the entire team, it was pandemic, and we had some tough times. If I could share a little trivia, it was first movie that was made during the pandemic, it was shoot during the pandemic and released during the pandemic. It was difficult to shoot the film in isolation and in bio-bubble, I think it was the first time I did a movie solely prepped on zoom-call, and straight meeting on the sets without any workshop. I would like to credit the whole team of Dhamakaa for planning and executing the film. I am glad that I am awarded for the film and hopefully I'd getting more such awards"
 
Meanwhile on the work front, Kartik Aaryan has a busy slate with movies such as Bhool Bhulaiyaa 2, Shehzada, Freddy, Satyanarayan Ki Katha, Captain India and more.