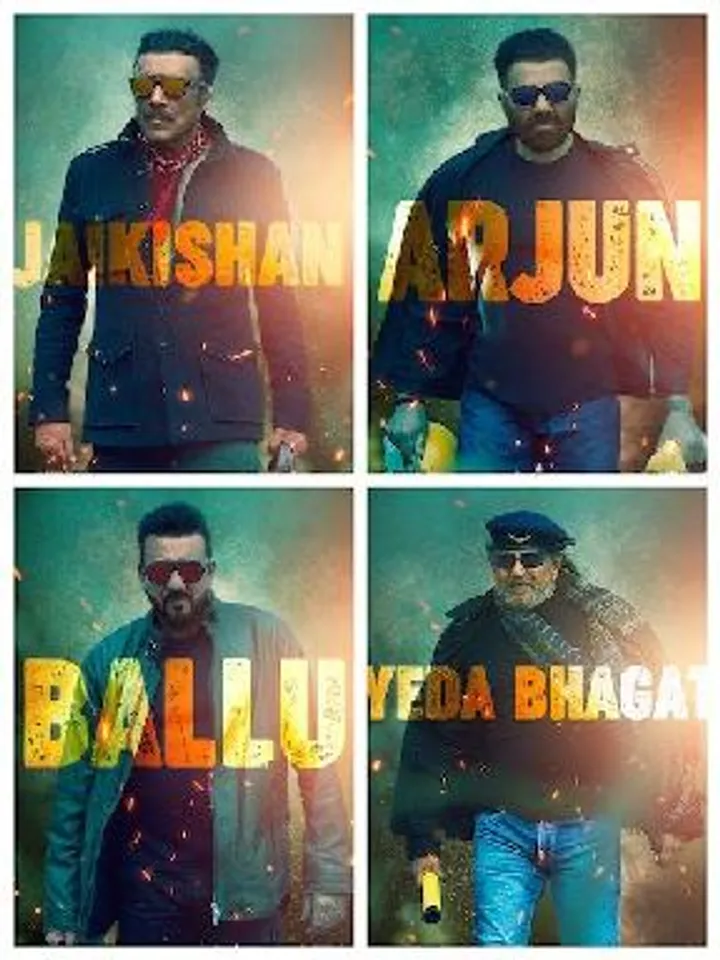 Sanjay Dutt will be seen playing the role of Ballu, Jackie Shroff as Jaikishan, Mithun Da as Yeda Bhagat and Sunny Deol as Arjun. Interestingly, the character names are taken from some of their most block-buster hits.
Sharing the posters on his social media profile, Sanjay Dutt wrtoe, "Khalnayak ho ya Hero, macha denge Gadar. Koi shaq!!! @mithunda_off @iamsunnydeol @bindasbhidu @khan_ahmedasas @shairahmedkhan #VivekSinghChauhan #NiketPandey #JojoKhan 
@PaperdollEnt @ZeeStudios_ @3DimensionMP_"
Filmmaker Vivek Chauhan, who has previously worked as an assistant for shows and even films like Tanu Weds Manu Returns, will be making his directorial debut with the film.
Sharing the same, Sunny Deol wrote, "Khalnayak ho ya Hero, macha denge Gadar. Koi shaq!!!"
Sanjay Dutt as Ballu, reminds you of his most iconic character from Khalnayak, where his character had the same name. Jackie Shroff's real name is Jaikishan, Sunny's character name Arjun is just as same his Ghayal's character. Mithun Chakraborty was seen in a salt-n-pepper look. While the title of the film is kept under wraps, the makers revealed that it will be an action entertainer. https://newsonfloor.com/article/detail/sunny-deol-jackie-shroff-sanjay-dutt-and-mithun-chakraborty-in-zee-studios-next-2539.htm
The film will be produced by Ahmed Khan and Shaira Ahmed Khan in association with Zee Studios.