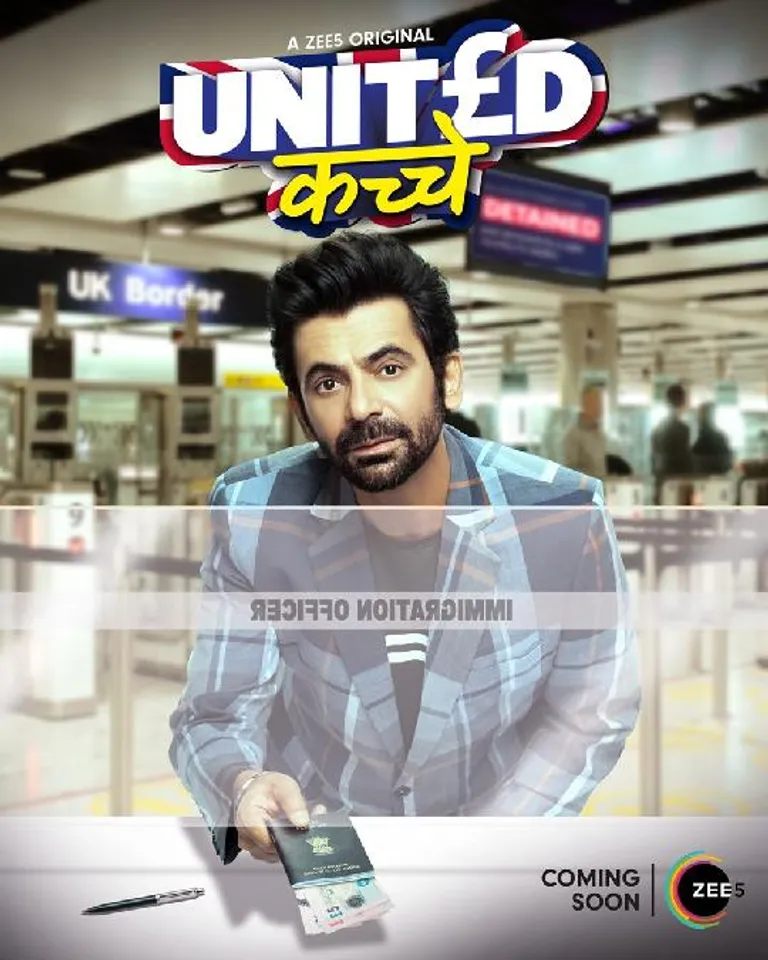 Actor Sunil Grover took to his social media profile and released the first look for the series, he captioned his post, "Sawari UK ki yatra ke liye taiyaar hai, aap bhi packing shuru kijiye, bahut jald aa rahe hai #UnitedKacche only on #ZEE5 Coming soon! @ZEE5 @manurishichadha @nickhilist @nayanidixitt @sapnapabbi_sappers @dikhchyaoon @nilukohli @poojan_chhabra #SatishShah @manav_shah90 @dharampal.thakur @vikrammehra30 @sidakumar @nakliphotographer @yoodleefilms @drzeusworld @manojsabharwal786 @khurramimdad @ragster29 @zee5global"
Helmed by Manav Shah, 'United Kacche' will premiere soon only on ZEE5. In the first look poster, Sunil Grover is seen dressed in checkered blazer presenting his passport to an immigration officer at the airport. In the blurry background one can read "detained" on a display screen hanging from the ceiling.
'United Kacche' follows Tango whose forever dream was to move abroad from his village in Punjab. He finally manages, but as a kachcha, an illegal immigrant. Is life in the UK as rosy as Tango thought it would be?
The series also stars Sapna Pabbi, Nikhil Vijay, Manu Rishi Chadha, Nayani Dixit, Diksha Juneja, Nilu Kohli, Poojan Chhabra and Satish Shah among others.
Produced by Yoodlee Films, 'United Kacche' will premiere soon only on Zee5.