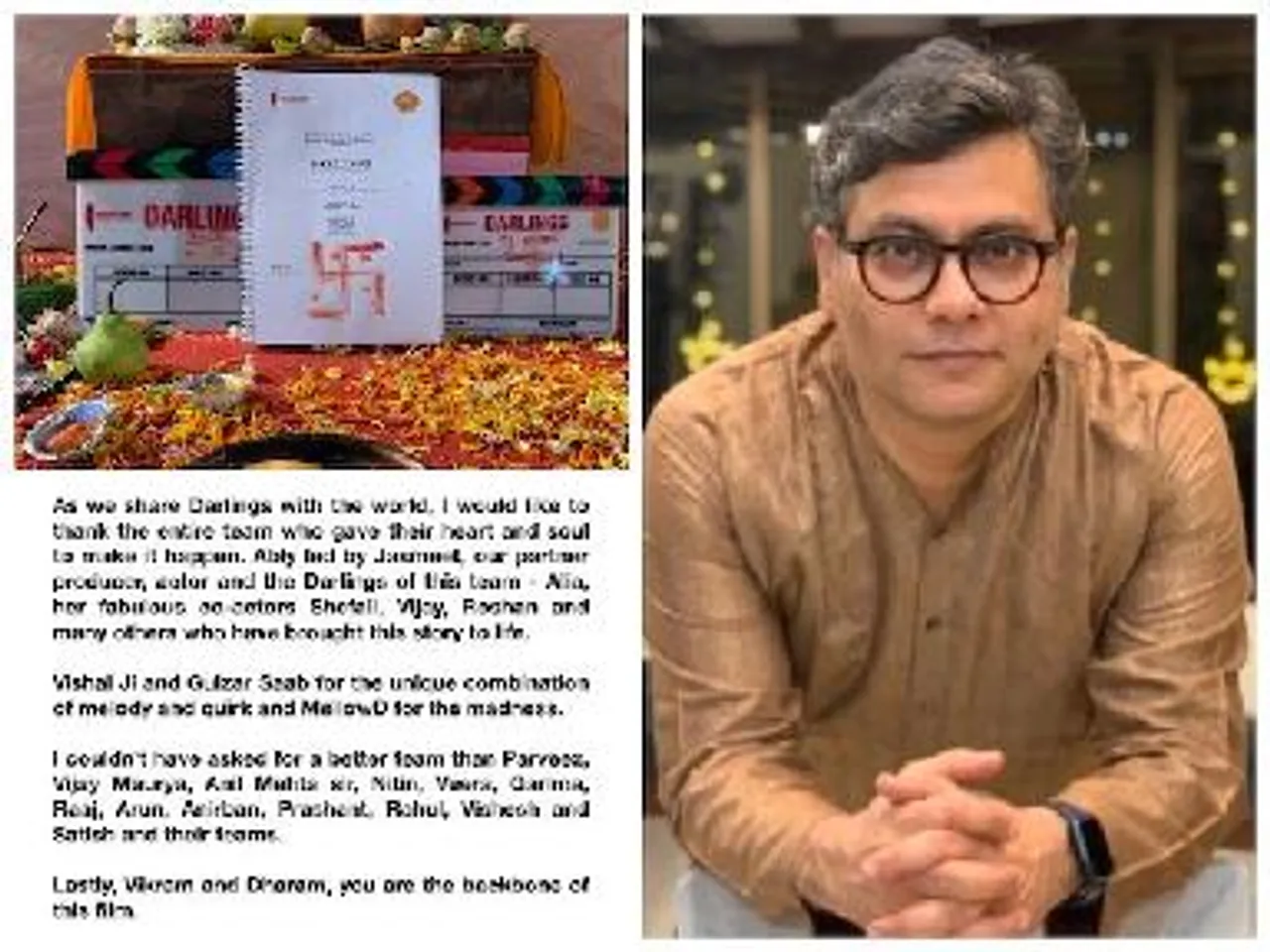 Red Chillies Entertainment's COO, producer Gaurav Verma expresses his gratitude towards the team of Darlings, as the movie starts streaming on Netflix from today. 
Known for producing movies such as Love Hostel, Bob Biswas, Badla, Kaamyaab, Ittefaq and Class of '83, Gaurav Verma took to his social media and shared a heartfelt note. It read, "As we share Darlings with the world, I would like to thank the entire team who gave their heart and soul to make
it happen. Ably led by Jasmeet, our partner producer, actor, and Darlings of this team – Alia, her fabulous co-actors Shefali, Vijay, Roshan and many others who have brought this story to life" 
"Vishal Ji and Gulzar Saab for the unique combination of melody and quirk and MellowD for the madness. I couldn't have asked for a better team than Parveez, Vijay Maurya, Anil Mehta sir, Nitin, Veera, Garima, Raaj, Arun, Anirban, Prashant, Rahul, Vishesh and Satish and their teams. Lastly, Vikram and Dharam, you are the backbones of the film. With Gratitude and Love" added Verma. 
Helmed by Jasmeet Reen, and starring Alia Bhatt, Shefali Shah, Vijay Varma and Roshan Mathew in the lead roles, the film is set against the backdrop of a conservative lower middle-class neighborhood in Mumbai, the story explores the lives of a quirky mother-daughter duo, who while navigating through exceptional circumstances, finds courage and love as they try to find their place in the world.
Produced by Gauri Khan, Alia Bhatt and Gaurav Verma, the film is streaming on Netflix. 
 Apart from Darlings, producer Gaurav Verma is also bankrolling Bhakshak' starring Bhumi Pednekar.