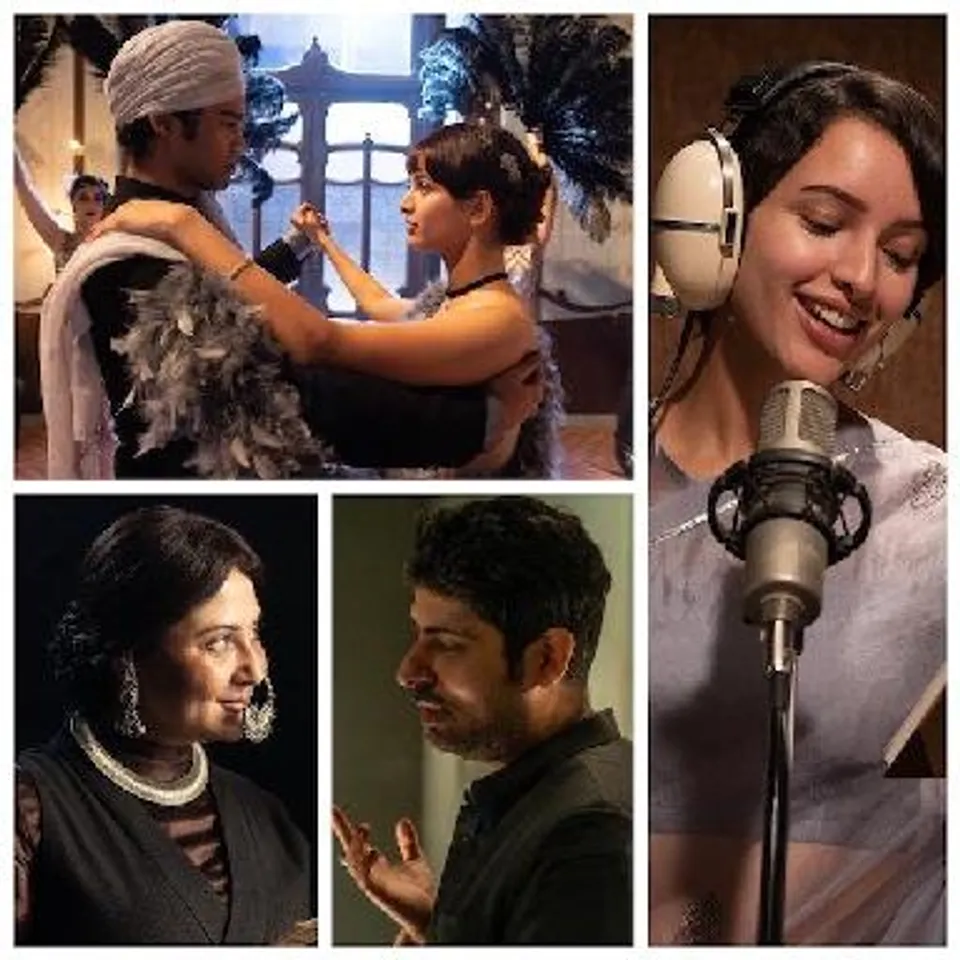 Sharing the trailer on her social media profile, Tripti Dimri captioned her post. "She didn't want fame, glamour and success. She just wanted to make her Mumma proud. Catch Qala's story from 1st December only on Netflix.  @netflix_in @officialcsfilms @kans26 @anvita_dee @tripti_dimri @babil.i.k @swastikamukherjee13 @samirkochhar @amit.sial @girijaoakgodbole @actor_tasveer_kamil @nowitsabhi #AadhyaJha #ManujMittra @saurabhma@an5hai @siddharthdiwan @manasmittal @lifaafa_ @veerakapuree @nikitashak @pritam_gram @itsamittrivedi @ze_iyer @ankitmalik3 @philmcgi @castingbay saggydee @redchillies.colour @kausarmunir @vidushak @swanandkirkire @sireeshabhagavatula @shahidmallya @ashley.lobo @makarandsurte #VivekDey @arpan.gaglani @gr.kapil @foram_gotecha #SachinBhanushali #PranamPansare @tanyawasir @roohidevgan @amitabhbhattacharyaofficial"
Set in the late 1930s and early 1940s, Qala is the story of an eponymous young playback singer. The film is about Qala's tragic past and the ways in which it catches up with her, causing her to unravel at the peak of her hard-won success. But the beginning and end of her spiral is her relationship with her mother, the pathology of her upbringing and the neurosis it leads to. 
In the trailer, Triptii as Qala showcased her art of singing and how she is reaching the peak of her career. When her career was at stake due her personal life and bond with her mother, played by Swastika Mukherjee. Then, Babil Khan enters as Qala's new competition in the form of Jagan.
The psychological drama is directed by Anvitaa Dutt. The film marks the debut of Babil Khan, the film also stars Swastika Mukherjee, Amit Sial, Neer Raao, Avinash Raj Sharma, Varun Grover and Ashish Singh in the lead roles. The film is produced by Karnesh Ssharma under the banner of Clean Slate Filmz.  The film starts streaming from 1st December. 
https://newsonfloor.com/article/detail/tripti-dimri-and-babil-khan-starrer-qala-gets-backing-from-music-fraternity-2625.htm