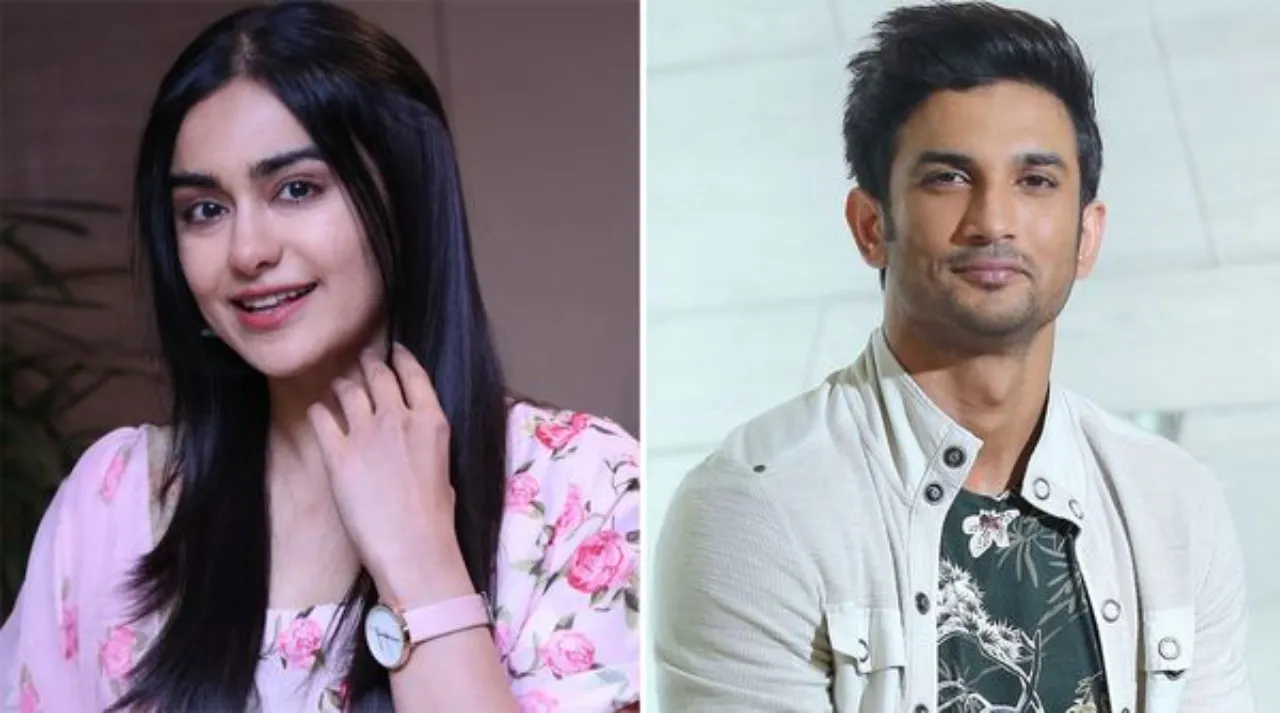 In a surprising turn of events, Bollywood actress Adah Sharma, known for her role in "The Kerala Story," has reportedly purchased the late actor Sushant Singh Rajput's house in Mumbai. The news broke when a renowned Bollywood photographer shared a post on Instagram, revealing that Adah Sharma had acquired Rajput's former residence in Bandra's Mont Blanc Apartments. While Adah Sharma's team has confirmed the news, specific details about her move-in date and other related information are still awaited.
Adah Sharma's Visit to Mont Blanc Apartments
A video shared by Mumbai-based celebrity photographer Viral Bhayani captured Adah Sharma's visit to Mont Blanc Apartments. The footage showed the actress standing on the terrace of the building, where she was asked if she had indeed purchased the flat. Adah Sharma responded by saying, "Agar kuch hai, main first aapko bataungi. Jab bhi kuch ho, main aapka muh meetha karungi." (If there is something, I will tell you all first. I promise.) Her statement left fans and the media intrigued, eagerly awaiting further updates.
Sushant Singh Rajput's Tragic Death
Sushant Singh Rajput, a talented Bollywood actor, was found dead in his Bandra flat on June 14, 2020. The news of his untimely demise shocked the nation and left his fans mourning. The Mumbai-based, sea-facing flat in Mont Blanc Apartments, where Rajput resided, became the subject of much discussion following his tragic death. In 2021, the flat was put up for rent, with a monthly rental price of Rs 4.5 lakh for the two-storey property.
The Apartment's Ongoing Popularity
According to Telly Chakkar, the apartment in Mont Blanc Apartments has remained in the spotlight since Sushant Singh Rajput's passing. The property's rent was subsequently increased, attracting significant attention from potential buyers. The allure of owning a place once inhabited by a beloved actor like Rajput added to the apartment's appeal. Now, with reports of Adah Sharma acquiring the flat, the property's significance has only grown further.
Adah Sharma's Career and Rising Fame
Adah Sharma, known for her versatile acting skills, has made a name for herself in the Bollywood industry. Her breakthrough role in "The Kerala Story" showcased her talent and garnered critical acclaim. With her rising fame and popularity, Adah Sharma has become a sought-after actress, and her acquisition of Sushant Singh Rajput's former residence has only added to the intrigue surrounding her.
The Significance of Mont Blanc Apartments
Mont Blanc Apartments, located in the upscale neighborhood of Bandra, Mumbai, is a prestigious residential complex known for housing several Bollywood celebrities. The building's prime location and luxurious amenities make it a desirable address for many actors and entertainers. The fact that both Sushant Singh Rajput and now Adah Sharma have chosen this iconic building as their residence speaks volumes about its appeal and status in the industry.
Adah Sharma's Silent Move
While Adah Sharma's team has confirmed the news of her purchasing Sushant Singh Rajput's flat, the actress herself has remained tight-lipped about the matter. Adah Sharma's visit to Mont Blanc Apartments and her enigmatic response to the question about buying the flat have fueled speculation and curiosity among fans and the media. It remains to be seen when Adah Sharma will break her silence and share more details about her new residence.
The Legacy of Sushant Singh Rajput
Sushant Singh Rajput's legacy continues to live on even after his tragic demise. The late actor's immense talent, versatility, and dedication to his craft have left an indelible mark on the Bollywood industry. Fans and fellow actors remember him fondly for his memorable performances in movies like "Kai Po Che," "MS Dhoni: The Untold Story," and "Chhichhore." As news circulates about Adah Sharma now owning his former residence, it serves as a reminder of Rajput's impact and the void left by his absence.
Conclusion
The news of Adah Sharma reportedly purchasing Sushant Singh Rajput's flat in Mont Blanc Apartments has captured the attention and curiosity of the media and fans alike. As details about the acquisition continue to emerge, the public eagerly awaits Adah Sharma's official statement on the matter. While Sushant Singh Rajput's untimely demise left a void in the industry, his legacy lives on, and the significance of his former residence adds another layer to his enduring impact.