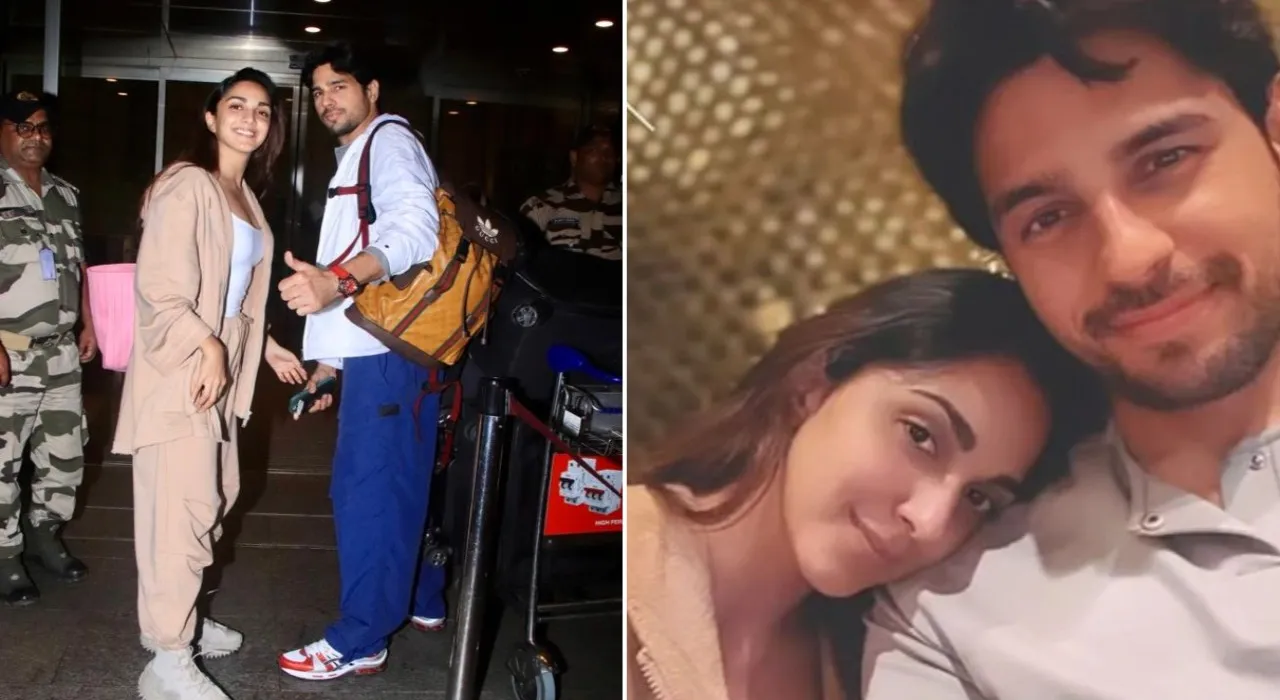 Kiara Advani and Sidharth Malhotra, one of the most adored couples in Bollywood, were recently spotted at the Mumbai airport in the early hours of the morning on July 28. The couple seemed to be heading for a vacation to celebrate Kiara's upcoming birthday on July 31st. Their chic airport appearance caught the attention of fans and media alike, showcasing their impeccable style and chemistry. Let's take a closer look at their fashionable ensemble and the adorable moments they shared.
A Fashionable Departure
Sidharth Malhotra looked dashing in a white shirt paired with a gray under tee and blue baggy pants. He completed his outfit with trendy red-white sneakers and carried a brown backpack. Kiara Advani, on the other hand, exuded elegance in a beige-colored shirt paired with a white tank top and matching pants. She held a big pink bag and opted for minimal makeup, allowing her natural beauty to shine. Both Sidharth and Kiara effortlessly blended comfort and style, setting major fashion goals for their fans.
As they stepped out of their car, the couple walked hand-in-hand, engrossed in a lively conversation. Their radiant smiles and friendly waves to the cameras reflected their genuine joy and affection for each other. Fans couldn't help but shower the couple with love and adoration in the comments section of their airport video. One fan exclaimed, "these two are made for each other," while another gushed, "Ohhh gawddd...they are just cutesttt beans!!" The excitement was palpable as one fan eagerly expressed, "Yaayyyy...Birthday weekend it is!!!!" It's evident that Sidharth and Kiara's chemistry has captured the hearts of many.
An Adorable Selfie
Later, Kiara Advani took to her Instagram stories to share an adorable selfie with her husband, Sidharth Malhotra. The selfie was captured inside the airport, showcasing their cozy bond. In the picture, Kiara can be seen leaning on Sidharth's shoulder while he clicks the selfie. Kiara added a playful touch by including an airplane emoji in the caption, signifying the beginning of their exciting journey. This sweet gesture further fueled the excitement among their fans, who eagerly await updates from their vacation.
Work Front
While the couple is indulging in some well-deserved leisure time, Kiara and Sidharth have been making waves in the entertainment industry with their remarkable performances. Kiara Advani, who received rave reviews for her role in "Satyaprem Ki Katha," has an exciting lineup of projects. She is set to appear in the highly anticipated film "Game Changer" alongside Ram Charan. Additionally, Kiara is rumored to be joining forces with Hrithik Roshan and Jr. NTR in the spy universe with "War 2." Her versatility and talent continue to captivate audiences, making her one of the most sought-after actresses in Bollywood.
Sidharth Malhotra, too, has an eventful year ahead. He is currently working on the action-packed film "Yodha," set to release in December. Fans can expect a thrilling cinematic experience as Sidharth showcases his acting prowess in this much-anticipated project. Furthermore, Sidharth is all set to make his debut in the digital space with Rohit Shetty's web series, "Indian Police Force." This exciting venture promises to bring out a new facet of Sidharth's talent, captivating audiences on OTT platforms.
Conclusion
Sidharth Malhotra and Kiara Advani's airport appearance not only showcased their impeccable style but also reflected their deep bond and affection for each other. The couple's fashion choices served as inspiration for fans, while their adorable moments together warmed hearts worldwide. As they embark on a blissful vacation to celebrate Kiara's birthday, fans eagerly await updates and eagerly anticipate the release of their upcoming projects. Sidharth and Kiara's journey as individuals and as a couple continues to captivate the Bollywood industry and their devoted fanbase.