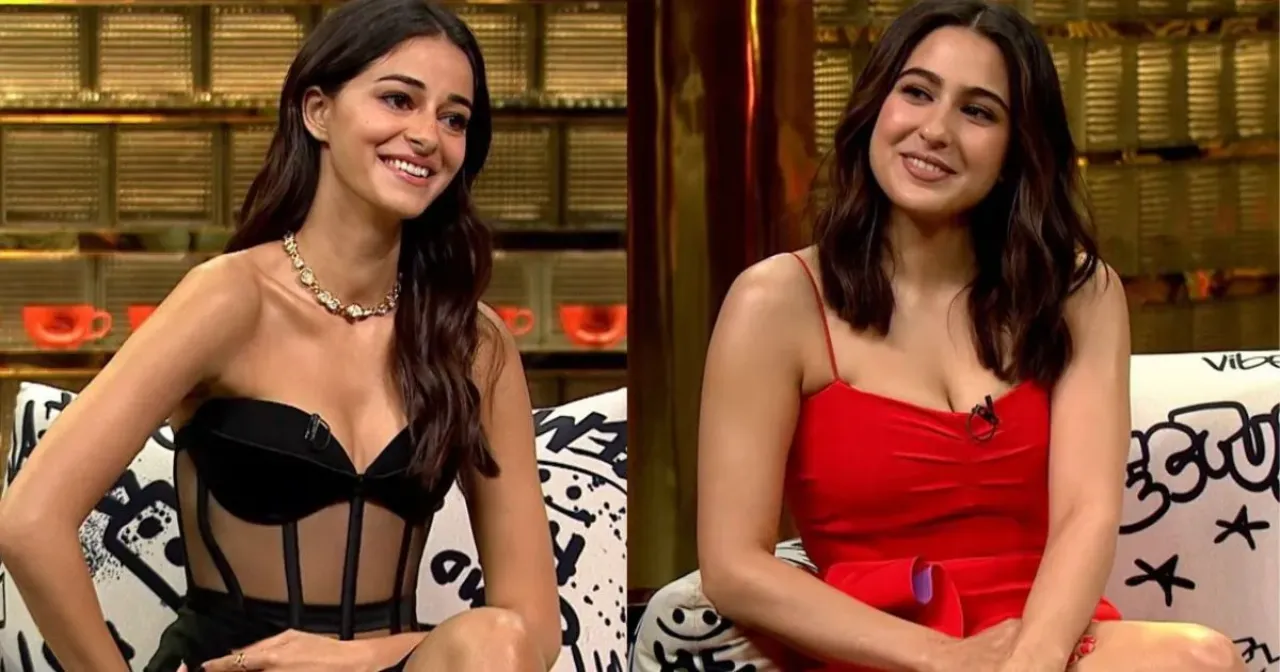 Koffee With Karan Season 8 is back, and it has once again taken the world of Indian entertainment by storm. Known for its candid celebrity interviews, juicy revelations, and spicy controversies, this popular chat show hosted by filmmaker Karan Johar has never failed to captivate audiences. In the latest season, Karan Johar dropped a cryptic hint about the love lives of Sara Ali Khan and Ananya Panday, suggesting that they might have dated the same man. Let's delve into the details and decipher the clues from the show.
Ananya Panday's Journey
Ananya Panday, the young and talented Bollywood actress, made her debut in the film industry with the movie "Student of the Year 2." She is the daughter of renowned actor Chunky Panday. Ananya's appearance on Koffee With Karan Season 8 allowed her to share some interesting insights into her personal life.
Ananya's Dating Life
During the show, Karan Johar hinted at Ananya Panday having a connection with Sara Ali Khan when he brought up the topic of them dating the same man. Ananya responded with a giggle, not giving away too much. While the details of this relationship remain a mystery, it definitely sparked intrigue among fans and viewers.
Balancing Stardom and Relationships
Being a celebrity comes with its fair share of challenges, especially when it comes to maintaining relationships. Ananya Panday acknowledged this during her conversation on Koffee With Karan Season 8. She expressed that it's not always easy to balance stardom and personal life, and being invested in a relationship can affect one's emotional well-being. However, Ananya also emphasized the importance of rising above these challenges and not letting them define her.
Sara Ali Khan's Journey
Sara Ali Khan, the daughter of actors Saif Ali Khan and Amrita Singh, made her Bollywood debut with the film "Kedarnath." Known for her down-to-earth nature and impeccable acting skills, Sara has gained a massive fan following in a short span of time. Her appearance on Koffee With Karan Season 8 shed light on some intriguing aspects of her life.
The Common Connection
Karan Johar's cryptic question about Sara Ali Khan and Ananya Panday possibly dating the same man left many wondering about the truth behind it. Sara, too, responded to this revelation during the show. She mentioned that it is not always easy when there is a common connection between two people, and it can affect one emotionally. Sara emphasized the need to rise beyond such predicaments and not let them hinder personal growth.
The Perks and Challenges of Stardom
As a star kid and an emerging talent in Bollywood, Sara Ali Khan has experienced the perks and challenges of stardom firsthand. On Koffee With Karan Season 8, she opened up about the impact that being in the public eye has on her personal life. Sara acknowledged that being a public figure means constant scrutiny and speculation, which can sometimes take a toll on one's mental well-being. However, she also shared that she has learned to navigate through these challenges and focus on her growth as an individual and an artist.
The Intrigue and Speculation
Karan Johar's cryptic question about Ananya Panday and Sara Ali Khan dating the same man has sparked speculation and intrigue among fans and viewers of Koffee With Karan Season 8. While the details remain undisclosed, this revelation has only added to the buzz surrounding the show. Fans are eagerly waiting to see how this storyline unfolds and whether there will be any further revelations in the upcoming episodes.
Conclusion
Koffee With Karan Season 8 continues to deliver captivating interviews and intriguing revelations. The cryptic hints about Ananya Panday and Sara Ali Khan possibly dating the same man have left fans speculating and eagerly awaiting more. As the season progresses, viewers can expect more candid conversations and juicy details from their favorite celebrities. To stay updated on all the revelations, make sure to catch the full episodes streaming exclusively on Disney+ Hotstar.