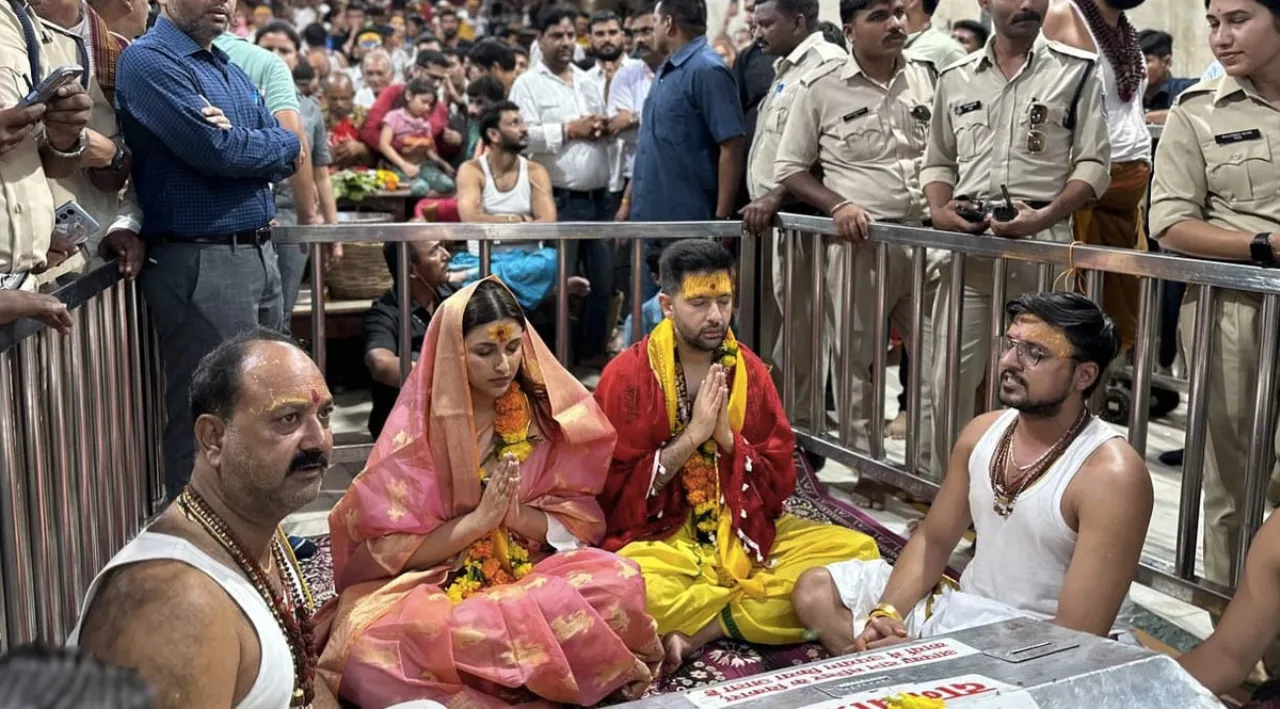 Parineeti Chopra and Raghav Chadha, an unlikely celebrity couple, have been making headlines with their recent visit to the iconic Mahakaleshwar Temple in Ujjain, Madhya Pradesh. This spiritual trip took place during the auspicious month of Sawan, and the pictures and videos of their visit have been going viral online. Let's dive into the details of their temple visit and explore their spiritual journey.
The Sacred Mahakaleshwar Temple
The Mahakaleshwar Temple, located in Ujjain, is one of the most revered temples in India. It is dedicated to Lord Shiva and is known for its powerful and ancient Lingam, the symbol of divine energy. Every year, thousands of devotees flock to this temple to seek blessings and experience the divine presence.
Parineeti and Raghav's Visit
Parineeti Chopra and Raghav Chadha's visit to the Mahakaleshwar Temple was a significant event in their spiritual journey. The couple was captured in pictures and videos sitting inside the temple along with other pilgrims. Parineeti looked graceful in a pink saree, while Raghav, an Aam Aadmi Party leader, was dressed in a yellow dhoti with a red dupatta around his neck.
"Our visit to the Mahakaleshwar Temple was truly a divine experience. We sought the blessings of the priests and performed the traditional puja with utmost devotion," shared Parineeti in an interview.

Exploring the Spiritual Path
Prior to their visit to the Mahakaleshwar Temple, Parineeti and Raghav embarked on a spiritual journey by visiting the Golden Temple in Amritsar. The couple offered prayers at the Gurdwara and performed seva, selfless service for the community. They shared their heartfelt moments from the visit on their social media accounts, spreading positivity and spirituality among their followers.
A Blossoming Relationship
Parineeti Chopra and Raghav Chadha's temple visits have been capturing attention, but their relationship has also been making headlines. The couple made their relationship official earlier this year, and since then, they have been spotted together at various public places, sparking dating rumors. Their first public appearance together was at a Mumbai eatery, followed by sightings at the airport and even an IPL match.
"We are happy to share our journey with our fans and well-wishers. Love and support from everyone have been overwhelming," said Raghav in a recent interview.

The Work Front
While their personal lives have been in the spotlight, both Parineeti and Raghav are also focused on their respective careers. Parineeti, a talented actress, will soon be seen in the film 'Chamkila' alongside Diljit Dosanjh, directed by Imtiaz Ali. The movie is based on the lives of two popular Punjabi singers, Amarjot Kaur and Amar Singh Chamkila. Her last appearance was in Sooraj Barjatya's 'Uunchai,' where she delivered a memorable performance.
Embracing Spirituality
Parineeti Chopra and Raghav Chadha's spiritual journey is a testament to their shared love for exploring the divine. Their temple visits and acts of service reflect their deep-rooted belief in spirituality and the power of faith. These experiences not only bring them closer as a couple but also inspire their fans to embrace spirituality in their own lives.
Conclusion
Parineeti Chopra and Raghav Chadha's visit to the Mahakaleshwar Temple in Ujjain showcased their devotion and commitment to spirituality. As they continue to explore their spiritual path, their journey serves as an inspiration for others to seek solace and strength in the divine. With their popularity and influence, they are spreading the message of love, faith, and positivity to their fans and beyond.
"May our spiritual journey inspire others to find peace and happiness within," shared Parineeti in a heartfelt message.
So, let us all take a moment to reflect on the significance of spirituality in our lives and follow in the footsteps of Parineeti Chopra and Raghav Chadha as they embark on their spiritual endeavors.