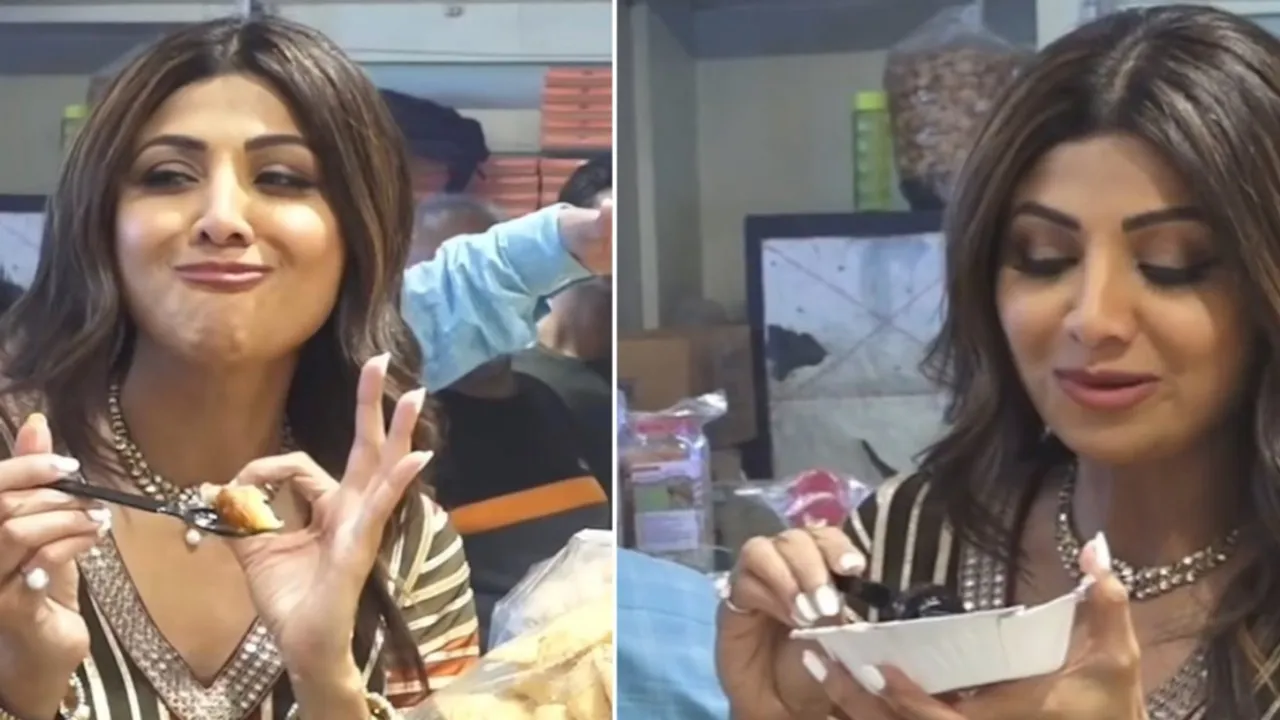 Bollywood actress Shilpa Shetty Kundra is not only known for her stunning performances on the silver screen but also for her love for food and fitness. With a strong focus on maintaining a healthy body, mind, and soul, she often shares videos of her yoga and exercise routines on social media. However, what catches the attention of her fans and followers is her Sunday binge sessions. Let's delve into Shilpa Shetty's recent visit to a sweet shop in Mumbai's Chembur, where she indulged in desserts and her favorite snack, ragda pattice.
Shilpa Shetty's Cheat Day Delights
Shilpa Shetty Kundra, a well-known producer and businesswoman, believes in the importance of balance when it comes to diet and exercise. While she follows strict dietary regimes throughout the week, she takes a break on Sundays to treat herself to some of her favorite food items, including sugary desserts. This weekend tradition allows her to enjoy the food that brings a smile to her heart.
A Celebrity on Mumbai Streets
It's not every day that you see a celebrity as prominent as Shilpa Shetty Kundra roaming the streets of Mumbai like a local. Her recent visit to a sweet shop in Chembur created quite a buzz among the locals. In a video that surfaced online, Shilpa was seen relishing desserts like milk cake and mava cake. She then proceeded to order a plate of ragda pattice, her favorite snack from the shop. In a playful gesture, she even shared her food with the photographers capturing her delightful indulgence.
Shilpa Shetty's Childhood Memories
As Shilpa enjoyed her cheat day treats, she was accompanied by one of her close friends, reliving precious childhood memories together. The joy on her face while savoring the delicacies was evident. Shilpa's love for food is not only about satisfying her taste buds; it also holds sentimental value, evoking nostalgic moments from her past. Sharing her delight, she encouraged her friend to try the savory ragda pattice, exclaiming, "Try this pattice. It's yum!"
Shilpa Shetty's Work Front
While Shilpa Shetty enjoys her cheat day, she remains committed to her work in the film industry. Her most recent appearance was in the action-comedy film "Nikamma," directed by Sabbir Khan. However, her fans can look forward to seeing her in an upcoming film titled "Sukhee," where she will portray the role of a Punjabi housewife. The film revolves around her character's journey to Delhi with her friends to attend a school reunion after two decades.
Conclusion
Shilpa Shetty Kundra's love for food and fitness is well-documented, and her Sunday binge sessions have become a source of inspiration for her fans. Despite her busy schedule, she finds time to indulge in her favorite treats, reminding everyone of the importance of balance in life. As she continues to entertain her audience with her on-screen performances, she also serves as a role model for maintaining a healthy lifestyle. So, if you ever spot Shilpa Shetty on the streets of Mumbai, don't be surprised to see her enjoying a scrumptious meal or two.