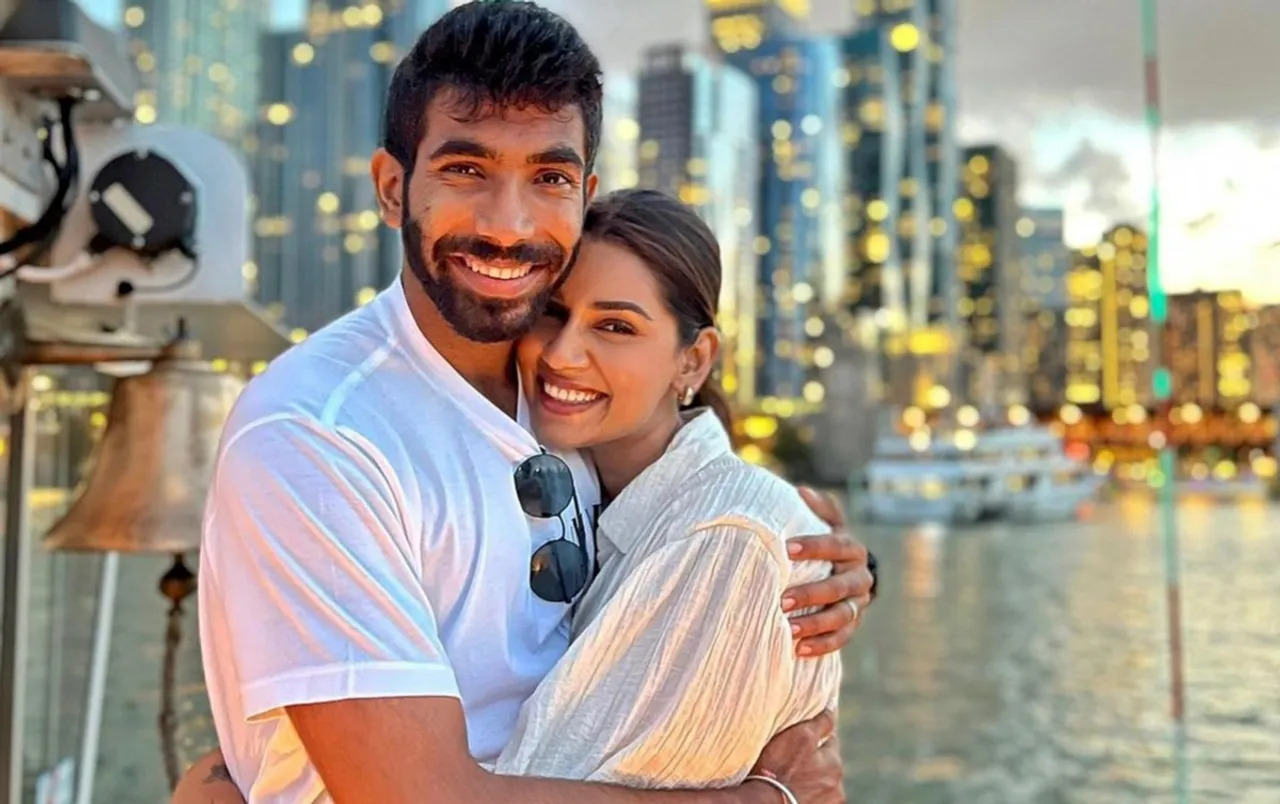 Indian cricket sensation Jasprit Bumrah and his wife, Sanjana Ganesan, are overjoyed as they welcome their little bundle of joy into the world. The couple recently announced the birth of their baby boy, filling their lives with immense happiness and excitement. Bumrah took to his official Instagram handle to share the news and express their heartfelt emotions. Let's dive into the details of this wonderful news and catch a glimpse of the journey of Jasprit Bumrah and Sanjana Ganesan as they embark on this new chapter of parenthood.
A Heartfelt Announcement
In an Instagram post that melted hearts around the world, Jasprit Bumrah shared the joyous news of their baby boy's arrival. With a photo featuring the tiny feet of their little one, Bumrah expressed his gratitude and excitement, captioning the image, "We are blessed with a baby boy. Mother and baby are both doing well. A new chapter begins." The heartfelt announcement quickly garnered countless messages of congratulations and well wishes from fans and fellow cricketers.

A Journey of Love and Togetherness
Jasprit Bumrah and Sanjana Ganesan's love story has captured the hearts of many. The couple tied the knot in a private ceremony in Goa in March 2021, amidst close friends and family. Their wedding was a beautiful amalgamation of traditional rituals and modern elegance. As they embark on this new journey of parenthood, their bond as a couple continues to grow stronger.
Jasprit Bumrah: The Cricketing Sensation
Jasprit Bumrah, known for his impeccable bowling skills and unorthodox action, has become a prominent figure in the cricketing world. Born on December 6, 1993, in Ahmedabad, Gujarat, Bumrah's journey to success has been nothing short of extraordinary. From his early days in domestic cricket to representing the Indian national team, Bumrah has consistently displayed his prowess on the field.
Bumrah made his international debut in January 2016, donning the Indian jersey in a T20I match against Australia. Since then, he has become an integral part of the Indian cricket team, showcasing his skills in all formats of the game. With his lightning-fast yorkers, deceptive variations, and ability to thrive under pressure, Bumrah has earned the respect and admiration of cricket enthusiasts worldwide.
Sanjana Ganesan: A Multitalented Star
Sanjana Ganesan, Bumrah's better half, is a multitalented individual who has made a name for herself in the world of sports broadcasting and modeling. Born on May 6, 1991, in Pune, Maharashtra, Sanjana started her career as a model and participated in various beauty pageants. Her stunning looks and charismatic personality caught the attention of the entertainment industry, leading her to venture into television.
Sanjana's love for sports and her excellent communication skills paved the way for her to become a sports anchor and presenter. She has worked with prominent sports networks, including Star Sports, where she hosted the Indian Premier League (IPL) and other cricketing events. Sanjana's passion, knowledge, and natural flair for broadcasting have made her a beloved figure among sports fans.
Embracing Parenthood with Joy
The arrival of their little one has brought immense joy and excitement to Jasprit Bumrah and Sanjana Ganesan. As they step into the world of parenthood, the couple is ready to embrace all the love, challenges, and beautiful moments that come with it. Their social media posts have been flooded with congratulatory messages and blessings from fans and well-wishers, who eagerly await glimpses of their adorable baby boy.
Support from the Cricketing Fraternity
Jasprit Bumrah and Sanjana Ganesan's joyous news has not only touched the hearts of their fans but has also garnered attention from the cricketing fraternity. Fellow cricketers, both from the Indian team and international players, have taken to social media to congratulate the couple on their new arrival. The outpouring of support and love from the cricketing community is a testament to the respect and admiration Bumrah has earned throughout his career.
Balancing Parenthood and Cricketing Commitments
As Jasprit Bumrah and Sanjana Ganesan enter this new phase of their lives, they will undoubtedly face the challenge of balancing parenthood with Bumrah's demanding cricketing commitments. However, the couple's love and support for each other, combined with their strong family values, will undoubtedly help them navigate this journey with grace and strength.
The Next Chapter Begins
With the arrival of their baby boy, Jasprit Bumrah and Sanjana Ganesan embark on a beautiful new chapter filled with joy, love, and precious moments. As they embrace the role of parents, their fans eagerly await glimpses of their little one and join them in celebrating this milestone in their lives.
Congratulations to the proud parents on the birth of their baby boy! May this new journey be filled with immense happiness, love, and cherished memories.