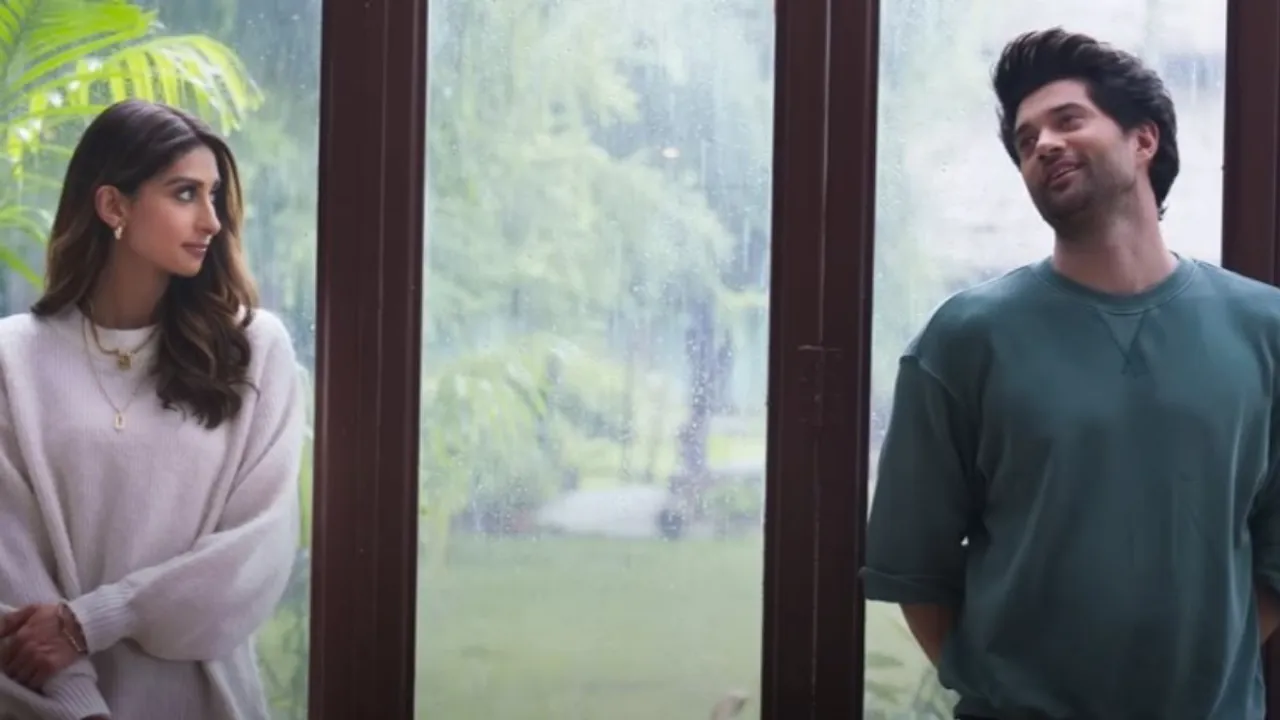 The eagerly awaited release of Dono, an upcoming romantic film, marks the highly anticipated debut of Rajveer Deol, son of renowned actor Sunny Deol, and Paloma Thakeria, daughter of the celebrated actress Poonam Dhillon. Under the guidance of the musical trio Shankar Ehsaan Loy, the title track of Dono has taken the internet by storm with its infectious energy and heartfelt lyrics.'
A Tale of Love and Innocence
The Dono title track, the first song from the 8-song album composed by Shankar Ehsaan Loy, sets the stage for the romantic journey that unfolds in the film. With the launch of the song online by Salman Khan and Bhagyashree, the iconic pair from the Rajshri Productions, the film's innocence and universal appeal have captivated audiences worldwide. Penned by the talented Irshad Kamil, the track's memorable tune has left fans humming along.
Shot in a mesmerizing glasshouse with rain pouring in the background, the visuals of the Dono title track embody the essence of a quintessential romantic song. Rajveer's portrayal of innocence as he sings the heartfelt lyrics to Paloma is sure to make hearts skip a beat. The song beautifully encapsulates the emotions of falling in love, the challenges of confessing one's feelings, and the relatability that resonates with audiences.
A Collaboration of Renowned Filmmakers
Dono, the 59th Film Production by Rajshri in association with Jio Studios, is a testament to the vision of the Barjatya family. The film is helmed by Avnish S. Barjatya, the talented son of the celebrated filmmaker Sooraj Barjatya. Kamal Kumar Barjatya, Late Rajkumar Barjatya, and Ajit Kumar Barjatya jointly produce the film, while Sooraj R. Barjatya leads the creative production team.
Anticipation for Dono's Release
Dono's release in cinemas is highly anticipated, and fans are eagerly awaiting the announcement of the exact date. The film's teaser provided a glimpse into the enchanting love story of Rajveer Deol and Paloma's characters. Set against the backdrop of a wedding, the young couple questions society's fear of rejection as they meet each other - she representing the groom's side and he, the bride's friend.
Conclusion
Dono, the upcoming romantic film featuring the debut of Rajveer Deol and Paloma Thakeria, promises to be a heartwarming tale of love and innocence. The title track, composed by Shankar Ehsaan Loy, has already captivated audiences with its infectious energy and memorable lyrics. With a talented team of filmmakers behind the project, including Avnish S. Barjatya as the director and the esteemed Barjatya family as producers, Dono is set to make waves in the world of romance.