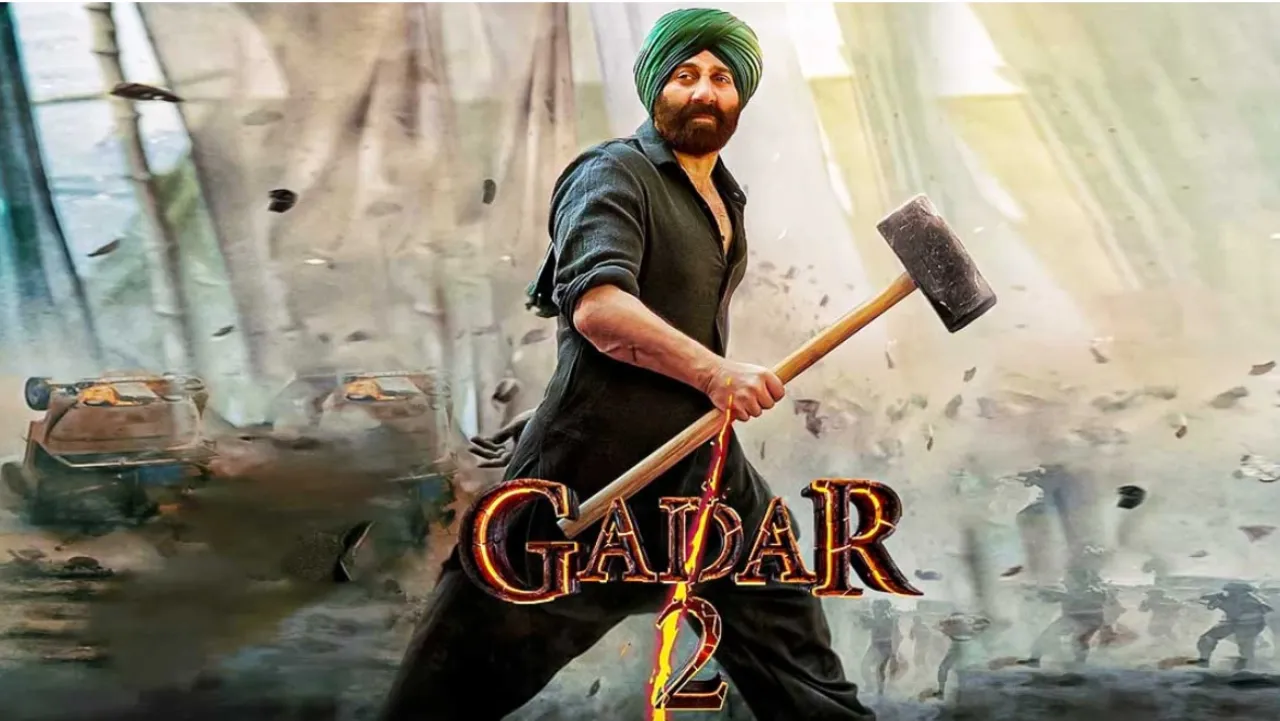 Gadar 2, starring Sunny Deol and Ameesha Patel, has taken the box office by storm and is on its way to joining the prestigious ₹500 crore club. With its impressive performance, the film is poised to compete with other highest-grossing Hindi films like Pathaan and Baahubali The Conclusion. After three weeks of release, Gadar 2 has already amassed a staggering domestic collection of ₹481 crore. Let's delve into the journey of Gadar 2 and its incredible success.
Sunny Deol's Gratitude as Gadar 2 Soars to New Heights
Sunny Deol, the lead actor of Gadar 2, recently expressed his heartfelt gratitude to the audience as the film became the third highest-grossing Hindi film of all time. In a video shared on his Instagram handle, Sunny acknowledged the overwhelming love and support from fans. He recorded the video while on a flight, conveying his astonishment and appreciation for the film's success. Sunny's words resonated with his followers as they celebrated this milestone together. Alongside his brother Bobby Deol, Sunny attended a joyous success party for Gadar 2 in Mumbai, further affirming the film's triumph.
Gadar 2 Enthralls Audiences with Emotional Father-Son Bond
Director Anil Sharma's ideology behind Gadar 2 revolves around the powerful theme of a father-son bond and the emotions that drive it. The film beautifully portrays the relationship between truck driver Tara Singh, played by Sunny Deol, and his son Charanjeet, portrayed by Utkarsh Sharma. Utkarsh, the son of director Anil Sharma himself, brings depth and authenticity to his character. This emotional core resonates with audiences, who have been captivated by the heartfelt narrative and the chemistry between the father and son on screen.
Special Screenings and Appreciation for Gadar 2
Gadar 2 has received widespread acclaim and has been showcased in several special screenings. Sunny Deol himself attended screenings in London and other cities, where the film garnered an enthusiastic response from international audiences. The film's universal appeal and emotional resonance have transcended borders, winning hearts worldwide. Notably, Gadar 2 was also exclusively screened at the New Parliament House in New Delhi for the esteemed members of Lok Sabha. This recognition of the film's cultural significance further solidifies its place as a cinematic masterpiece.
Cast and Synopsis: A Stellar Ensemble
Gadar 2 boasts a stellar ensemble cast that brings the story to life. Sunny Deol reprises his iconic role as truck driver Tara Singh, captivating audiences with his powerful performance. Ameesha Patel portrays Sakina, adding depth and emotion to her character. Utkarsh Sharma, the son of director Anil Sharma, shines as Charanjeet, Tara Singh and Sakina's son, embodying the innocence and resilience of youth. The film also features Gaurav Chopra, Manish Wadhwa, and Simrat Kaur, who contribute to the narrative's richness and complexity.
The Journey to ₹500 Crores: Gadar 2's Box Office Success
Gadar 2 has been a force to be reckoned with at the box office, consistently surpassing expectations and setting new benchmarks. The film opened alongside Akshay Kumar's OMG 2 on August 11, generating immense buzz and anticipation. As the weeks went by, Gadar 2 continued to dominate the box office, attracting audiences with its compelling storytelling and powerful performances. Early estimates suggest that the film collected ₹7.50 crore on its third Thursday, pushing its domestic collection to an impressive ₹481 crore. With the weekend approaching, Gadar 2 is on track to surpass the ₹500 crore milestone, solidifying its place among the highest-grossing Hindi films of all time.
The Impact of Gadar 2: Revitalizing Indian Cinema
Gadar 2's extraordinary success has not only shattered box office records but has also reinvigorated the Indian film industry. With its captivating narrative, emotional depth, and powerful performances, the film has set a new standard for storytelling in Indian cinema. Gadar 2 has reignited the audience's love for Hindi films, attracting both domestic and international viewers. The success of Gadar 2 serves as a testament to the power of engaging storytelling and the enduring appeal of heartfelt emotions.
Future Prospects: Gadar 2's Legacy
As Gadar 2 continues its remarkable journey towards the ₹500 crore club, its impact on the film industry is undeniable. The film's success has opened doors for more ambitious and emotionally-driven narratives, inspiring filmmakers to explore new horizons. Gadar 2 has not only entertained audiences but has also sparked important conversations about the significance of family bonds and the power of emotions in storytelling. The legacy of Gadar 2 will undoubtedly endure, leaving a lasting impression on Indian cinema for years to come.
Conclusion
Gadar 2 has emerged as a box office powerhouse, captivating audiences with its emotional narrative and stellar performances. Sunny Deol's heartfelt gratitude and the film's special screenings have further cemented its place in the hearts of fans. As Gadar 2 inches closer to the ₹500 crore club, its impact on the film industry is profound, revitalizing Indian cinema and inspiring future filmmakers. The journey of Gadar 2 is a testament to the enduring power of storytelling and the ability of cinema to touch the hearts of millions.