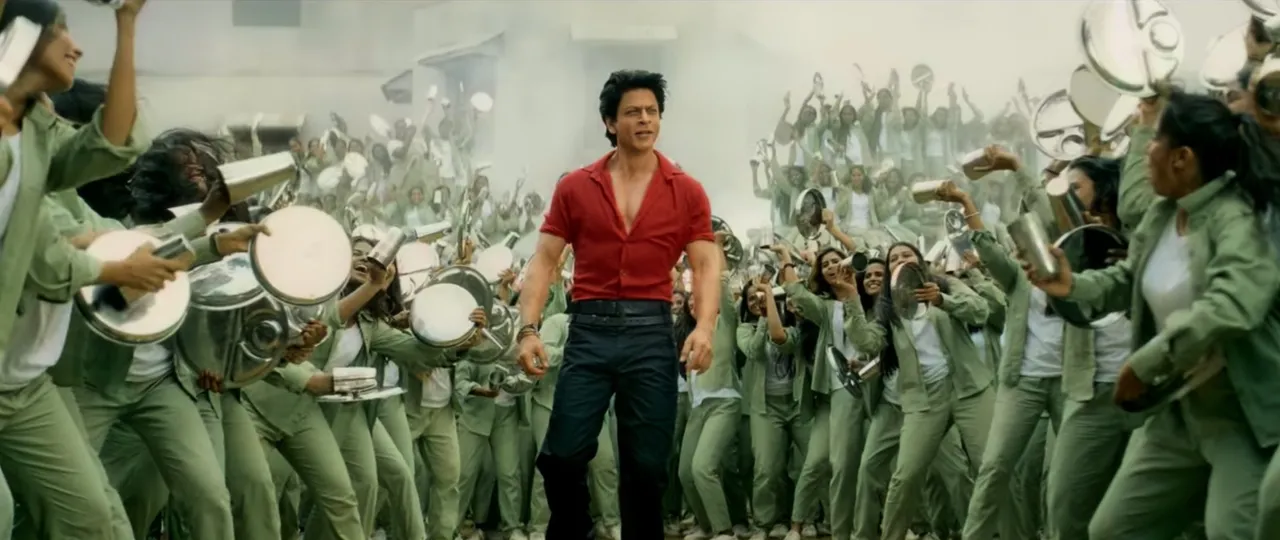 The much-awaited release of Shah Rukh Khan's action-packed film, Jawan, has finally arrived. Directed by Atlee, the movie promises to be an exhilarating experience for fans of the superstar. With an ensemble cast including Nayanthara, Vijay Sethupathi, Sanya Malhotra, and many others, Jawan is set to captivate audiences with its gripping storyline and thrilling action sequences. In this Jawan movie review, we will delve into the highlights of the film, its reception, and the overall cinematic experience it offers.
A Glimpse into Jawan's Plot and Characters
Jawan revolves around the character played by Shah Rukh Khan, who portrays a soldier turned vigilante. The film takes place in Mumbai, where Shah Rukh's character, along with a group of six formidable women, hijacks a metro train. Nayanthara, who plays a police officer and Shah Rukh's love interest, adds an intriguing dynamic to the storyline. Vijay Sethupathi's portrayal of the "fourth largest arms dealer in the world" further adds depth and complexity to the plot.
The Anticipation and Excitement Surrounding Jawan
The buzz surrounding Jawan's release has been unprecedented. Fans eagerly awaited the film's arrival, and the advance ticket sales numbers are a testament to their excitement. The film has already sold nearly 4 lakh tickets at national cinema chains, with a total of 9,66,713 tickets purchased by movie buffs. This tremendous response has resulted in earnings of Rs 26.45 crore even before the film's release.
Trade Analyst Predictions and Expectations
Trade analysts are optimistic about Jawan's box office performance. Girish Johar predicts an opening of Rs 100 crore, with Rs 40 crore coming from the overseas market and the remaining Rs 60 crore from the domestic market. Additionally, the reopening of single-screen cinemas in the Hindi belt, which were closed during the pandemic, has further intensified the craze surrounding Jawan.
Jawan Movie Review: An Insight into the Cinematic Experience
Jawan is a cinematic masterpiece that offers an adrenaline-pumping experience from start to finish. Atlee's direction brings out the best in the cast, with Shah Rukh Khan delivering a power-packed performance as the lead. Nayanthara shines in her role as the police officer, portraying strength and determination with finesse. The chemistry between the two leads adds a touch of romance amidst the gripping action sequences.
The film's screenplay keeps audiences on the edge of their seats, with well-paced and expertly choreographed action sequences that leave a lasting impact. The visual effects and stunts in Jawan are top-notch, creating a spectacle that is both thrilling and visually stunning. The background score and music complement the narrative, heightening the emotional impact of each scene.
Jawan Movie Review: Reception and Critical Acclaim
As the film releases to eager audiences, early reviews have started pouring in, praising the performances, action sequences, and overall entertainment value of Jawan. Critics have lauded Shah Rukh Khan's portrayal of a soldier turned vigilante, highlighting his ability to effortlessly command the screen. Nayanthara's performance as a police officer has also garnered appreciation for her strong presence and impactful dialogue delivery.
The gripping storyline and intense action have captivated audiences, with many praising Atlee's direction and screenplay. The film's ability to seamlessly blend action, romance, and drama has been commended, making it a complete package for moviegoers. Jawan has been hailed as an exciting and engaging cinematic experience that keeps viewers hooked from start to finish.
The Impact of Jawan: Breaking Records and Setting New Benchmarks
Jawan's release has set the box office on fire, with record-breaking ticket sales and an overwhelming response from audiences. The film has not only sold an impressive number of tickets in advance but has also set a new benchmark for opening day ticket sales. According to reports, Jawan has sold over 11 lakh tickets, surpassing previous records and solidifying its position as a blockbuster.
Say No to Piracy and Spoilers: Experience Jawan in Theaters
The makers of Jawan have urged cinephiles to say no to piracy and spoilers and experience the film's magic in theaters. Red Chillies Entertainment, the production house behind the film, emphasizes the importance of supporting the industry by watching Jawan on the big screen. They have provided a dedicated email address for reporting any piracy links and encourage viewers to book their tickets through official channels.
Conclusion: Jawan - A Must-Watch Action Extravaganza
In conclusion, Jawan is a must-watch film for all action movie enthusiasts. With its captivating storyline, stellar performances, and breathtaking action sequences, it promises to be an unforgettable cinematic experience. Shah Rukh Khan's portrayal of a soldier turned vigilante, Nayanthara's powerful presence, and Atlee's direction make Jawan a thrilling and entertaining ride from beginning to end. Say no to piracy and spoilers, and head to the nearest theater to witness the magic of Jawan unfold on the big screen.