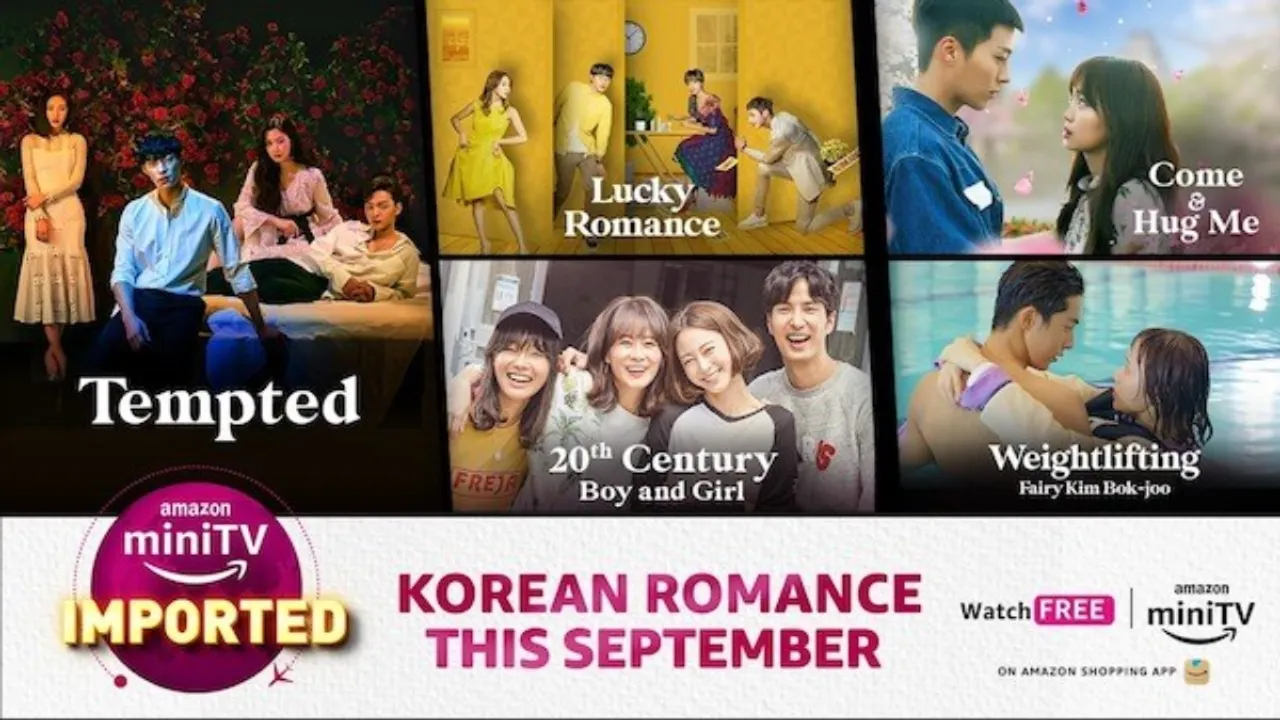 Korean dramas, commonly known as K-Dramas, have gained immense popularity worldwide for their unique storytelling and captivating characters. With their increasing global fanbase, streaming platforms like Amazon miniTV are now bringing a variety of K-Dramas to their viewers. In this article, we will explore the exciting lineup of K-Dramas coming soon on Amazon miniTV and discuss why these shows are must-watches for K-Drama enthusiasts.
Fall in Love with K-Dramas on Amazon miniTV
Amazon miniTV is set to ignite a global frenzy of passionate emotions with its enchanting collection of romantic Korean dramas. These internationally acclaimed K-Dramas are known for their daedalian narratives, mushy romances, and gorgeous-looking cast members. Get ready for a whirlwind of emotions as these shows soar as high as skyscrapers and deliver story twists as shocking as a sudden downpour on a sunny day.
Starting from September 6th, Amazon miniTV will be featuring a lineup of captivating K-Dramas that will leave you yearning for more. Brace yourself for an incredible journey of love, friendship, dreams, and heartache as you dive into these spellbinding shows. Let's take a closer look at some of the must-watch K-Dramas coming to Amazon miniTV in September 2023.
Tempted: A Tale of Forbidden Love
Known as "The Great Seducer" in Korean, Tempted is a mesmerizing K-Drama that explores the complexities of love, friendship, and betrayal. This gripping series follows a group of wealthy, privileged young adults who engage in a dangerous game of seduction. As they navigate the blurred lines between love and desire, their lives intertwine in unexpected ways, leading to heart-wrenching consequences. Brace yourself for a rollercoaster ride of emotions as you delve into the world of Tempted on Amazon miniTV.
Lucky Romance: Superstition Meets Passion
If you're in the mood for a charming romantic comedy, Lucky Romance is the perfect choice. This delightful K-Drama tells the story of Shim Bo Nui, a superstitious woman who believes that she can change her luck by sleeping with a virgin born in the Year of the Tiger. Enter Je Soo Ho, a practical and logical CEO who becomes entangled in Bo Nui's quest for love. As their paths cross, sparks fly, and a passionate romance ensues. Get ready to laugh, cry, and fall in love with the endearing characters of Lucky Romance on Amazon miniTV.
20th Century Boy and Girl: Navigating Love Through Time
Take a trip down memory lane with 20th Century Boy and Girl, a heartwarming K-Drama that spans three decades. This coming-of-age story follows three childhood friends who reunite in their thirties and navigate the challenges of love, career, and friendship. As they reflect on their past and confront their present, secrets are revealed, and old flames are rekindled. Immerse yourself in the nostalgia and relatable experiences of the characters in 20th Century Boy and Girl, exclusively on Amazon miniTV.
Come and Hug Me: A Tragic Love Story
Prepare yourself for an emotional rollercoaster with Come and Hug Me, a gripping K-Drama that explores the complexities of love, trauma, and redemption. This tragic love story revolves around two individuals, Chae Do Jin and Han Jae Yi, whose lives were forever changed by a series of traumatic events in their childhood. As they reunite years later, their shared past and the haunting presence of a serial killer threaten to tear them apart. Witness the power of love and resilience in Come and Hug Me, streaming on Amazon miniTV.
Weightlifting Fairy Kim Bok-Joo: Love and Dreams Collide
If you're looking for a feel-good K-Drama that combines romance and personal growth, Weightlifting Fairy Kim Bok-Joo is a must-watch. This delightful series follows the journey of Kim Bok-Joo, a collegiate female weightlifter who finds herself indulging in romance while pursuing her dreams. As she navigates the challenges of love, friendship, and self-discovery, Bok-Joo's story will inspire and uplift you. Join her on her journey of love, determination, and strength on Amazon miniTV.
Indulge in the World of International Romance
Amazon miniTV offers a unique opportunity to indulge in intriguing storylines, stellar performances, and international settings with a desi twist. Dive into the world of K-Dramas with Amazon miniTV's Hindi-dubbed versions of these beloved shows. Immerse yourself in the captivating narratives, relatable characters, and unforgettable moments that K-Dramas are renowned for.
The international shows on Amazon miniTV are available for free streaming in Hindi, exclusively on 'Amazon miniTV Imported.' You can easily access these shows by downloading the Amazon miniTV app from the Play Store. Alternatively, you can watch them within the Amazon Shopping App or on Fire TV. Get ready to embark on a journey of love, laughter, and heartache with Amazon miniTV.
In Conclusion
If you're a fan of K-Dramas or simply looking for captivating international content, Amazon miniTV is your gateway to a world of romance, drama, and heartfelt storytelling. The Hindi-dubbed K-Dramas featured on Amazon miniTV Imported will transport you to a world where love knows no boundaries. From Tempted to Lucky Romance, 20th Century Boy and Girl, Come and Hug Me, and Weightlifting Fairy Kim Bok-Joo, these shows offer an array of emotions and experiences that will keep you hooked from start to finish. Don't miss out on the magic of K-Dramas on Amazon miniTV!