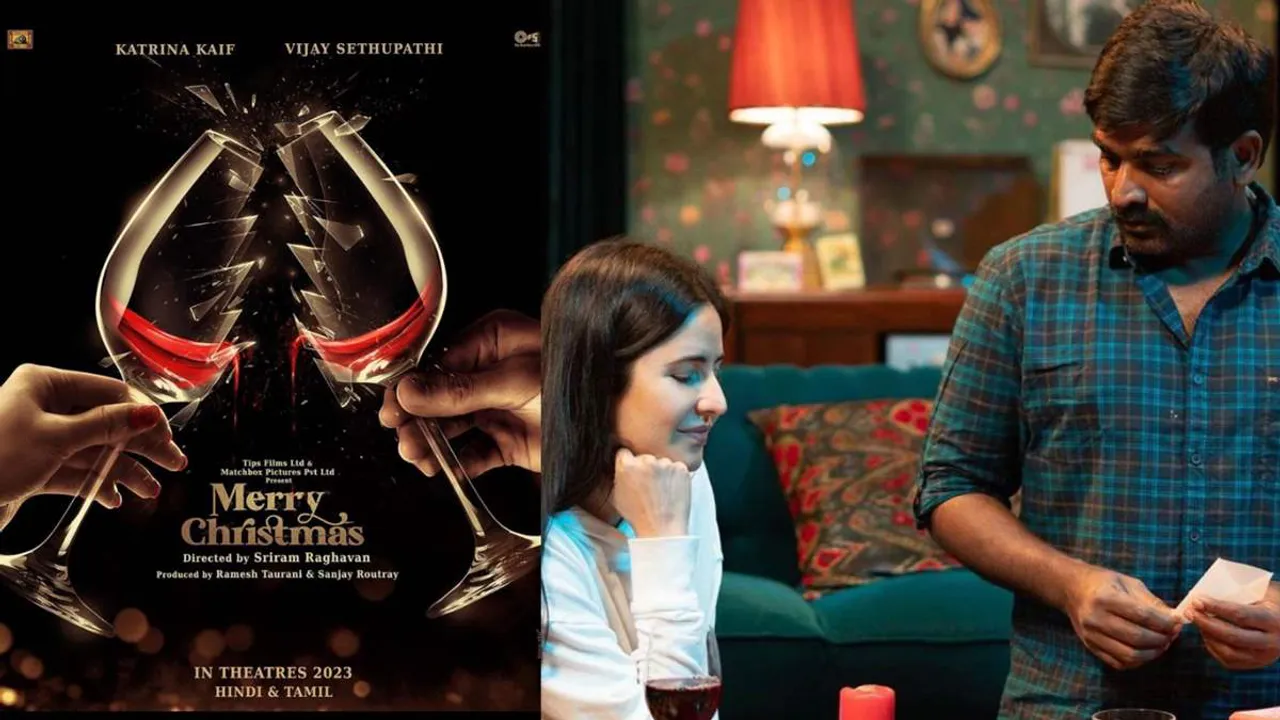 Fans of Katrina Kaif and Vijay Sethupathi can now mark their calendars as the release date of their upcoming film, Merry Christmas, has been confirmed. The official handle of Tips Films recently unveiled the first look poster of the film, which features the lead actors in a festive setting. The caption accompanying the poster also revealed that the film will hit theatres on 15th December 2023. This news has been met with great excitement from fans who have been eagerly waiting for updates on the film.

Star Cast of Merry Christmas
Merry Christmas is an upcoming Bollywood movie that features Katrina Kaif and Vijay Sethupathi in the lead roles. The film is directed by P. Mahesh and produced by Ramesh Taurani under the banner of Tips Industries Limited. The movie is shot in two languages, with different supporting actors. In addition to Kaif and Sethupathi, the Hindi version of the film also stars Vinay Pathak, Sanjay Kapoor, Pratima Kannan, and Tinnu Anand.
Plot of Merry Christmas
The plot of "Merry Christmas" is still under wraps, but rumors suggest that it will be a crime thriller. According to sources, the film will be shot in Pune, Dubai, and Goa. Sriram Raghavan is known for making movies with unconventional and gripping storylines, so fans can expect a thrilling experience from "Merry Christmas."
The first look poster of Merry Christmas
The first look poster of Merry Christmas showcases Katrina Kaif and Vijay Sethupathi in a cheerful and festive setting, surrounded by Christmas decor. While Kaif is seen sporting a red dress and a Santa hat, Sethupathi wears a black suit with a red tie. The poster has already created a buzz among fans who are eagerly anticipating the release of the film. With the release date now confirmed, fans can expect to see more updates on the movie in the coming months.
Expectations from Merry Christmas
Merry Christmas has generated a lot of buzz among the audience, and fans are eagerly waiting to watch Katrina Kaif and Vijay Sethupathi share screen space for the first time.With such a talented star cast and an accomplished director like Sriram Raghavan, expectations from "Merry Christmas" are sky-high.
Conclusion
Merry Christmas promises to be an exciting film that brings together two talented actors from different film industries. With its festive theme and star-studded cast, the movie is sure to be a hit among audiences. The confirmation of its release date has only added to the excitement surrounding the film. As fans eagerly await its release in December 2023, they can keep themselves updated on further developments through social media and other sources.