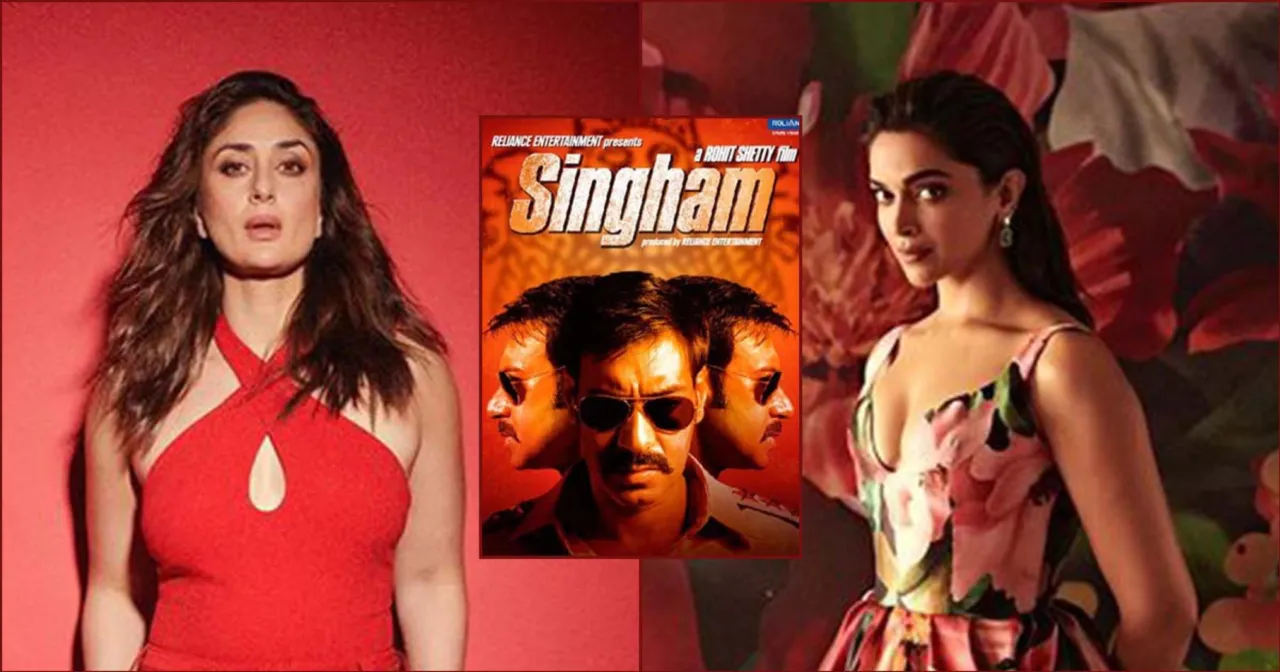 The highly anticipated film, Singham Again, has been creating a buzz in the entertainment industry. Fans are eagerly waiting to witness the action-packed drama unfold on the big screen. With an impressive star cast, including Ajay Devgn and Deepika Padukone, the movie is set to be a blockbuster. And now, there's an exciting update! Kareena Kapoor Khan has officially confirmed her presence in Singham Again, making it her fourth collaboration with director Rohit Shetty. In this article, we will delve into the details of Kareena's role and the excitement surrounding the film.
Kareena Kapoor Khan's Role in Singham Again
Kareena Kapoor Khan, known for her powerhouse performances, is all set to stun the audience once again with her role in Singham Again. Although not much has been revealed about her character, reports suggest that she will be playing the role of Avni Bajirao Singham, a fierce and determined cop. This marks a departure from her previous roles and promises to showcase her versatility as an actress.
The Unveiling of Kareena Kapoor Khan's First Look
In a recent Instagram post, Kareena Kapoor Khan gave a glimpse of her character's first look in Singham Again. The picture showcases her holding a gun, exuding confidence and power. With her intense gaze and rugged appearance, Kareena seems to have completely transformed into Avni Bajirao Singham. This first look has already created a storm on social media, with fans expressing their excitement and anticipation for the film.
"Kareena Kapoor Khan's first look as Avni Bajirao Singham is a testament to her dedication and commitment to her craft. She has truly embraced the essence of the character and is ready to set the screen on fire." - Film Critic
Avni Bajirao Singham returns…mess at your own risk!#SinghamAgain #KareenaKapoorKhan pic.twitter.com/lrYZSbdQcQ

— Akshay Kumar (@akshaykumar) November 8, 2023
Kareena Kapoor Khan's Collaboration with Rohit Shetty
Singham Again marks Kareena Kapoor Khan's fourth collaboration with renowned director Rohit Shetty. Their previous collaborations, such as Golmaal Returns, Golmaal 3, and Singham Returns, have been highly successful at the box office. The duo has established a strong rapport, and their on-screen chemistry has been appreciated by audiences. With Singham Again, Kareena and Rohit are all set to create magic once again and deliver an unforgettable cinematic experience.
Deepika Padukone's Cameo Appearance
Adding to the excitement, it has been reported that Deepika Padukone will be making a cameo appearance as a cop in Singham Again. While details about her role are under wraps, fans are thrilled to see these two powerhouse actresses share the screen. Deepika's inclusion in the film has undoubtedly raised the anticipation levels, and fans are eagerly waiting to see their favorite stars in action.
The Shooting Schedule
To capture the essence of Singham Again, the cast and crew have embarked on an intensive shooting schedule. Kareena Kapoor Khan, along with Ajay Devgn and Deepika Padukone, has flown to Hyderabad's Ramoji Film City, where major portions of the film are being shot. The team is leaving no stone unturned to ensure that every frame reflects the grandeur and intensity that the Singham franchise is known for.
The Singham Franchise: A Recap
The Singham franchise, helmed by director Rohit Shetty, has garnered a massive fan following over the years. The first installment, Singham, released in 2011, was a massive success, establishing Ajay Devgn's character of Bajirao Singham as an iconic cop. The film was praised for its high-octane action sequences and gripping storyline. Singham Returns, the second installment, released in 2014, further amplified the franchise's popularity and left audiences craving for more. With Singham Again, the franchise is set to elevate the action genre to new heights.
The Anticipation and Hype
Singham Again has generated immense anticipation and hype among fans and critics alike. The combination of an exceptional star cast, the power-packed performances of Ajay Devgn and Kareena Kapoor Khan, and the addition of Deepika Padukone has heightened the excitement surrounding the film. Social media platforms are abuzz with discussions and speculation, with fans eagerly awaiting updates and snippets from the sets of Singham Again.
Conclusion
As Singham Again gears up for its release, fans can't contain their excitement to witness the magic unfold on the silver screen. Kareena Kapoor Khan's powerful presence, along with the stellar performances of Ajay Devgn and Deepika Padukone, promises to make this film an unforgettable experience. With its gripping storyline, intense action sequences, and the trademark Rohit Shetty touch, Singham Again is set to be a blockbuster that will leave audiences craving for more. Get ready for a rollercoaster ride of emotions, adrenaline-pumping action, and edge-of-your-seat moments with Singham Again.