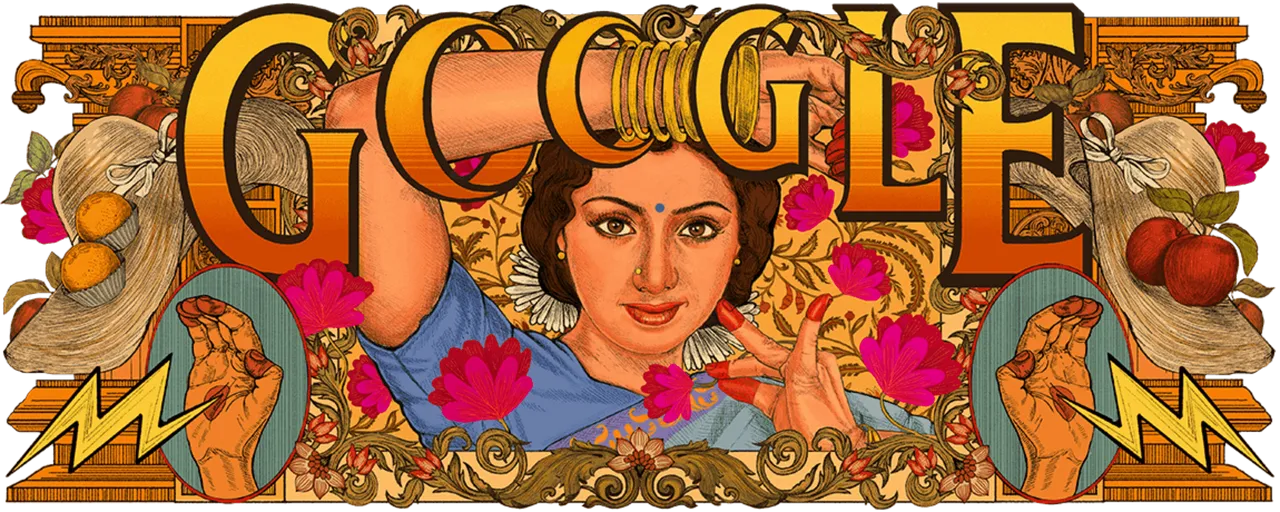 On August 13th, the late Bollywood legend Sridevi would have turned 60 years old. In honor of her remarkable career and enduring legacy, Google has created a captivating animated doodle that beautifully encapsulates the essence of this iconic actress. Sridevi's journey in the Indian film industry spanned an impressive four decades, during which she left an indelible mark with her versatile performances and impeccable acting skills. Let's delve into the life and achievements of this extraordinary talent, often referred to as the 'First Female Superstar of Bollywood.'
Early Life and Rise to Stardom
Born on August 13, 1963, in Sivakasi, Tamil Nadu, Sridevi began her tryst with the world of entertainment at a young age. She made her acting debut as a child artist in the Tamil film "Thunaivan" at the tender age of four. Her talent and magnetic presence on screen soon caught the attention of filmmakers, leading to her transition into lead roles. Sridevi's breakthrough came in the late 1970s when she starred in the critically acclaimed film "Moondru Mudichu."
The Iconic Roles and Versatility
Sridevi's career soared to new heights in the 1980s and 1990s, where she portrayed a myriad of roles that showcased her exceptional range as an actress. One of her most memorable performances was in the cult classic "Mr. India," where she played the feisty and endearing character of Seema. The film's success catapulted her to stardom and cemented her status as one of the leading actresses in the industry.
Throughout her illustrious career, Sridevi effortlessly transitioned between diverse genres, displaying her prowess in drama, comedy, romance, and more. Her ability to breathe life into every character she portrayed was unparalleled, captivating audiences both in India and around the world. Films like "Chandni," "Sadma," and "Lamhe" showcased her versatility and established her as a force to be reckoned with in the Indian film industry.
Impact on Indian Cinema
Sridevi's impact on Indian cinema cannot be overstated. She broke barriers and shattered glass ceilings, becoming the first female superstar of Bollywood. Her mesmerizing performances and captivating screen presence inspired generations of actors and filmmakers. Sridevi's influence extended beyond the confines of the film industry, making her a household name and a cultural icon.
A Tragic Loss
In February 2018, tragedy struck when Sridevi passed away unexpectedly at the age of 54. Her untimely demise sent shockwaves through the industry and left her countless fans worldwide in mourning. The official cause of her death was reported as accidental drowning in a hotel bathtub in Dubai. However, the circumstances surrounding her death continue to attract speculation and debate.
Remembering Sridevi's Legacy
Today, on what would have been her 60th birthday, fans and admirers around the world remember Sridevi for her unforgettable performances and the profound impact she had on shaping modern Indian cinema. Her talent, beauty, and dedication to her craft will forever be etched in the hearts of those who witnessed her on screen. Sridevi's legacy endures, inspiring aspiring actors and filmmakers to chase their dreams and push the boundaries of creativity.
Conclusion
Sridevi's contributions to the Indian film industry are immeasurable. Her ability to captivate audiences with her remarkable talent and versatility made her a true legend. As we celebrate what would have been her 60th birthday, let us remember Sridevi for her iconic roles, extraordinary performances, and the everlasting impact she had on Bollywood and beyond. Her star will continue to shine bright, reminding us of the power of cinema to touch hearts and transcend boundaries.