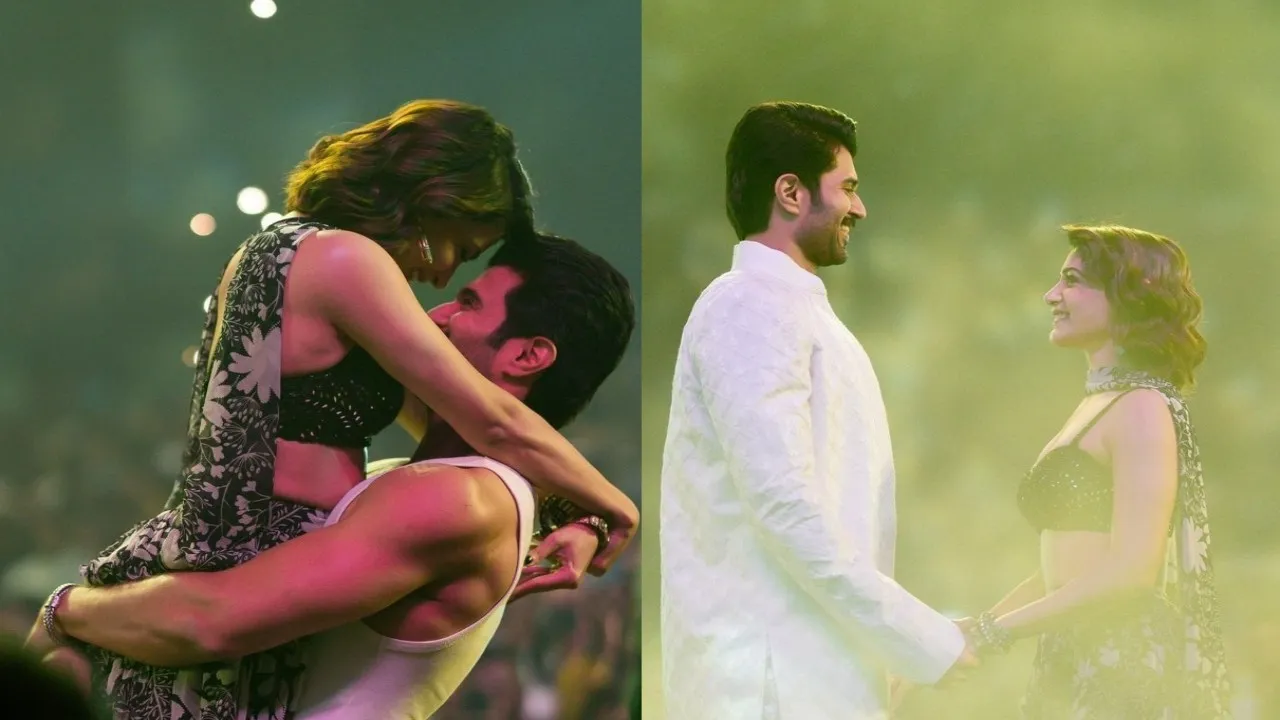 Vijay Deverakonda and Samantha Ruth Prabhu, two of the most sought-after stars in the Telugu film industry, have once again set the internet ablaze with their sizzling chemistry. The duo, who previously shared the screen in the cult film "Mahanati," is now gearing up for the release of their highly anticipated romantic comedy, "Kushi." This article dives deep into their electrifying onscreen collaboration, their recent performance at the Kushi musical concert event, and everything you need to know about this exciting project.
Vijay and Samantha's Mesmerizing Performance at the Kushi Musical Concert
On August 15, Tuesday, Vijay Deverakonda and Samantha Ruth Prabhu took the stage at the Kushi musical concert event, leaving the audience mesmerized with their scintillating performance. The duo performed the much-loved title song of the film, setting the stage on fire with their undeniable chemistry. Their impeccable charm, good looks, and undeniable talent perfectly complement each other, making them one of the most beloved star pairs in the contemporary Telugu film industry.
The audience couldn't help but be captivated by their onscreen chemistry, and fans have been eagerly calling for more collaborations between the two talented actors. Both Vijay and Samantha took to their official Instagram handles to share videos and pictures from the event, further fueling the excitement of their fans. In one of his posts, Vijay captioned the pictures, "Because It is my stage. We spread love, smiles, and lots of #KUSHI from SEPT 1st." Samantha, on the other hand, shared the same set of pictures with a caption that read, "#Kushi There is no such thing as too much love, even too much is not enough."


Kushi: A Tale of Love and Misunderstandings
Directed by Shiva Nirvana, "Kushi" revolves around the story of Aaradhya and Viplav, a young couple from drastically different family backgrounds. Despite parental objections, they decide to marry, setting the stage for a rollercoaster of emotions. However, life takes an unexpected turn when misunderstandings arise between them, putting their relationship to the test. Vijay Deverakonda portrays the character of Viplav, while Samantha Ruth Prabhu brings life to the character of Aaradhya.
The film boasts a talented ensemble cast, including Sachin Khedekar, Murali Sharma, Jayaram, Lakshmi, Sharanya Ponvannan, Rohini, Vennela Kishore, Rahul Ramakrishna, Ali, Srikanth Iyengar, Bharath Reddy, and many others in supporting roles. The music and original score of "Kushi" are composed by Hesham Abdul Wahab, adding another layer of depth to the film. The prestigious banner, Mythri Movie Makers, is behind the production of this much-awaited project.
Vijay Deverakonda and Samantha Ruth Prabhu: A Winning Combination
Vijay Deverakonda and Samantha Ruth Prabhu's onscreen collaboration has been nothing short of magical. Their first project together, "Mahanati," received critical acclaim and garnered a massive fan following for their pairing. Their chemistry in "Mahanati" left the audience in awe, and now, with "Kushi," they are all set to recreate the magic once again.
Both Vijay and Samantha have established themselves as versatile actors in the Telugu film industry. Vijay, known for his intense portrayals in films like "Arjun Reddy" and "Geetha Govindam," brings a raw and captivating energy to his roles. Samantha, on the other hand, has showcased her acting prowess in a wide range of films, including romantic comedies like "Ye Maaya Chesave" and intense dramas like "Rangasthalam." Together, they make a formidable pair, capturing the hearts of audiences with their performances.
The Hype Surrounding Kushi
"Kushi" has been generating significant buzz ever since its announcement. The audience's excitement has only grown with the release of the film's trailer, which received an overwhelming response. The trailer showcases the chemistry between Vijay and Samantha, leaving fans eager to witness their love story unfold on the big screen.
The film's unique storyline, combined with the star power of Vijay Deverakonda and Samantha Ruth Prabhu, has created high expectations among fans and critics alike. Their previous collaboration in "Mahanati" has raised the bar, and the audience is eagerly waiting to see the duo's magic once again in "Kushi."
Vijay Deverakonda's Rise to Stardom
Vijay Deverakonda's journey in the Telugu film industry has been nothing short of extraordinary. He made his debut with the coming-of-age romantic drama "Pelli Choopulu" in 2016, which received critical acclaim and established him as a promising talent. However, it was his portrayal of the flawed yet endearing character in "Arjun Reddy" that catapulted him to stardom.
Since then, Vijay has delivered several successful films, including "Geetha Govindam," "Taxiwaala," and "Dear Comrade." His unique blend of intense performances, charming demeanor, and relatable characters have made him a favorite among the audience. With each project, Vijay continues to push boundaries and explore new facets of his acting abilities.
Samantha Ruth Prabhu: The Undisputed Queen of Telugu Cinema
Samantha Ruth Prabhu, fondly known as Samantha, has established herself as one of the leading actresses in the Telugu film industry. Her journey began with the romantic drama "Ye Maaya Chesave," where she captivated the audience with her natural acting and charming screen presence. Since then, Samantha has delivered several notable performances, solidifying her position as the queen of Telugu cinema.
Films like "Rangasthalam," "Majili," and "Oh! Baby" have showcased Samantha's versatility as an actress. She effortlessly transitions between intense characters, romantic leads, and comedic roles, leaving an indelible mark on the audience. Samantha's dedication to her craft and her ability to bring depth to her characters have earned her numerous accolades and a massive fan following.
The Expectations and Anticipation for Kushi
The anticipation surrounding "Kushi" is palpable, with fans eagerly waiting to see Vijay Deverakonda and Samantha Ruth Prabhu's chemistry once again on the big screen. The film's trailer has already garnered millions of views, indicating the immense popularity of the star pair and the excitement for their onscreen reunion.
As the release date of "Kushi" approaches, the expectations are soaring. Fans are eagerly looking forward to experiencing the magic created by Vijay and Samantha in their previous collaboration. With their sizzling chemistry, exceptional acting skills, and the unique storyline of "Kushi," the film is poised to become a blockbuster and further solidify the star status of Vijay Deverakonda and Samantha Ruth Prabhu in the Telugu film industry.
Conclusion
Vijay Deverakonda and Samantha Ruth Prabhu's sizzling chemistry has once again taken the internet by storm. Their onscreen collaboration in "Kushi" promises to be a treat for fans, with their electrifying performances and undeniable charm. As the release date of the film approaches, the excitement and anticipation continue to grow. "Kushi" is set to captivate audiences with its unique storyline, talented ensemble cast, and the magic created by the dynamic duo of Vijay and Samantha. Get ready to witness their love story unfold on the big screen, as Vijay Deverakonda and Samantha Ruth Prabhu take you on a rollercoaster ride of emotions in "Kushi."