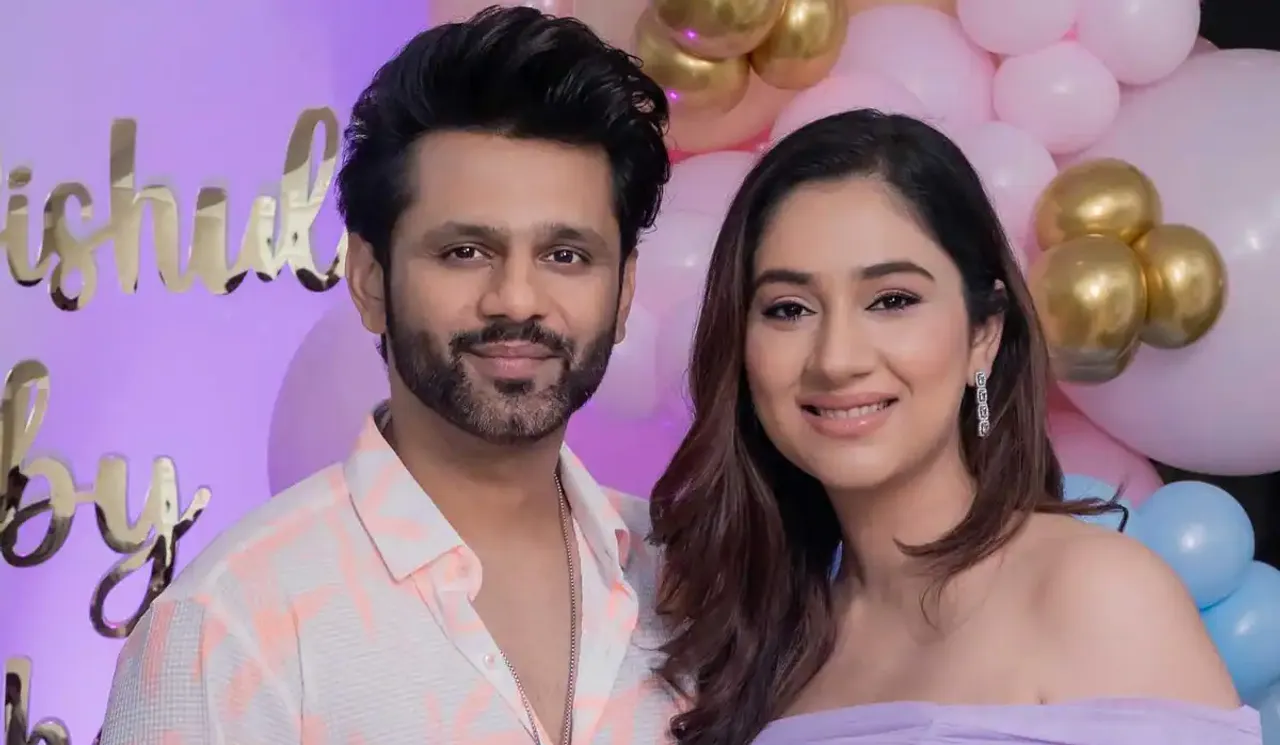 Disha Parmar, the popular Indian actress and model, recently shared pictures from her baby shower, and it was a delightful celebration filled with love and joy. The mom-to-be was accompanied by her doting husband, Rahul Vaidya, as well as her family and close friends. This intimate gathering was a perfect way to celebrate the upcoming arrival of their little one. Let's take a closer look at this heartwarming event and the beautiful moments captured during Disha Parmar's baby shower.
A Magical Evening with Loved Ones
Disha Parmar took to her Instagram to share glimpses of her baby shower, and it was evident that she had a wonderful time surrounded by her loved ones. In the pictures, Disha can be seen glowing with happiness as she poses alongside her husband Rahul Vaidya, family members, and close friends. The atmosphere was filled with laughter, smiles, and a palpable sense of excitement. Disha expressed her gratitude for the unforgettable night, saying, "Couldn't have asked for a better night! Celebrating our [baby shower] with just the close friends and family and having the best time."

A Proposal on National Television
Rahul Vaidya, a renowned singer, proposed to Disha Parmar on national television, capturing the hearts of millions. It was a heartwarming moment that took place on Disha's birthday in 2020 during the popular reality TV show, Bigg Boss 14. Rahul's grand gesture touched Disha's heart, and she graciously accepted his proposal. Their love story quickly became a favorite among fans, and they eagerly awaited their wedding day.
From Wedding Bells to Baby News
Disha Parmar and Rahul Vaidya tied the knot in July 2021 in a beautiful ceremony attended by their loved ones. The couple's wedding was a grand affair, filled with love, music, and celebrations. After their wedding, Disha and Rahul embraced the next chapter of their lives together and announced their pregnancy earlier this year. They shared a heartwarming picture on social media, showcasing their happiness and excitement. The caption read, "Hello from mummy, daddy to be and the baby," accompanied by sonogram pictures, symbolizing the beginning of their journey into parenthood.
Disha Parmar: A Talented Actress and Model
Disha Parmar began her career as a model and soon ventured into acting. She gained popularity with her role in the TV show Pyaar Ka Dard Hai Meetha Meetha Pyara Pyara opposite Nakuul Mehta. Her talent and charm captivated the audience, and she went on to impress with her performances in various TV shows, including Woh Apna Sa and Bade Achhe Lagte Hain 2. Disha has also graced several TV commercials, showcasing her versatility as an artist.
Rahul Vaidya: A Singing Sensation
Rahul Vaidya rose to fame after his participation in the first season of the singing reality show Indian Idol. His soulful voice and charming personality won the hearts of the judges and the audience alike. Rahul has released several hit tracks, including Do Chaar Din, Keh Do Na, Tera Intezaar, Aabhas Hai, and Yaad Teri. His melodious voice continues to mesmerize music lovers, and he has gained a massive fan following over the years. Rahul recently showcased his adventurous side by participating in Khatron Ke Khiladi 11, further solidifying his presence in the entertainment industry.
A Journey Filled with Love and Happiness
Disha Parmar and Rahul Vaidya's journey from their televised proposal to their beautiful wedding and now the eagerly awaited arrival of their baby has been nothing short of a fairytale. Their love and commitment to each other have won the hearts of fans, who have been eagerly following their journey. The pictures from Disha's baby shower captured the essence of this joyous occasion, showcasing the love and warmth shared by their close-knit circle.
Excitement and Anticipation
As Disha Parmar and Rahul Vaidya prepare to embrace parenthood, their fans are filled with excitement and anticipation. The couple's journey has been marked by love, support, and the unwavering bond they share. With their baby shower being a memorable celebration, it's clear that Disha and Rahul are surrounded by loved ones who are eagerly waiting to welcome their little bundle of joy into the world.
Conclusion
Disha Parmar's baby shower was a celebration filled with love, laughter, and cherished moments. The pictures shared by the mom-to-be captured the essence of this special occasion, showcasing the joy and anticipation surrounding the arrival of their baby. Disha and Rahul's journey, from their televised proposal to their wedding and now the impending arrival of their little one, has been a source of inspiration and happiness for their fans. As they embark on this new chapter in their lives, their well-wishers eagerly await the day when they will welcome their bundle of joy into the world.