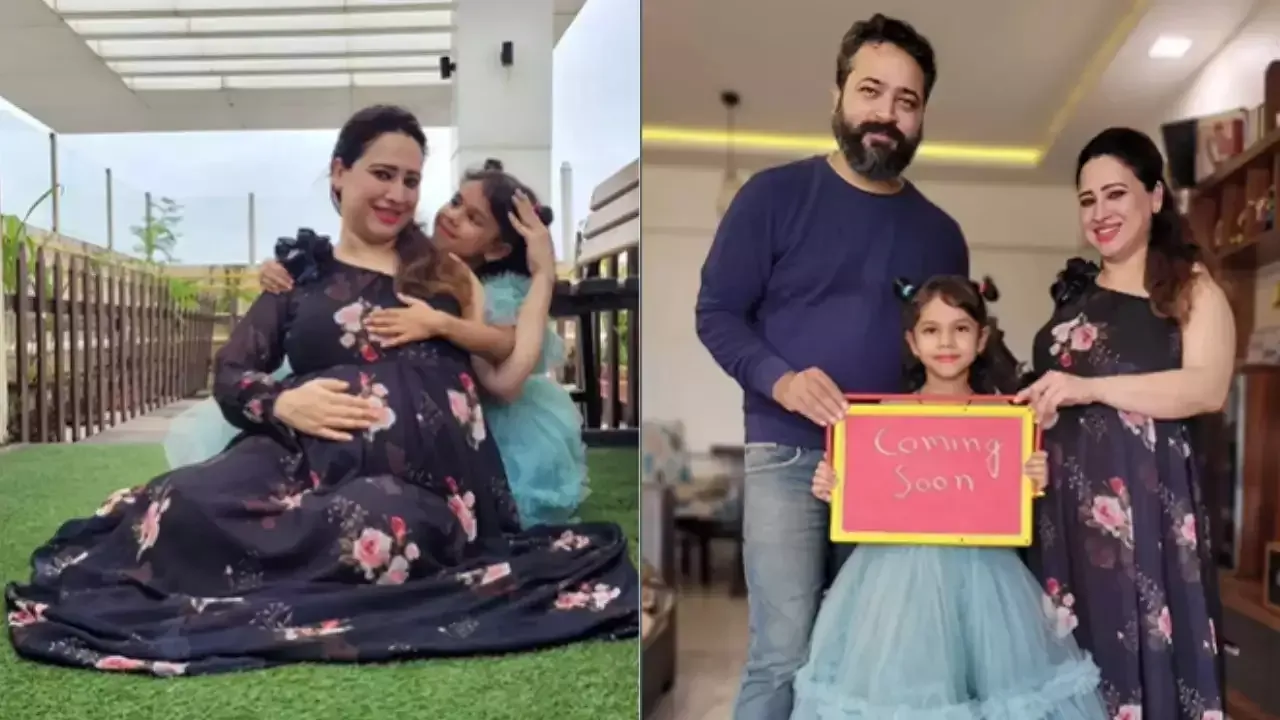 Yeh Rishta Kya Kehlata Hai, one of the most popular Indian television shows, has been entertaining audiences for years. Over time, the show has witnessed the rise and fall of many actors, making it an iconic platform for talent. Among these actors is Pooja Joshi Arora, known for her portrayal of Varsha, Hina Khan's best friend and bhabhi on the show. Pooja recently took to social media to share the joyous news of her second pregnancy with husband Manish Arora, a businessman. This announcement has brought immense excitement to the fans of Yeh Rishta Kya Kehlata Hai.
Pooja Joshi Arora's Pregnancy Announcement
Pooja Joshi Arora and Manish Arora tied the knot in 2015 and welcomed their first child, a daughter, in 2017. Now, the couple is overjoyed to share that they are expecting their second child. Pooja announced her pregnancy through a heartwarming video on social media. The video features her daughter holding a board with the words "going to become big dida soon" written on it, indicating that she will soon become a big sister. Another board in the video reads "Coming soon," hinting at the arrival of the newest member of their family.

A Look at Pooja Joshi Arora's Journey on Yeh Rishta Kya Kehlata Hai
Pooja Joshi Arora, with her portrayal of Varsha, has won the hearts of Yeh Rishta Kya Kehlata Hai fans. Her character has played a significant role in the show's narrative, adding depth and emotional moments to the storyline. Varsha, as Hina Khan's best friend and bhabhi, has shared many memorable moments with the main characters and has been an integral part of the show's success.
Yeh Rishta Kya Kehlata Hai: A Long-Running Show
Yeh Rishta Kya Kehlata Hai holds the distinction of being the longest-running Indian television show. Since its inception, it has captivated audiences with its engaging storyline, relatable characters, and compelling performances. The show has witnessed the journey of various actors, both established and emerging, who have contributed to its popularity and success. Notable actors like Hina Khan, Karan Mehra, Shivangi Joshi, and Mohsin Khan have risen to great heights in their careers through their association with Yeh Rishta Kya Kehlata Hai.
A Journey of Love and Family
Pooja Joshi Arora's journey in life reflects her dedication to her family and her passion for acting. Balancing her personal life and her career, Pooja has managed to create a beautiful balance between her roles as a wife, mother, and actor. Her commitment to her craft and her ability to connect with the audience have made her a beloved figure in the world of Indian television.
Congratulations Pour In
As soon as Pooja Joshi Arora shared the news of her second pregnancy, congratulatory messages poured in from fans and colleagues alike. The Yeh Rishta Kya Kehlata Hai fandom, in particular, expressed their excitement and sent their warm wishes to Pooja and her family. The love and support from the fans have been overwhelming, and it showcases the strong bond between the actors and their audience.
A New Chapter Begins
With Pooja Joshi Arora's second pregnancy, a new chapter begins for her and her family. The anticipation and excitement surrounding the arrival of their newest member are palpable. Fans of Yeh Rishta Kya Kehlata Hai eagerly await updates on Pooja's pregnancy journey and the joyous moments that lie ahead.
Conclusion
Pooja Joshi Arora's pregnancy announcement has brought immense joy to her fans and followers. Her journey on Yeh Rishta Kya Kehlata Hai has been remarkable, and her portrayal of Varsha has left a lasting impact on the show's viewers. As Pooja embarks on this new chapter in her life, her fans eagerly await the arrival of her second child and continue to support her in her personal and professional endeavors.
So, let's join in the celebration and send our heartfelt congratulations and good wishes to Pooja Joshi Arora and her family as they embrace this beautiful journey of love and togetherness.