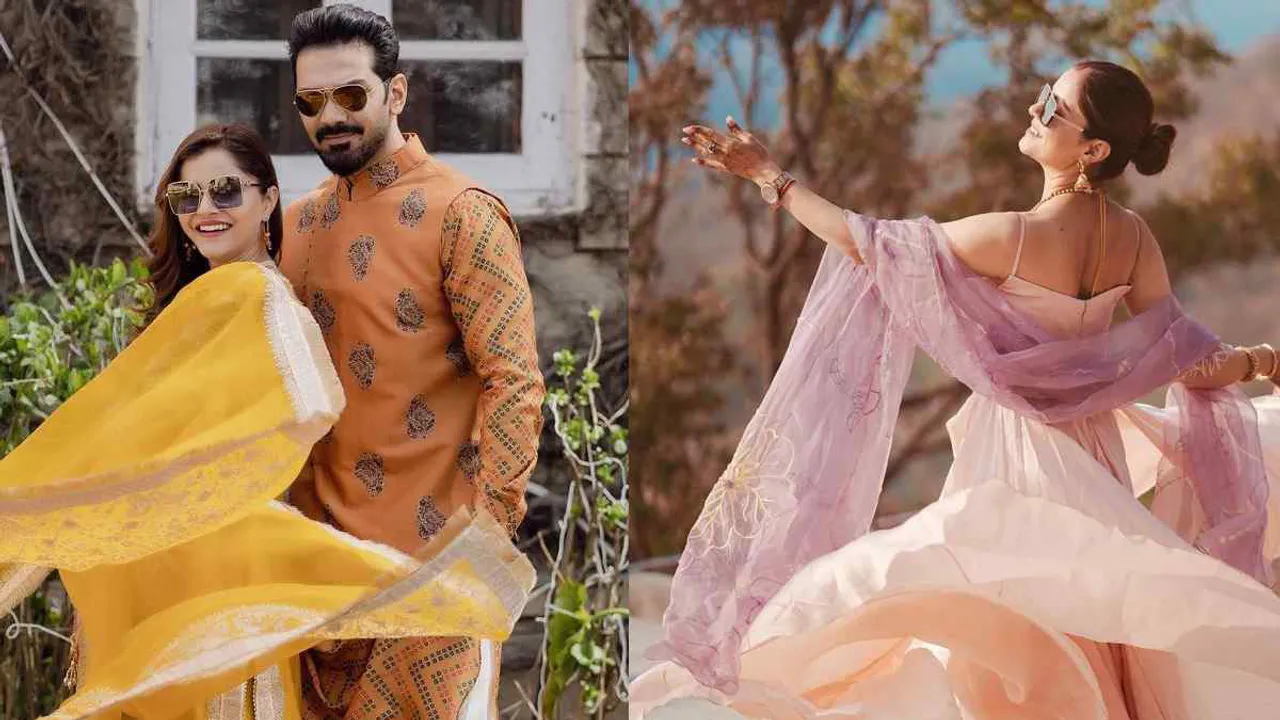 For the past few months, there have been speculations about the television actress Rubina Dilaik and her actor husband Abhinav Shukla expecting their first baby. After five years of marital bliss, the adorable couple is reportedly all set to welcome their first child soon. Though neither Rubina nor Abhinav have reacted to the news of their pregnancy, a recent video of the actress has given a direct hint that she is expecting.
Rubina Dilaik's Video Sparks Pregnancy Speculations
Rubina Dilaik, known for her roles in popular TV shows, took to her Vlog to share a video of her solo trip to the US. Throughout the video, she gave glimpses of her journey from the beginning. In one of the segments, Rubina was seen getting ready to catch her flight, and her baby bump was visible, which she later hid with her hand. As she boarded the flight, she placed her bags on the upper cabinet of the aircraft, and her baby bump was clearly visible. These glimpses in the video have made her fans ecstatic, eagerly waiting for Rubina to officially announce her pregnancy news.

Pregnancy Rumors Sparked Earlier
In July 2023, Rubina Dilaik shared a transition reel on her Instagram handle, where she looked stunning in two cute dresses. However, netizens quickly reacted as they spotted Rubina's baby bump. The comments section was filled with pregnancy rumors about the beloved actress.
Confirmation from Close Sources
A recent report by the Hindustan Times confirmed the pregnancy rumors surrounding Rubina Dilaik. A close source to the actress revealed that she is four months pregnant and is due early next year. Rubina and Abhinav have chosen to keep the news private, which explains Rubina's solo trip to the US, away from media glares. Another insider also mentioned that Rubina is more than four months pregnant and had to decline a fiction show on TV due to her health issues.
Keeping the Pregnancy Low-key
Rubina Dilaik and her husband Abhinav Shukla have been keeping their lives low-key during this special time. They are not even meeting their friends to maintain privacy and enjoy this beautiful phase without unnecessary attention.
Fans Await the Official Announcement
While Rubina Dilaik's video and the confirmation from close sources have given a clear indication of her pregnancy, fans are eagerly waiting for the actress to make an official announcement. The couple's fans have been showering them with love and blessings, eagerly anticipating the arrival of their little one.
Rubina Dilaik: A Talented Actress and Loving Wife
Apart from her pregnancy news, Rubina Dilaik has made a mark in the television industry with her exceptional acting skills. She has appeared in various popular TV shows and has won the hearts of the audience. Her chemistry with her husband, Abhinav Shukla, has been adored by fans, and their journey together has been an inspiration for many.
Pregnancy and Solo Travel: Breaking Stereotypes
Rubina Dilaik's solo trip to the US while being pregnant is a testament to breaking stereotypes around pregnancy and travel. It showcases her spirit of independence and the belief that women can pursue their passions and dreams even during pregnancy. It encourages other expectant mothers to embrace their journeys and not let societal norms restrict them.
Conclusion
Rubina Dilaik's pregnancy journey has been a topic of speculation for a while now. Her recent video and confirmation from close sources have provided a glimpse into this beautiful phase of her life. While fans eagerly await the official announcement, Rubina's solo trip to the US has shown her strength and determination to embrace motherhood while pursuing her dreams. Rubina Dilaik continues to inspire many with her talent, grace, and now, her journey into motherhood.