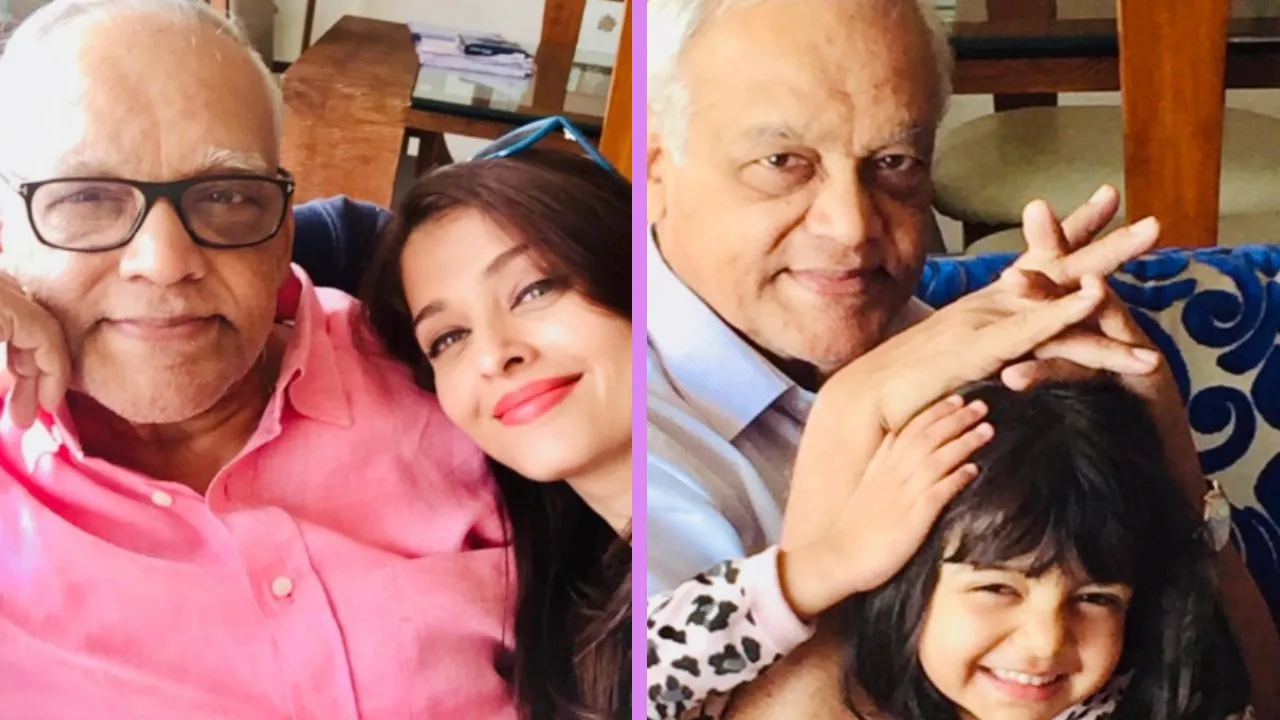 Aishwarya Rai Bachchan, the renowned Bollywood actress, recently shared a heartwarming tribute to her late father Krishnaraj Rai on his birth anniversary. Through an emotional post on social media, Aishwarya expressed her love and gratitude towards her beloved father. This touching gesture not only reflects the strong bond between Aishwarya and her father but also showcases the importance of cherishing the memories of our loved ones. Let's delve into the details of Aishwarya Rai Bachchan's tribute to her late father and understand the significance of this heartfelt gesture.
Remembering Krishnaraj Rai: A Loving Father
Aishwarya Rai Bachchan, known for her elegance and talent, shared a beautiful picture on her social media account. In the picture, her adorable daughter Aaradhya can be seen kissing her grandfather's cheek. This endearing moment captures the love and connection that transcends generations. Alongside the picture, Aishwarya penned a heartfelt note dedicated to her father.
In the caption, Aishwarya expressed her eternal love for her father, addressing him as her "dearest darling daddyyy-ajjaaa." She acknowledged him as their guardian angel, emphasizing the everlasting bond they share. Aishwarya's words resonate with the depth of her emotions and the profound impact her father had on her life.
The Legacy of Krishnaraj Rai
Krishnaraj Rai, Aishwarya's beloved father, passed away in 2017 after bravely battling cancer. Throughout his life, Krishnaraj Rai played a significant role in shaping Aishwarya's journey, both personally and professionally. Aishwarya, who is active on social media, often shares cherished memories and photographs with her father, keeping his spirit alive in her heart and the hearts of her followers.
Last year, on Krishnaraj Rai's birthday, Aishwarya shared a heartfelt picture of her father, accompanied by a caption filled with love and gratitude. This gesture touched the hearts of her fans, who flooded the comments section with heartfelt messages and support. Aishwarya's constant remembrance of her father demonstrates the profound impact he had on her life and the everlasting love she holds for him.
Aishwarya Rai Bachchan's Upcoming Film: PS-1
While paying tribute to her late father, Aishwarya Rai Bachchan is also focused on her professional commitments. She is set to appear in the upcoming film "PS-1," directed by the acclaimed filmmaker Mani Ratnam. Scheduled for release in September this year, "PS-1" is based on Kalki's classic Tamil novel, Ponniyin Selvan.
Aishwarya recently shared her first look from the film on social media, generating immense excitement among her fans. She captioned the post, "The Golden Era comes to the big screens on Sept 30th!" The anticipation surrounding Aishwarya's performance in "PS-1" is palpable, with fans eagerly awaiting the release of the film.
Fan Reactions to Aishwarya's Tribute and Film Announcement
Aishwarya Rai Bachchan's social media posts always elicit enthusiastic responses from her devoted fan base. When she shared the picture of her daughter Aaradhya kissing her late father's cheek, fans poured their hearts out in the comments section. One fan exclaimed, "Queen is back," while another expressed being "absolutely dead" after witnessing such an emotional moment. The love and admiration for Aishwarya and her family are clearly visible in the outpouring of heartfelt comments.
Similarly, when Aishwarya announced the release date of her upcoming film "PS-1," fans couldn't contain their excitement. Many expressed their anticipation for the film, eagerly counting down the days until they can witness Aishwarya's talent on the big screen once again. The overwhelming support and positive reactions from fans are a testament to Aishwarya's enduring popularity and the anticipation surrounding her projects.
Conclusion
Aishwarya Rai Bachchan's tribute to her late father Krishnaraj Rai on his birth anniversary is a poignant reminder of the power of love and the importance of cherishing our loved ones. Through her heartfelt posts and constant remembrance, Aishwarya keeps her father's spirit alive in her life and the lives of her followers. As she continues to excel in her professional endeavors, such as her upcoming film "PS-1," Aishwarya's fans eagerly await the opportunity to witness her on the silver screen once again.
Let us take inspiration from Aishwarya Rai Bachchan's heartfelt tribute and ensure that we cherish and honor the memories of our loved ones, even when they are no longer with us physically. Their presence lives on in our hearts and the legacy they leave behind.