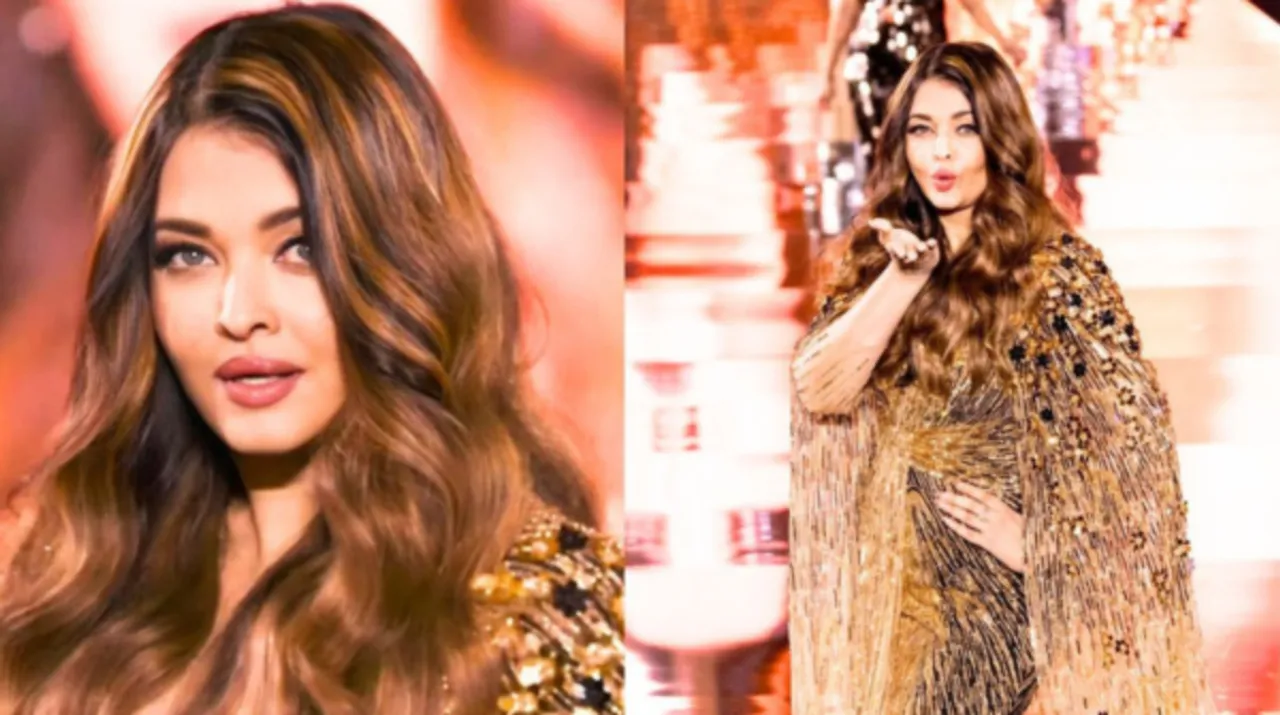 Aishwarya Rai Bachchan, the renowned Indian actress, continues to captivate audiences with her stunning beauty and remarkable talent. Her recent appearance at Paris Fashion Week 2023 turned heads and left everyone in awe. Walking the ramp in a breathtaking golden gown, Aishwarya Rai showcased her impeccable style and elegance. The event, hosted by L'Oreal Paris, featured a star-studded lineup of celebrities, including Kendall Jenner, Eva Longoria, Andie MacDowell, Helen Mirren, Aja Naomi King, and Viola Davis. Let's delve into the details of Aishwarya Rai's mesmerizing presence at Paris Fashion Week 2023.
Aishwarya Rai Shines in a Golden Gown
Aishwarya Rai stole the spotlight at Paris Fashion Week as she graced the runway in a stunning shimmery brown and golden gown. The floor-sweeping bodycon gown adorned with gold sequin embellishments perfectly complemented her radiant beauty. The gown also featured a sheer cape attached at the back, adding an ethereal touch to her ensemble. Aishwarya Rai completed her look with blonde hair, matching the golden hues of her attire. She accessorized with golden high heels, diamond rings, and earrings, exuding glamour from head to toe.
Aishwarya Rai Wows the Crowd
As one of the showstoppers at the L'Oreal Paris fashion show, Aishwarya Rai left the audience in awe with her statement style. With a confident stride and a beaming smile, she effortlessly commanded the runway. Aishwarya Rai's charismatic presence was further enhanced by her playful gestures. She winked at the crowd, blew kisses, and even waved to the onlookers, creating an unforgettable experience for all those present. Aishwarya's elegance and charm were evident as she walked the ramp, leaving a lasting impression on everyone.
Aishwarya Rai Joins Hands with Viola Davis
During the event, Aishwarya Rai had the opportunity to walk the ramp hand in hand with the talented actress Viola Davis. The duo showcased their camaraderie and stole the show as they gracefully glided down the runway. It was a moment of pure elegance and power, symbolizing the strength and unity of women in the fashion industry. Aishwarya Rai's collaboration with Viola Davis added an extra layer of significance to her already remarkable presence at Paris Fashion Week 2023.
Fans React to Aishwarya Rai's Ramp Walk
Aishwarya Rai's ramp walk at Paris Fashion Week elicited an overwhelming response from her fans. Social media platforms were flooded with videos and comments praising her timeless beauty and captivating performance. One fan expressed their admiration, stating, "People say that in this world no one is constant, but they are wrong. All changed, but Ash's flying kiss is still constant. It started in 2003-04 but didn't change." Another fan referred to her as the "golden girl" and the "mermaid girl," highlighting the awe-inspiring impact of her appearance. Aishwarya Rai's presence at Paris Fashion Week left everyone dazzled and awestruck, with fans expressing their love and appreciation for her in various heartfelt messages.
Aishwarya Rai: The Iconic L'Oreal Paris Brand Ambassador
Aishwarya Rai has been associated with L'Oreal Paris as its brand ambassador for several years. Her unwavering commitment to the brand and her ability to embody its ethos of beauty and elegance have made her a true icon. Aishwarya Rai's participation in Paris Fashion Week 2023 as a showstopper further solidified her role as a global fashion influencer. Her association with L'Oreal Paris continues to inspire millions of women around the world, empowering them to embrace their beauty with confidence.
Conclusion
Aishwarya Rai Bachchan's appearance at Paris Fashion Week 2023 was nothing short of extraordinary. With her mesmerizing golden gown, graceful walk, and radiant smile, she captivated the audience and cemented her status as a fashion icon. Aishwarya Rai's collaboration with Viola Davis added a touch of empowerment and unity to the event. Her fans showered her with love and praised her timeless beauty. As the iconic brand ambassador for L'Oreal Paris, Aishwarya Rai continues to inspire women globally to embrace their beauty and exude confidence. Paris Fashion Week 2023 will forever be remembered as a showcase of Aishwarya Rai's grace, elegance, and undeniable star power.