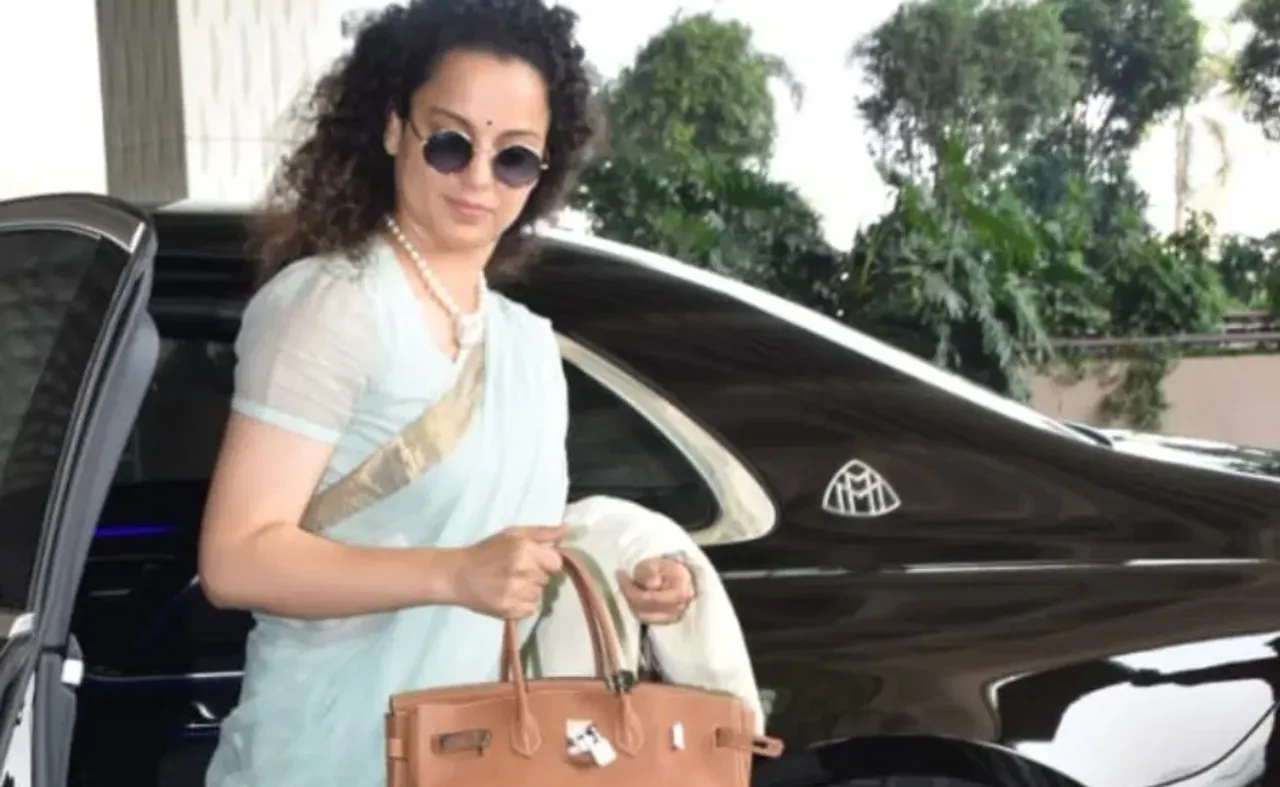 Kangana Ranaut, a renowned Bollywood actress known for her impeccable fashion sense and unapologetic personality, has once again caught the attention of fashion enthusiasts with her recent airport appearance. In this article, we will delve into Kangana's stunning saree ensemble, her choice of arm candy, and highlight some of her other memorable fashion moments. Let's take a closer look at Kangana Ranaut's fashion choices and her expensive arm candy that has been turning heads.
Kangana's Stylish Airport Look
Kangana Ranaut never fails to make a style statement, and her recent airport look is no exception. In a video that has been circulating on social media, Kangana can be seen arriving at the airport in a pastel green-hued chiffon saree. The saree is adorned with gold and silver borders, exuding elegance and grace. To complement her saree, Kangana opted for a simple princess-cut blouse and accessorized her look with exquisite pearl jewelry. With her curly tresses left open and a subtle nude makeup look, Kangana effortlessly radiates beauty and sophistication.Kangana's Expensive Arm Candy
While her saree ensemble is undeniably stunning, what truly stands out is Kangana's choice of arm candy. She carried a Hermes Birkin 3 En 1 handbag, a luxurious accessory worth a staggering Rs. 11 lakhs. The tan-hued handbag, crafted from heritage leather, features a vegetable tan shade and impeccable craftsmanship. The bag comes with a tote holdall that can be easily removed with a swift pull. It also includes two side-straps, a turn lock, and a matching clutch. Kangana's choice of this multi-use and versatile handbag further solidifies her status as a fashion icon with an eye for luxury.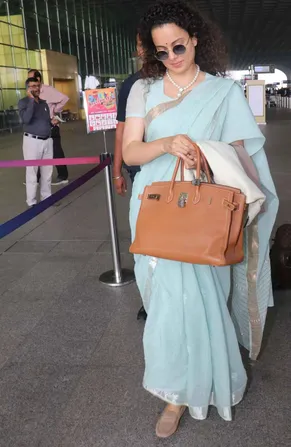 Kangana's Sultry Gown for Tiku Weds Sheru Promotions
In another fashion-forward moment, Kangana Ranaut graced the promotions of her film, Tiku Weds Sheru, in a sultry-looking color-blocked gown. The gown, featuring dual tones and yellow-hued cups, accentuated Kangana's assets flawlessly. Completing her look, she paired the gown with glittery shoes and styled her hair into a sleek, gelled ponytail. Glamorous makeup and statement earrings added the perfect finishing touches to her ensemble.
Kangana's Mesmerizing Avatar at her Brother's Wedding
Kangana Ranaut's fashion choices are not limited to red carpets and film promotions; she also knows how to make a grand entrance at family events. At her brother Akshat's wedding in 2020, Kangana stole the show with her mesmerizing ethnic look. She wore a stunning multi-colored lehenga designed by the eminent designer, Anuradha Vakil. The ensemble featured a blue lehenga skirt with a golden border and a purple-hued quarter-sleeve choli adorned with bespoke golden work. Adding a touch of royalty, Kangana draped a green net dupatta with gold motifs and border. Her appearance at her brother's wedding showcased her impeccable sense of style and her ability to effortlessly carry traditional ensembles.
Conclusion
Kangana Ranaut's fashion choices have always been a topic of discussion, and her recent airport appearance with an expensive Hermes Birkin 3 En 1 handbag only adds to her fashion icon status. Whether it's a stunning saree ensemble, a sultry gown, or an ethnic lehenga, Kangana knows how to make heads turn with her impeccable style. Her ability to effortlessly carry luxury accessories further solidifies her position as a fashion inspiration. Kangana Ranaut continues to push boundaries and set new trends in the fashion world, making her a true-blue fashionista and a force to be reckoned with.