Indian politician Raghav Chadha and Bollywood actor Parineeti Chopra have tied the knot, and the first photos of their wedding are now circulating. The couple had an intimate ceremony at The Leela Palace in Udaipur, and it was a pearl-themed Indian wedding. While Parineeti's stunning dust gold lehenga caught everyone's attention, it was her exquisite wedding jewellery that truly stole the show. Kiara Advani, the talented Bollywood actress, recently made headlines with her stunning diamond and emerald necklaces. These exquisite pieces of jewelry not only added a touch of royalty to her ensemble but also held significant cultural and historical value.
A Closer Look Of Parineeti's Bridal Jewellery
A Polki Set Studded with Pastel Green Stones
Parineeti Chopra opted for a polki set believed to be from Manish Malhotra's jewellery line. The set is studded with pastel green stones, adding a touch of elegance and uniqueness to her bridal look. The polki necklace features a string of diamonds in between the layers, creating a mesmerizing effect. The matching earrings further enhance the overall appeal of the jewellery set.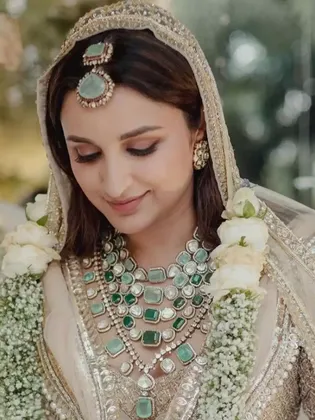 A Maang-Tikka that Complements the Look
To complete her bridal look, Parineeti wore a stunning maang-tikka with two humongous stones. The maang-tikka beautifully accentuates her forehead and adds a regal touch to her overall appearance. Its design perfectly complements the polki set, creating a harmonious and captivating look.
Pink Choodha with Gold Kaleeras
In addition to the polki set and maang-tikka, Parineeti also wore a pink choodha with gold kaleeras. The choodha is a traditional set of bangles worn by Punjabi brides, symbolizing their marital status. The combination of pink and gold adds a vibrant and celebratory touch to Parineeti's bridal ensemble.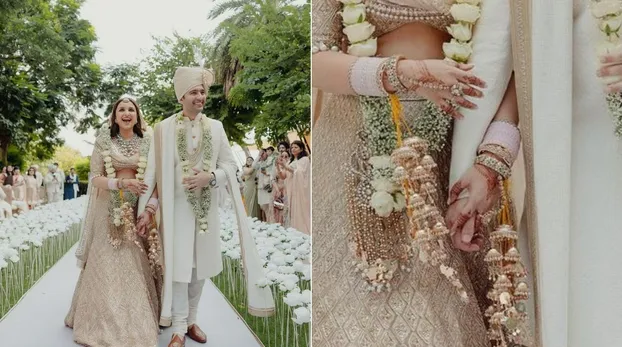 The Perfect Choice for a Pearl-Themed Indian Wedding
Parineeti Chopra and Raghav Chadha's wedding was titled a 'pearl-themed Indian wedding,' as mentioned on their wedding card. The choice of jewellery, including the polki set and the pearl-like stones, beautifully aligns with the theme. The pastel green stones resemble pearls, adding a soft and elegant touch to Parineeti's bridal look.
Parineeti Chopra opted for a polki set from Manish Malhotra's jewellery line. The set features pastel green stones and a string of diamonds, adding a touch of elegance to her look. The maang-tikka, adorned with two large stones, perfectly complements the overall ensemble without overshadowing its beauty. Parineeti also wore a pink choodha with gold kaleeras, completing her bridal look.
A Closer Look Of Kiara's Bridal Jewellery
The Allure of Diamonds and Emeralds
Diamonds and emeralds have long been regarded as symbols of wealth, luxury, and power. Their beauty and rarity have captivated civilizations throughout history, making them highly sought-after gemstones. Diamonds, with their brilliant sparkle and durability, have been associated with strength and invincibility. On the other hand, emeralds, with their rich green hue, have been revered as symbols of love, rebirth, and fertility.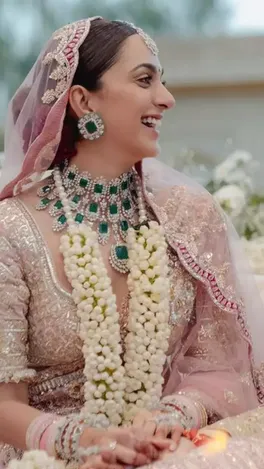 The Story Behind the Necklaces
Each piece of jewelry has its own unique story, and Kiara Advani's necklaces are no exception. The diamond necklace, adorned with emerald drops, is a masterpiece that showcases the finest craftsmanship. Its design draws inspiration from the royal jewelry of ancient Indian dynasties, reflecting a blend of traditional and contemporary aesthetics. The emerald necklace, on the other hand, is a tribute to the rich cultural heritage of India, with its intricate patterns and vibrant green gemstones.
The Royal Connection
Kiara Advani's diamond and emerald necklaces are not just stunning pieces of jewelry; they also have a royal connection. These necklaces were inspired by the rich heritage and opulence of Indian royalty. In India, jewelry has always played a significant role in the lives of royals, symbolizing their status, wealth, and power. The intricate designs, exquisite craftsmanship, and use of precious gemstones like diamonds and emeralds were a testament to their regal lineage.
Kiara Advani Kaleeras
Along with the couple's stunning visuals, Kiara's customised kaleera stole the spotlight. Her sacred bangles beautifully symbolized her love for Sidharth. The kaleera featured Sid's beloved dog, Oscar, who passed away the previous year, along with elements representing their favorite travel destination, Rome. It was a testament to their love and mischief.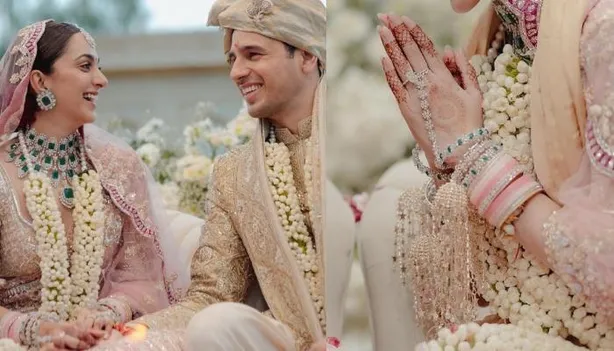 The Symbolism of Diamonds and Emeralds
Diamonds and emeralds hold deep symbolism in various cultures. Diamonds are often associated with purity, clarity, and eternal love. They are believed to bring strength, courage, and protection to the wearer. Emeralds, on the other hand, are associated with wisdom, growth, and harmony. They are believed to enhance spiritual insight, promote balance, and bring good fortune. Wearing these gemstones is said to bring positive energy and a sense of empowerment.
Conclusion
Parineeti Chopra's wedding jewellery has set a new standard for elegance and beauty. Her choice of the polki set from Manish Malhotra's collection, paired with the stunning dust gold lehenga, created a mesmerizing bridal look. As she begins her journey as Mrs. Raghav Chadha, Parineeti's wedding photos serve as inspiration for brides-to-be and jewellery enthusiasts alike. Kiara Advani's diamond and emerald necklaces are not just accessories; they are a celebration of heritage, culture, and the timeless allure of precious gemstones. These necklaces symbolize the grandeur of Indian royalty and the craftsmanship of Indian artisans