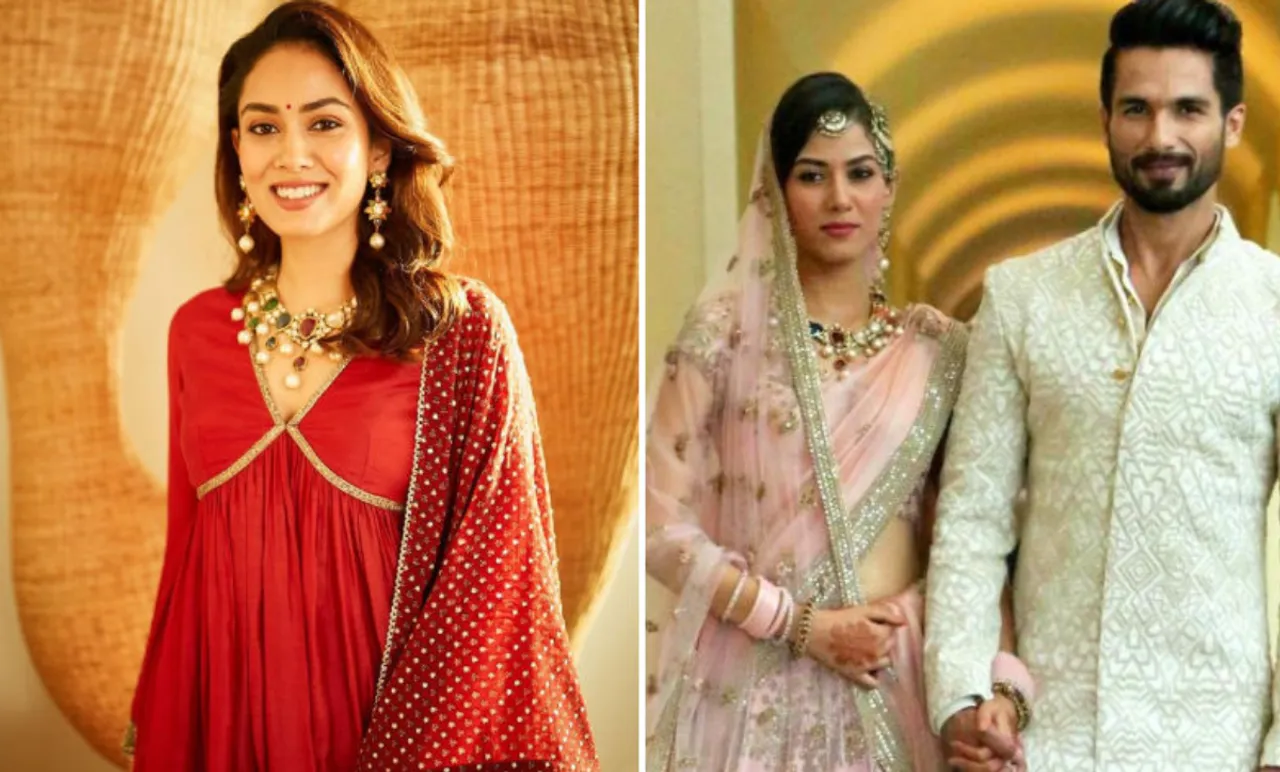 Mira Rajput has made a name for herself as a true fashionista queen, captivating fans with her distinct sense of style. While she is known for her stunning ensembles, it is her ability to experiment and breathe new life into her wedding jewelry that truly sets her apart. Recently, Mira attended a family wedding, where she repeated her bridal jewelry, showcasing her unique flair and elegance. In this article, we delve into Mira Rajput's fashion choices, her stunning sharara set, and her innovative approach to styling her bridal jewelry.
Mira Rajput's Stunning Sharara Set
At the family wedding, Mira Rajput turned heads with her choice of attire. She looked absolutely gorgeous in a red-colored sharara set adorned with intricate lace and stonework on its borders. The ensemble perfectly accentuated her beauty and elegance. The sequin-encrusted dupatta added a touch of glamour to her overall look, while her nude makeup enhanced her natural features.
Repeating Bridal Jewelry with a Twist
What truly caught everyone's attention was Mira Rajput's decision to repeat her bridal jewelry for the occasion. She effortlessly styled her jewelry in a way that showcased her individuality and creativity. The centerpiece of her jewelry was a choker-style statement neckpiece, complemented by matching earrings, a passa, maang teeka, and a heap of pink bangles. Mira's choice to pair her bridal jewelry with the red-colored sharara set added a touch of traditional elegance to her overall look.
Mira Rajput's ability to breathe new life into her bridal jewelry highlights her fashion-forward approach and willingness to experiment. Despite being a prominent figure in the public eye, Mira never shies away from trying new styles and expressing her individuality through her fashion choices.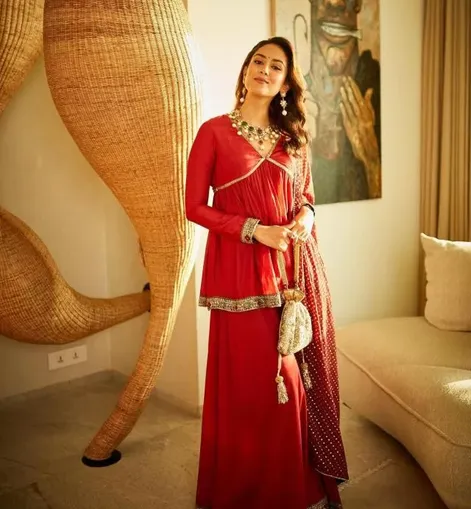 Shahid Kapoor's Traditional Look
While Mira Rajput stole the show with her stunning ensemble and innovative jewelry styling, her husband, Shahid Kapoor, also made a statement with his traditional look for the family wedding. Shahid, known for his impeccable fashion sense, opted for a black kurta and tied a turban on his head. In one of the pictures shared on his Instagram handle, Shahid was seen posing alongside his father, Pankaj Kapur, who donned a twinning look.
Shahid Kapoor's decision to don a pag (turban) for the family wedding was at the request of his father. Shahid shared a heartwarming note on Instagram, where he revealed how his father always insisted on wearing a pag for such special occasions. This gesture highlighted the strong bond between father and son, showcasing the respect and love they have for each other.
Shahid Kapoor: A Self-Made Actor
In an interview with Bollywood Bubble, Shahid Kapoor opened up about his early days as an actor and addressed the misconception of being labeled as a star kid. He asserted that he is a self-made actor who has achieved stardom through hard work and dedication. While acknowledging the influence of his father, Pankaj Kapur, on his career, Shahid emphasized that he never received any preferential treatment or support from his father in his journey to success.
Shahid Kapoor expressed his admiration for his father's proud and independent nature. He revealed that his father never offered to make phone calls or provide any assistance to further his career. Shahid recognized the importance of carving his own path and building his success from the ground up. Over the span of 20 years, Shahid Kapoor has worked tirelessly to establish himself as a respected actor in the industry.
Conclusion
Mira Rajput's fashion choices and her innovative approach to styling her bridal jewelry showcase her as a true fashion icon. Her ability to repeat her bridal jewelry and infuse it with her unique style is a testament to her creativity and individuality. Meanwhile, Shahid Kapoor's traditional look for the family wedding and his journey as a self-made actor highlight his dedication and hard work in the industry. Together, Mira Rajput and Shahid Kapoor continue to captivate fans with their remarkable fashion sense and their genuine approach to their respective careers.