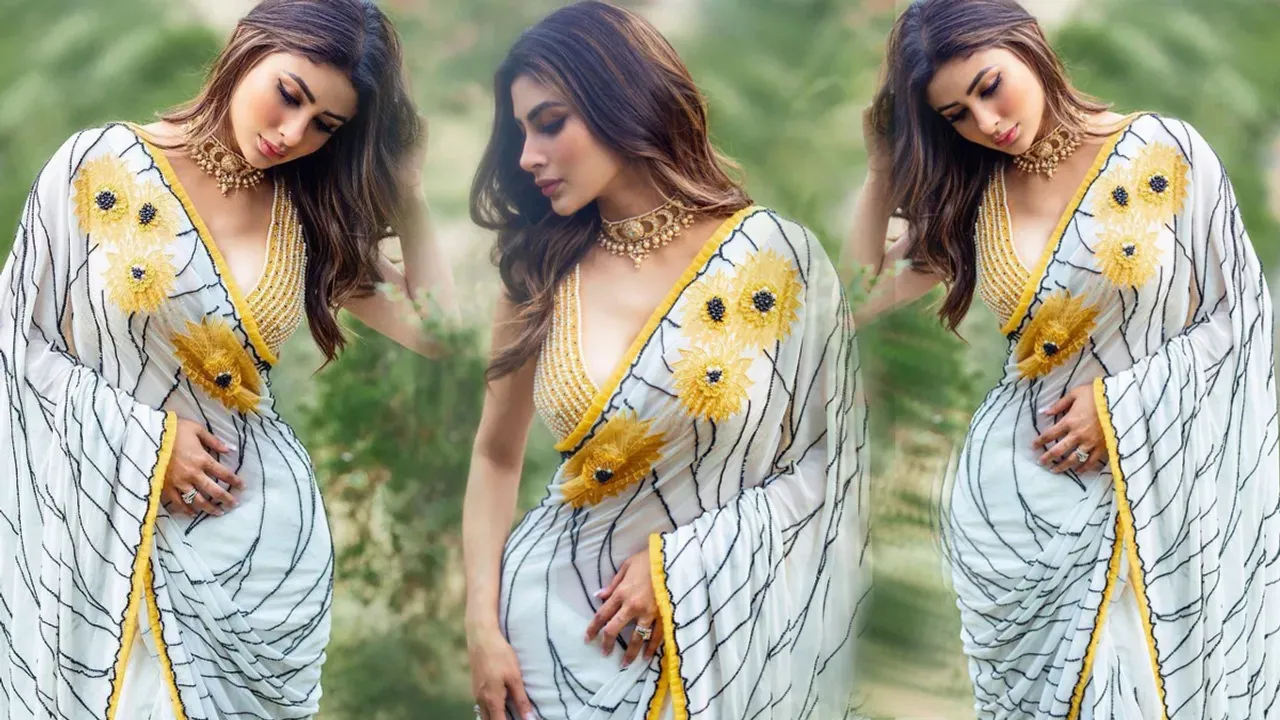 Mouni Roy, Bollywood's favorite fashion icon, recently set social media ablaze with her breathtaking appearance in a stunning sunflower-laden georgette saree. The ethereal off-white ensemble, priced at a whopping Rs. 61,000, instantly captured the attention of ethnic fashion enthusiasts. Let's dive into the details of this mesmerizing outfit and explore why it has become the dream saree for many.
A Work of Art: Mouni Roy's Sunflower-Laden Georgette Saree
In the ever-changing world of Bollywood fashion, there are moments when an ensemble transcends mere attire and transforms into a work of art. Mouni Roy, like a radiant sunflower in full bloom, donned a remarkable off-white georgette saree that left the fashion world spellbound. This sartorial masterpiece, styled by renowned Bollywood stylist Rishika Devnani, features intricate details that make it truly unique.
The Enchanting Design
Mouni Roy's off-white organza saree, designed by Nitika Gujral, is adorned with 3-D sunflower motifs and a geometrical pattern. The saree is meticulously highlighted with beads, cut dana pearls, and crystal work, giving it an ethereal and captivating appeal. The attention to detail in the design is truly commendable, making this saree a standout piece in Mouni Roy's wardrobe.
The Perfect Pairing
To complement the exquisite saree, Mouni Roy opted for a matching yellow organza blouse. The blouse features wide straps, a deep U-shaped plunging neckline, and intricate beadwork. The choice of a yellow blouse adds a vibrant touch to the overall ensemble, perfectly complementing the sunflower motifs on the saree. Mouni Roy's impeccable styling choices highlight her fashion prowess and elevate the entire look.
The Finishing Touches
To complete the ensemble, Mouni Roy opted for matching heels that perfectly complemented the saree. She accessorized with a choker-like gold necklace, adding a traditional touch to the outfit. A sparkly matching ring adds a subtle hint of glamour. The accessories were carefully chosen to enhance the beauty of the outfit without overpowering it. Mouni Roy's attention to detail and her ability to strike the perfect balance between elegance and glamour are truly commendable.
The Flawless Look
Mouni Roy's hair was left open and styled into loose curls, cascading down her shoulder like a charm. Her makeup was kept glamorous yet subtle, with mascara-laden eyelashes, well-shaped eyebrows, perfectly applied eyeliner, shimmery eyeshadow, and the perfect contour. The addition of a pink lipstick added a touch of freshness to the overall look.
Inspiration for Ethnic Fashion Enthusiasts
Mouni Roy's sunflower-laden georgette saree serves as an inspiration for all ethnic fashion enthusiasts. It showcases the transformative power of the right ensemble when paired with finesse. The attention to detail, the choice of accessories, and the overall styling make this outfit a true masterpiece.
Ethnic fashion lovers can draw inspiration from Mouni Roy's impeccable style and use it as a guide to create their own unique and stunning looks. The key takeaway from Mouni Roy's appearance is that a well-curated ensemble, combined with the right accessories and styling, can create magic.
Mouni Roy's sunflower-laden georgette saree has captivated the hearts of fashion enthusiasts, and we eagerly await her next fashion revelation. This saree has truly become every ethnic lover's dream, serving as a testament to Mouni Roy's impeccable fashion sense and her ability to create unforgettable looks.
Conclusion
Mouni Roy's beautiful Rs. 61,000 sunflower-laden off-white georgette saree is a true work of art. It has captivated the fashion world with its intricate design, impeccable styling, and the overall aura it exudes. This stunning ensemble serves as an inspiration for all ethnic fashion enthusiasts, showcasing the transformative power of the right outfit. Mouni Roy's fashion choices continue to set trends and leave a lasting impact on the industry.