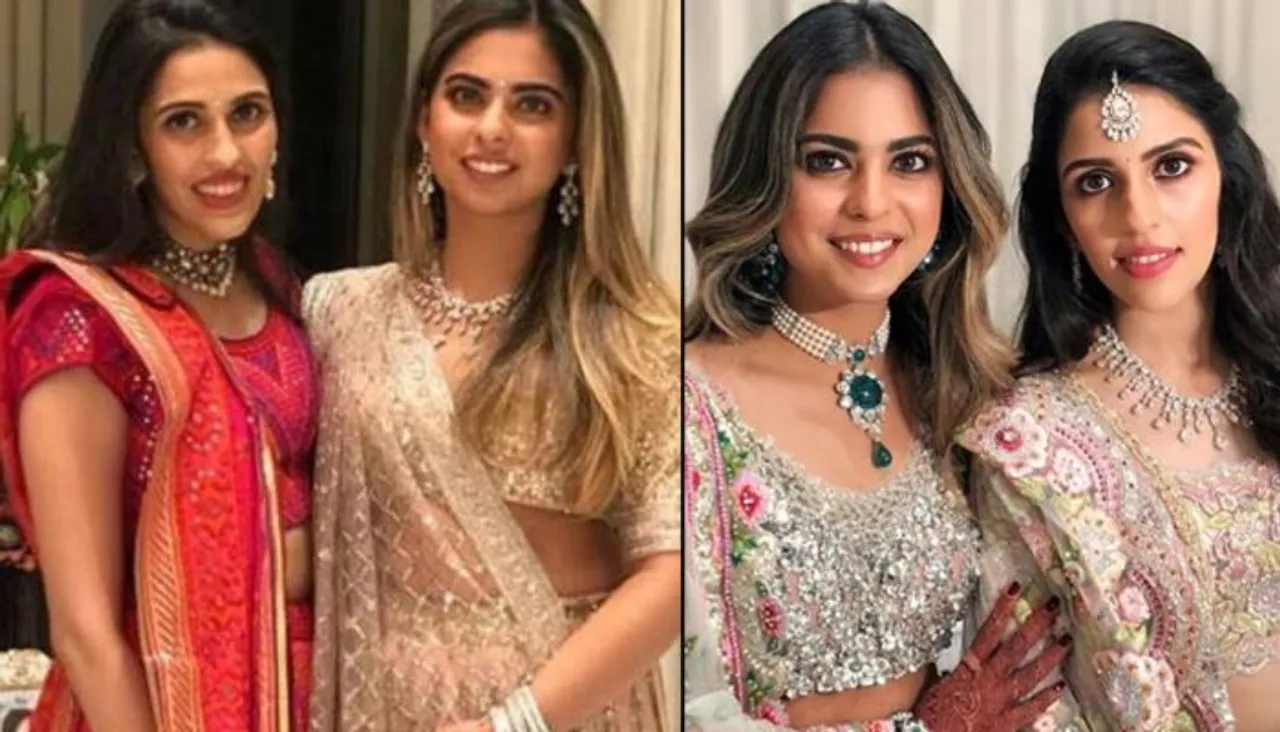 Radhika Merchant, the daughter-in-law of Mukesh Ambani and Nita Ambani, has been making waves in the media with her impeccable fashion sense and elegant jewelry choices. As she prepares to join the prestigious Ambani clan, Radhika has been effortlessly blending traditional Indian customs with her own unique style. One aspect of her fashion choices that has caught the attention of many is her penchant for borrowing jewelry from her to-be sister-in-law, Isha Ambani. Let's take a closer look at some of the stunning pieces that Radhika has been seen wearing and the bond she shares with Isha.
Radhika Adorns Isha's Emerald and Diamond Choker
In a recent picture collage shared on an Ambani fan page, Radhika Merchant was seen wearing a breathtaking diamond and emerald choker necklace that she had borrowed from Isha Ambani. The picture showcased the beautiful bond between Radhika and her to-be sister-in-law, as they posed alongside their respective partners, Anant Ambani and Anand Piramal. Radhika looked radiant in a white-hued lehenga adorned with large rose motifs, while Anant looked dapper in a blue kurta-pyjama ensemble. It was Radhika's stunning necklace that stole the show, adding a touch of elegance to her already glamorous look.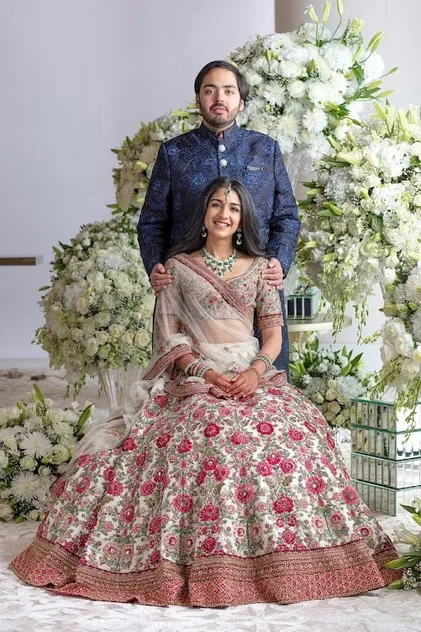 A Tradition of Sharing Jewelry
This is not the first time Radhika and Isha have shared their jewelry with each other. On various occasions, Radhika has been spotted wearing Isha's exquisite pieces. One such instance was when Radhika donned a pair of heart-shaped diamond earrings that Isha had previously worn to an event in 2018. The earrings perfectly complemented Radhika's traditional ensemble and added a touch of sparkle to her overall look. It is heartwarming to see the bond between Radhika and Isha extend beyond family ties, as they share their love for beautiful jewelry.
Isha and Radhika's Mutual Love for Dior Handbags
Apart from jewelry, Radhika and Isha also seem to share a love for luxurious handbags. During the Dior Fall 2023 show, the two future sisters-in-law were spotted together, both carrying similar Dior handbags. Radhika opted for a cream-hued dress, while Isha chose a yellow floral-printed dress. The stunning handbags they carried, the Lady Dior mini alligator skin handbags, come with a hefty price tag of approximately Rs. 21 lakhs 6 thousand. This fashionable display further highlights the shared interests and camaraderie between Radhika and Isha.
The Significance of Radhika's Jewelry Choices
Radhika Merchant's choice to wear jewelry borrowed from her to-be sister-in-law holds great significance in Indian culture. It symbolizes the bond and acceptance between the two families and showcases Radhika's respect for the Ambani traditions. By embracing Isha's jewelry, Radhika not only honors the family's heritage but also demonstrates her willingness to adapt and become an integral part of the Ambani clan. Her elegant jewelry choices serve as a testament to her grace and style, further solidifying her place in the hearts of the Ambanis.
Conclusion
Radhika Merchant's ability to seamlessly blend traditional Indian customs with her own unique style is truly commendable. Her choice to wear jewelry borrowed from her to-be sister-in-law, Isha Ambani, showcases the deep bond and acceptance between the families. The elegant pieces she adorns add a touch of glamour to her already stunning ensembles, making her a fashion icon in her own right. As Radhika prepares to join the Ambani clan, her jewelry choices serve as a beautiful representation of her merging with their rich heritage and traditions.