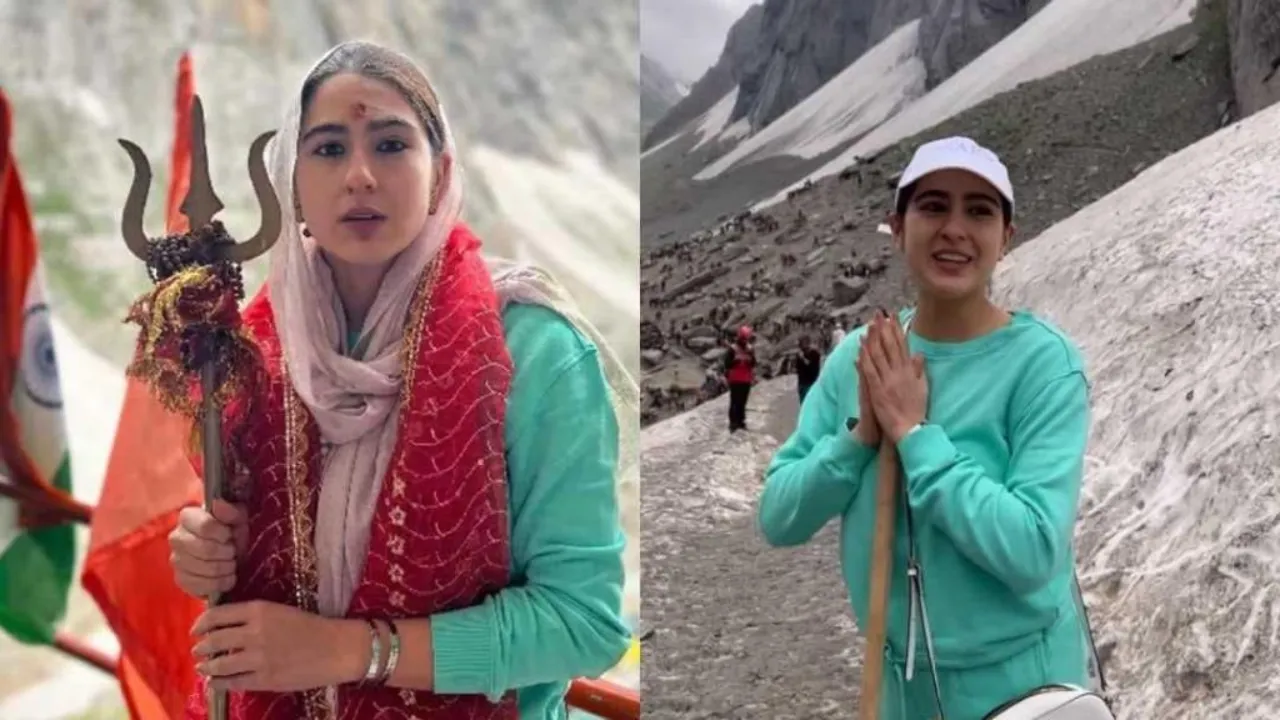 Sara Ali Khan, the talented Bollywood actor, recently embarked on a spiritual journey by undertaking the Amarnath Yatra in Jammu and Kashmir. This sacred Hindu pilgrimage site holds great significance for devotees across the country. Sara's presence during the yatra caught the attention of fans and the media alike, as she shared glimpses of her experience on social media platforms. In this article, we will explore Sara Ali Khan's Amarnath Yatra and her other recent projects, giving insight into her spiritual side and her upcoming ventures.
The Amarnath Yatra Experience
During the Amarnath Yatra, Sara Ali Khan immersed herself in the divine atmosphere and embraced the spiritual energy surrounding the pilgrimage site. Videos and photos of the actor surfaced online, showing her journey alongside other devotees towards the shrine. The images depicted Sara wearing a turquoise jacket with matching pants and a red chunni (scarf) around her neck. She also adorned her forehead with a red tika (vermilion), symbolizing her devotion.
Surrounded by her team and security personnel, she gracefully made her way down, exuding tranquility and reverence. The Amarnath Yatra is known for its challenging terrain and the faith it instills in the hearts of pilgrims. Sara's presence during this sacred journey reflects her spiritual inclination and her desire to connect with the divine.
Sara's Kashmir Adventure
Prior to her Amarnath Yatra, Sara Ali Khan delighted her followers with glimpses of her Kashmir trip on Instagram. The actor shared a series of captivating pictures from her mountain adventures, highlighting the breathtaking beauty of the region. One particular photo showcased Sara relaxing in a cozy tent, enjoying a cup of tea while a cute little goat nestled in her lap. Her caption beautifully captured the essence of the moment, stating, "When the soul is content and the hamstrings are sore, bakri se phir bacchon se ki dosti (befriended goat and children), and then we had the chai (tea) I adore."
Sara's Kashmir adventure not only allowed her to experience the serenity of nature but also provided her with an opportunity to unwind and rejuvenate. The picturesque landscapes and the peaceful surroundings served as a perfect backdrop for her spiritual journey.

Sara's Recent Projects
Apart from her spiritual endeavors, Sara Ali Khan has been actively involved in the entertainment industry, working on various projects. Her most recent film, "Zara Hatke Zara Bachke," in which she starred alongside Vicky Kaushal, received positive reviews and performed decently at the box office. However, Sara's journey in Bollywood extends far beyond this particular film.
Conclusion
Sara Ali Khan's Amarnath Yatra in Kashmir not only demonstrated her deep-rooted faith but also highlighted her unwavering connection to spirituality. As she embarked on this sacred journey, she seamlessly blended her spiritual quest with her love for exploring new places and embracing nature's beauty. Additionally, her upcoming projects reflect her dedication to her craft and her desire to portray diverse characters on the big screen.
Sara Ali Khan's journey in Bollywood has been remarkable, and with each project, she continues to captivate audiences with her talent and versatility. As fans eagerly await her future releases, they can take inspiration from her spiritual journey and her commitment to personal growth. Sara's Amarnath Yatra experience serves as a reminder of the power of faith and the importance of finding solace in the divine.