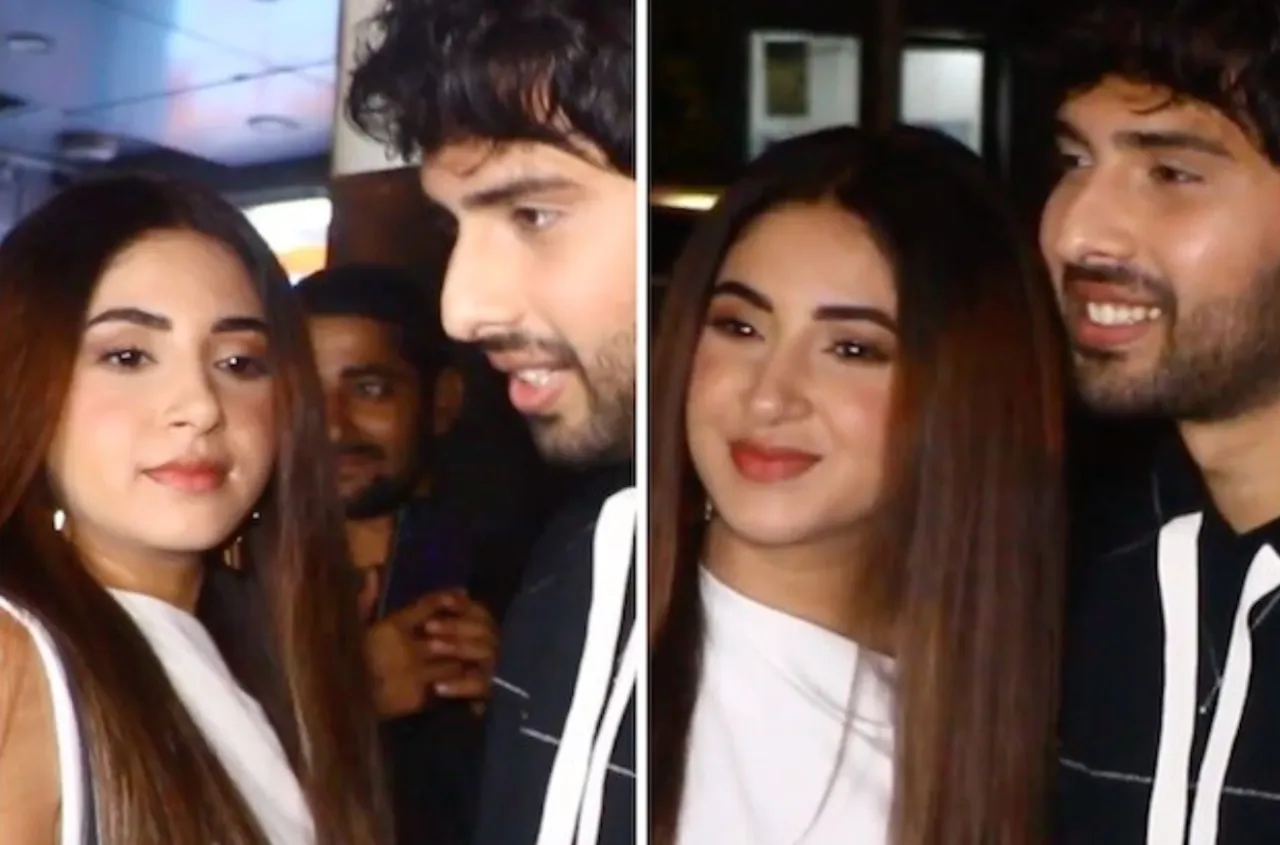 Armaan Malik, the renowned Bollywood singer, and Aashna Shroff, the popular fashion blogger, have been the talk of the town since their recent engagement. The couple, known for their individual achievements and charming personalities, has been setting relationship goals for their fans. In a recent development, Armaan and Aashna were spotted enjoying a romantic dinner date, further fueling speculation about their impending wedding. In this article, we will delve into the details of this delightful evening and explore the couple's journey from their engagement to this special date.
The Engagement: A Dream Come True
Armaan Malik and Aashna Shroff's engagement ceremony was a grand affair attended by close friends and family. The couple, who had been dating for several years, decided to take their relationship to the next level. The engagement ceremony was held at a luxurious venue, adorned with exquisite decorations and an aura of love and happiness. Armaan and Aashna exchanged rings in the presence of their loved ones, sealing their commitment to each other.
Celebrating Love: A Romantic Dinner Date
Following their engagement, Armaan and Aashna took some time off to celebrate their newfound journey together. The couple was recently spotted enjoying a romantic dinner date at a popular restaurant in Mumbai. Dressed elegantly, they were seen laughing, sharing intimate moments, and savoring delicious cuisine. The couple's chemistry was palpable, leaving onlookers in awe of their love and happiness.
Armaan Malik: The Charismatic Bollywood Singer
Armaan Malik, born into a family of musicians, discovered his passion for singing at a young age. With his melodious voice and soulful renditions, he quickly rose to fame in the Bollywood music industry. Armaan has lent his voice to numerous hit songs, winning the hearts of millions around the world. His talent, dedication, and humble nature have made him a favorite among music enthusiasts.
Aashna Shroff: The Fashion Diva and Social Media Influencer
Aashna Shroff, a well-known fashion blogger and social media influencer, has made a name for herself in the world of fashion and lifestyle. With her impeccable sense of style and captivating content, she has amassed a huge following on various social media platforms. Aashna's creativity, authenticity, and commitment to her work have made her a role model for aspiring influencers.
Love Blossoms: The Couple's Journey
Armaan and Aashna's love story began several years ago when they crossed paths at a social event. Their shared interests and mutual admiration for each other's work brought them closer, leading to a strong bond. The couple has been open about their relationship on social media, giving their fans a glimpse into their beautiful journey together. From attending events to going on vacations, Armaan and Aashna have created cherished memories that will last a lifetime.
Wedding Bells: The Next Chapter
With their engagement and the recent dinner date, speculation about Armaan and Aashna's wedding has been on the rise. Fans eagerly await the announcement of their wedding date and details about the extravagant celebration. The couple's friends and well-wishers from the entertainment industry have expressed their joy and excitement for this new chapter in their lives.
Conclusion
Armaan Malik and Aashna Shroff's romantic dinner date after their engagement has further solidified their status as one of Bollywood's most adorable couples. Their love and commitment to each other continue to inspire their fans and followers. As we eagerly await news of their upcoming wedding, we celebrate their beautiful journey and wish them a lifetime of love and happiness together.