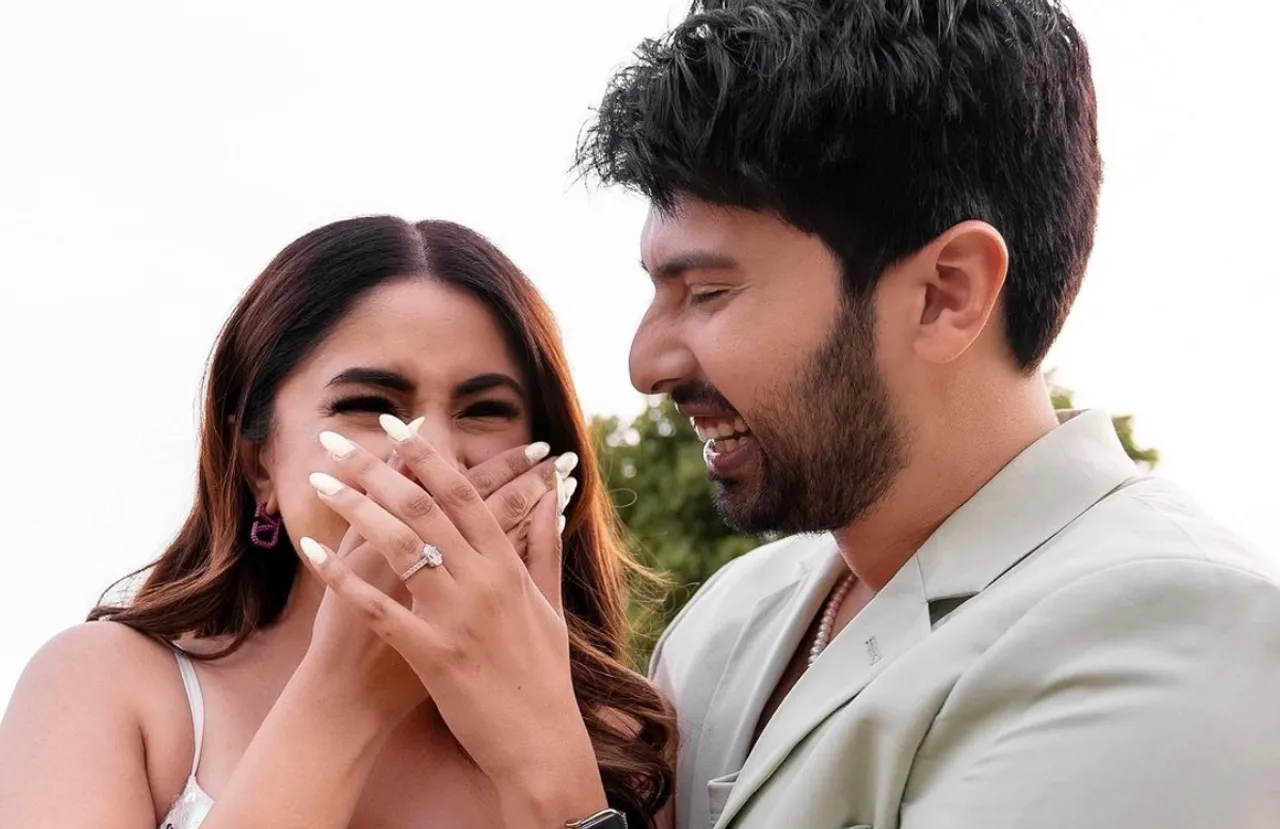 Singer-songwriter Armaan Malik has recently captured the hearts of netizens with his dreamy proposal to fashion influencer Aashna Shroff. The couple announced their engagement on August 28, and the internet went abuzz with love and well wishes. Now, Armaan has released a romantic music video titled 'Kasam Se,' taking us inside the big "proposal" day and showcasing the special moment when Aashna said "yes" to him. Let's dive into the details of this heartwarming love story.
A Love Story Unveiled
In the video for 'Kasam Se,' Armaan Malik gives us a glimpse into the proposal day, filled with surprises and endearing emotions. The clip showcases Armaan's meticulous planning of the surprise in the presence of their families and loved ones. He sets up an elegant and romantic atmosphere with candles and flowers, serenading Aashna with his soulful voice and guitar before getting down on one knee. The heartfelt moment leaves Aashna overwhelmed with emotion, and she tearfully accepts the proposal.
A Musical Love Letter
'Kasam Se' is not just a song; it's a musical love letter from Armaan to his better half. It serves as an ode to their unique love story and a promise of unwavering support through thick and thin. The song focuses primarily on Armaan's vocals and a simple yet effective guitar-plucking pattern. As the song progresses, minimal orchestrations are introduced, creating a crescendo that mirrors the intensity of a once-in-a-lifetime love story.
Armaan shares his thoughts on the special song, stating, "'Kasam Se' is a promise to my partner that I will always be by her side, no matter the challenges we face. She is the most special person in my life, and I consider myself extremely fortunate to spend the rest of my life with her. Here's to our forever."
Overwhelming Support and Love
The couple's engagement announcement and the release of 'Kasam Se' have garnered immense support and love from their fans and the industry alike. Actor Varun Dhawan expressed his admiration by leaving a heart on their Instagram post. Singer Arjun Kanungo couldn't help but gush over the video, saying, "Too cute, man. Congratulations to you both!" Salim Merchant also chimed in with a simple yet heartfelt comment, "Lovely."
Fans poured in their heartfelt messages, with one stating, "The best proposal ever! Everyone had tears... you guys are just perfect, touchwood." Another fan expressed their dream come true, saying, "I've always wanted to see you and Aashna in a romantic music video together. This is more than I could have ever imagined. A beautiful twist to fulfill my dream!"

The Collaborative Effort
'Kasam Se' is a result of the collective talent within the Malik family. Armaan lends his mesmerizing voice to the song, while his brother Amaal Mallik takes charge of the composition. The heartfelt lyrics were penned by Kunaal Vermaa, adding an extra layer of depth to the emotional narrative.
Conclusion
Armaan Malik's proposal to Aashna Shroff and the subsequent release of the music video 'Kasam Se' have captured the hearts of fans worldwide. The video takes us on a journey through their special day, filled with surprises and heartfelt emotions. The song serves as a promise of eternal love and support, beautifully expressing Armaan's feelings for his better half. With overwhelming support from fans and industry peers, this love story has undoubtedly touched the hearts of many. As Armaan and Aashna embark on their forever journey, we can't help but be inspired by their beautiful love story.