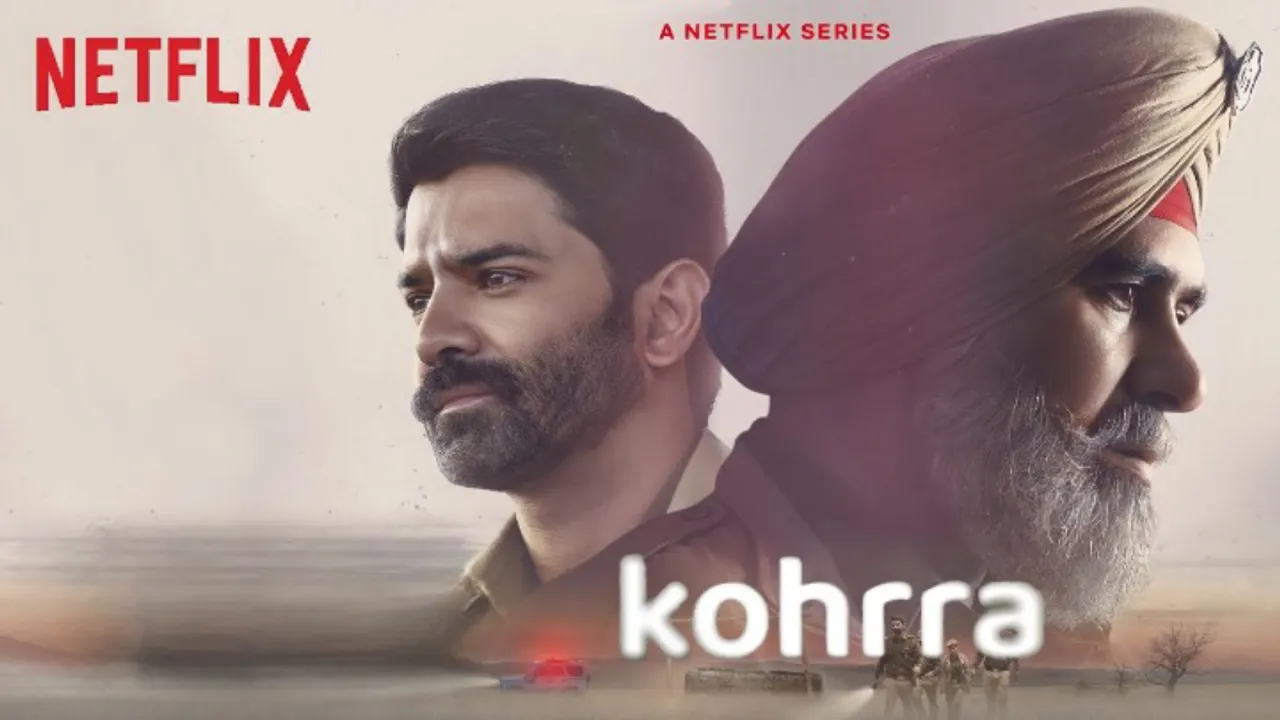 Kohrra is a Punjabi-language crime series that revolves around the mysterious death of a young British man of Punjabi descent, Paul, just two days before his wedding. The show's narrative is a double-weave of police procedural and human drama, where the discovery of new clues is as important as the expression of repressed feelings.
The six-episode show has been created and written by Gunjit Chopra and Diggi Sisodia. Sudip Sharma serves as co-creator, while director Randeep Jha dexterously steers a solid cast through a thicket of deception, both of others and the self.
Plot Summary
The series begins with the discovery of Paul's dead body in a field, with a kohra (fog) hanging over the crime scene. The victim's childhood friend Liam has gone missing right after Paul's death, and the investigating officers, sub-inspector Balbir and his colleague Garundi, have other suspects to consider.
Apart from Liam, Paul's domineering father Steve is in the middle of a property dispute with his brother Maninder, and Maninder's son Happy resents Paul. The victim's arranged bride-to-be, Veera, has a boyfriend named Saakar who is deeply disgruntled with the marriage.
As the officers follow several bread crumb trails alongside putting out domestic fires, they find themselves tangled in a web of complicated relationships, where the line between love and hate is blurred.
A Tale of Beastly Love
Kohrra's central theme revolves around the question of why we love those we love. The show explores this question through the lens of complicated relationships that are both toxic and passionate.
The tale of beastly love, as more than one character puts it, finds the right visual language to express the sharp writing. Elegant long takes by cinematographer Saurabh Monga immerse us in a world in which characters carefully and gradually reveal their motivations. Editor Sanyukta Kaza's nifty match cuts connect scenes taking place in different locations, while also drawing emotional connections between seemingly disparate arcs.
The brooding background score, by Benedict Taylor and Naren Chandavarkar, complements the sober mood. The haunting Bas Tere Karke, sung by Ammy Sandu, composed by Wazir Patar and written by Nav Sandhu, conveys the show's overarching idea - the heart is deceitful above all things.
Characters and Performances
Kohrra features an impressive cast of actors who bring their A-game to the table. Suvinder Vicky delivers a nuanced performance as sub-inspector Balbir, a policing veteran who yearns for succor and is locked in misery, some of it of his own making and some of it a result of social pressure.
Harleen Sethi plays Balbir's daughter Nimrat who is at the center of a subplot that runs parallel to the disclosures emanating from the murder victim's household. The impact of this track is equally the result of Sethi's impressive performance.
Barun Sobti, who plays Garundi, delivers a strong performance as well. His character is at the center of another gathering fog, and his journey is marked by twists and turns that keep the audience hooked.
Other notable performances include Amaninder Pal Singh as Happy, Saurav Khurana as the vengeful ex Saakar, and Rachel Shelley as Liam's mother Clara.
A Masterclass in Storytelling
Kohrra is a masterclass in storytelling that seamlessly blends police procedural with human drama. The show's creators have done an excellent job of weaving together a complex narrative that keeps the audience engaged till the very end.
Apart from a revelation that should have been made early but is held back all the way until the denouement, Kohrra avoids the usual gimmicks associated with similarly themed shows. Ambivalence lingers even after the case has seemingly been solved, upending the neatness that marks the typical crime investigation drama.
Final Thoughts
Kohrra is a must-watch for anyone who enjoys a good crime drama that explores the depths of human relationships. The show's impressive performances, nuanced storytelling, and haunting background score make it a standout in its genre. If you haven't watched it yet, you're missing out on an unforgettable journey through the dark underbelly of human emotions.