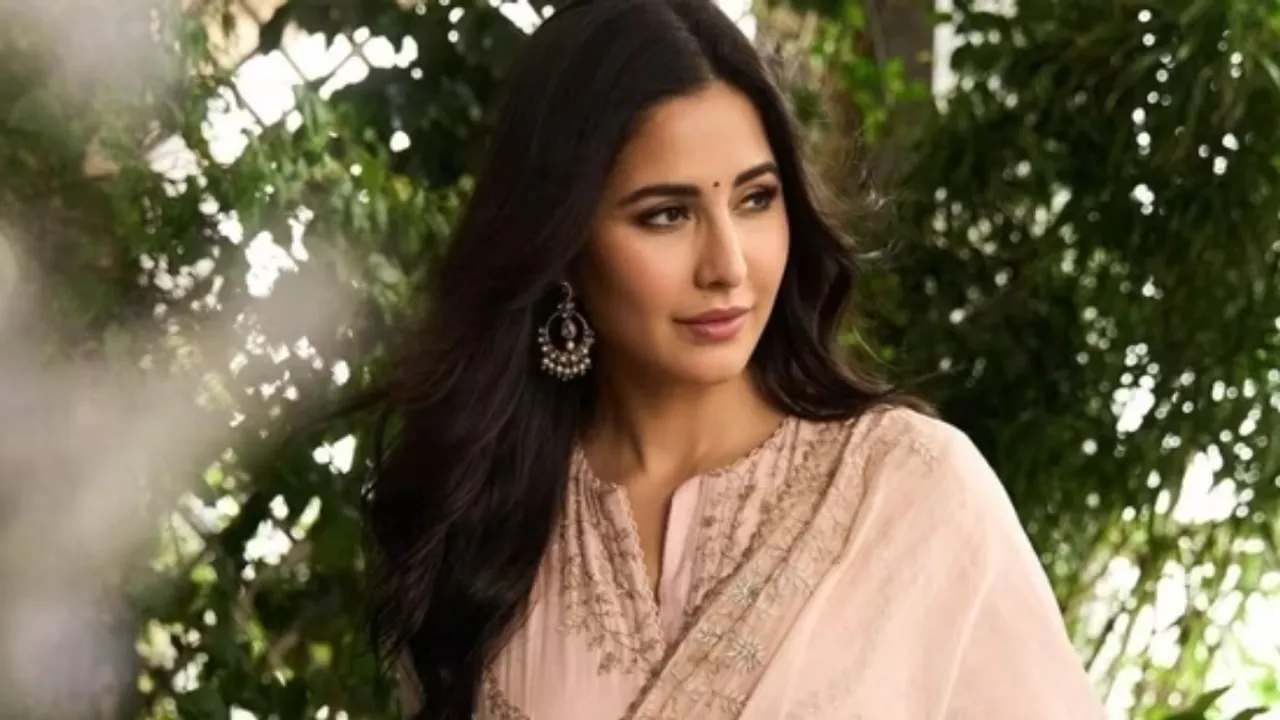 Katrina Kaif, the talented and beautiful Bollywood actress, recently took social media by storm with a series of stunning pictures. Dressed in a resplendent pink salwar suit, she exuded grace and elegance. The post garnered immense attention, with fans and industry friends showering her with love and admiration.
The Enchanting Pink Salwar Suit
Katrina Kaif's choice of attire for the pictures was a pink salwar suit that perfectly complemented her radiant beauty. The ensemble, paired with golden earrings, accentuated her flawless features and added a touch of glamour to the overall look. Her fashion choices have always been on point, and this outfit was no exception.

The Reaction of Vicky Kaushal
Katrina's husband, Vicky Kaushal, couldn't help but express his adoration for his gorgeous wife. He reacted to the pictures with heart and hug emojis, showcasing his love and support. Their relationship has been the talk of the town, and this sweet gesture from Vicky only adds to the charm of their bond.
Words of Admiration from Shraddha Kapoor
Katrina's fellow actress, Shraddha Kapoor, couldn't contain her admiration for the pictures. She wrote, "Beauty!!!" in the comments, appreciating Katrina's stunning appearance. It's heartwarming to see the support and camaraderie among Bollywood celebrities.
Upcoming Project: 'Tiger 3'
Amidst the buzz surrounding her mesmerizing pictures, Katrina also shared exciting news about her upcoming project, 'Tiger 3'. She will be starring alongside Salman Khan in this highly anticipated film. The duo has previously delivered several blockbuster hits together, including 'Ek Tha Tiger' and 'Tiger Zinda Hai'. Fans are eagerly awaiting their on-screen reunion.
The Intense Avatars
The first glimpse of 'Tiger 3' was revealed through a captivating poster shared by both Salman and Katrina on their respective social media handles. The poster showcases the duo in their intense avatars, brandishing guns with determination. The chemistry between Salman and Katrina has always been electrifying, and this poster only amplifies the excitement surrounding the film.
The Director and Production House
'Tiger 3' is being helmed by Maneesh Sharma and produced under the renowned Yash Raj Films banner. Sharma's directorial expertise, combined with the production house's track record of delivering blockbuster movies, sets the stage for a thrilling cinematic experience.
Reunion of Salman and Katrina
'Tiger 3' marks the reunion of Salman Khan and Katrina Kaif after their last collaboration in the 2019 film 'Bharat'. Their on-screen chemistry has always been a major highlight of their movies, and fans are eager to witness their magic once again. With their undeniable talent and star power, it's no surprise that their collaborations have been box office hits.
Exciting Projects on the Horizon
In addition to 'Tiger 3', Katrina has a couple of other exciting projects in the pipeline. She will be seen in Sriram Raghavan's film 'Merry Christmas' alongside acclaimed south actor Vijay Sethupathi. The film promises to be an intriguing blend of talent and storytelling. Furthermore, Katrina is set to star in Farhan Akhtar's upcoming film 'Jee Le Zaraa', where she will share the screen with powerhouses Alia Bhatt and Priyanka Chopra. These projects highlight Katrina's versatility as an actress and her ability to take on diverse roles.
Conclusion
Katrina Kaif's recent pictures in a pink traditional suit have captivated the hearts of her fans and industry peers alike. With her impeccable sense of style and innate beauty, she continues to be a fashion icon and a beloved figure in Bollywood. As fans eagerly await the release of 'Tiger 3' and her other upcoming projects, Katrina's star continues to shine bright in the world of Indian cinema.