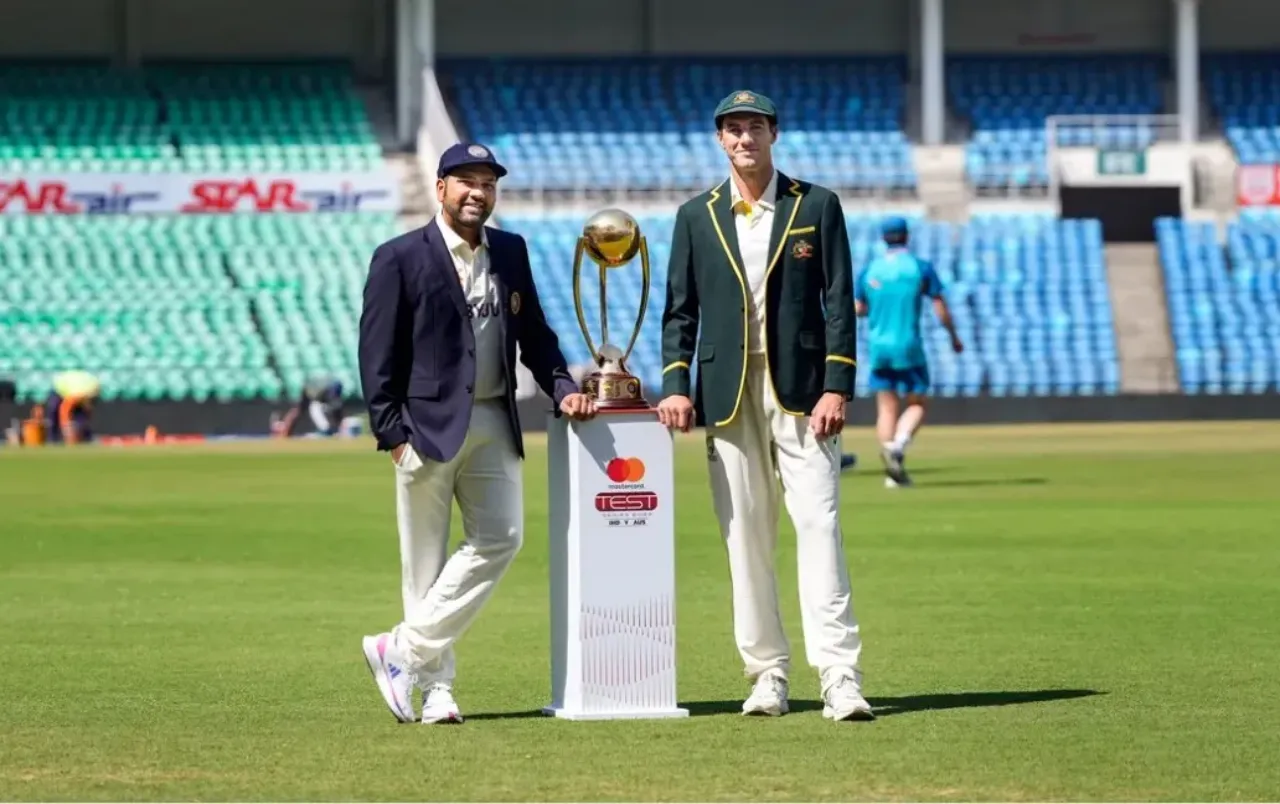 WTC 2023 Final: IND vs AUS
  World Test Championship IND VS AUS

AUS won the WTC 2023 Final by 209 runs



  IInd Innings
 
 AUS
  270/8 (84.3)
 IND
  234/10 (63.3)
  Ist Innings
 
 AUS

  469/10 (121.3)

IND
 

296 (69.4)

          Toss
 India opted to bowl 
          Player of the Match
  Travis Head

The highly anticipated WTC final of 2023 is being played at The Oval in London, where the cricketing giants India and Australia will go head-to-head in a thrilling battle. Leading the charge for India's WTC final 2023 campaign is none other than Rohit Sharma, while Pat Cummins is leading the Australian team in this crucial game. The ultimate victors of this match will be crowned as the undisputed champions of the World Test Championship for the years 2021-2023. The highly anticipated game will be played from 7th June to 11th June 2023.
WTC Final IND vs AUS Day 5 Highlights
Today marks the final day of the highly anticipated WTC 2023 championship match, and all eyes are on Virat Kohli and Ajinkya Rahane as they prepare to resume their innings on the fifth day. The excitement surrounding the WTC has been unparalleled, and fans around the world are eagerly awaiting the outcome of this historic match.
India's batting performance today had a rough start as they suffered the loss of two key wickets - Virat Kohli and Jadeja - in the early overs of the game. Kohli missed out on scoring a half-century by just one run, managing to score 49 runs off 78 deliveries with seven boundaries. Unfortunately, Jadeja was unable to score any runs and made his way back to the pavilion with a score of zero. Ajinkya Rahane contributed 46 runs to the team score off 108 balls, featuring seven boundaries before departing. The Indian team managed a total of 234 runs and got all out in 63.3 overs. As a result, Australia won the Test series by a margin of 209 runs.
Australian bowlers Lyon taking four wickets, Boland securing three, Starc capturing two and Cummins managing to take only one wicket. However, there was a controversial moment during the match when Shubman Gill fell victim to a biased decision made by the third umpire. 
WTC Final IND vs AUS Day 4 Highlights
The fourth day of the match has kicked off, with Green and Labuschagne resumed their inning. Labuschagne was dismissed after adding 41 runs to the scoreboard off 126 balls. The wicket was claimed by Umesh Yadav. Further, Jadeja dismissed Green. Australia declared their inning at the score of 270 runs and when they had lost eight wickets.
During the second inning, Jadeja managed to secure three wickets, while Umesh and Shami also proved their skills by taking two wickets each. Additionally, Siraj contributed to the team's success by taking one wicket.

India began their pursuit of the 444-run target in their second innings. However, controversy arose when Shubman Gill was caught by Green at a team score of 41 runs. While live video footage showed that the tall Australian's fingers were split and the ball had clearly touched down on the ground, the third umpire adjudged it as a clean catch and announced Shubman Gill as "OUT". This decision sparked a debate on social media with fans calling it an 'Unfair Decision'. Despite this setback, the young Indian talent had managed to score 18 runs off 19 balls with two boundaries and an impressive strike rate of 94.74.
Cheteshwar Pujara joined Rohit Sharma at the crease and together they formed a solid partnership, adding 51 runs off 77 balls. Rohit played exceptionally well, scoring 43 runs off 60 balls, including seven boundaries and a six. Unfortunately, Rohit was dismissed and had to return to the pavilion. Pujara continued to play with determination but eventually got caught out after contributing 27 runs off 47 balls, hitting five boundaries in the process.
Virat Kohli and Ajinkya Rahane are at the crease.
WTC Final IND vs AUS Day 3 Highlights
On the third day of the WTC final, India resumed their innings with high hopes. However, to everyone's disappointment, Bharat was bowled out on the very first ball of the day.
Ajinkya Rahane displayed an impressive performance, scoring 89 runs off 127 balls, which included eleven boundaries and one sixer. Unfortunately, Cummins dismissed him and sent him back to the pavilion. Ajinkya Rahane has achieved a significant milestone by completing 5000 runs in Test cricket. This is a testament to his skill and dedication on the field, and it's an achievement that very few players can claim to have accomplished. Congratulations to Rahane for reaching this impressive feat!
Following his dismissal, Umesh came in to bat but was unable to contribute much as he was dismissed for just 5 runs. Shardul Thakur managed to score 51 runs off 109 balls with the aid of six boundaries. Australian bowler Cummins took three wickets. Green, Starc and Boland took two wickets each. 
The Australian Team began their second inning with a disappointing start, losing the wicket of David Warner(1) to Siraj's excellent bowling skills. Umesh took the wicket of Khawaja(13).  Smith(34) and Head(18) were dismissed by Jadeja and sent back to the pavilion. The day's play has come to an end, with Green and Labuschagne still at the crease. Tomorrow, they will resume their innings.
WTC Final IND vs AUS Day 2 Highlights
Australia continued to play their innings on Day 2 of the match. Steve Smith completed his century with an impressive score of 121 runs off 268 balls. Meanwhile, Travis Head scored a remarkable 163 runs off just 174 balls before returning to the pavilion. Overall, Australia put up a strong performance with a total inning score of 469 runs in over 121.3 overs.

During Australia's innings, Mohammed Siraj demonstrated an exceptional performance by taking four wickets, the highest of all. Additionally, Mohammed Shami and Shardul Thakur also contributed by each taking two wickets. Ravindra Jadeja rounded out the team effort by securing one wicket for India against Australia.
The Indian team began their chase of 469 runs with openers Captain Rohit Sharma and Shubman Gill taking the field. However, their innings were cut short as both players returned to the pavilion quickly. Rohit managed to score 15 runs off 26 balls while Shubman scored 13 runs off 15 balls before being bowled out by Boland. The wicket of Rohit Sharma was taken by Australian Captain Pat Cummins. Both Rohit and Shubman hit two boundaries each in their inning. Continue to the inning, Cheteshwar Pujara made an appearance but unfortunately, his performance was not up to par and he returned to the pavilion after scoring only 14 runs off 25 balls. Subsequently, Virat Kohli followed suit by scoring 14 runs off 31 balls and getting caught out. 

Ravindra Jadeja came close to scoring a half-century but fell short by just two runs. During his innings of 48 runs off 51 balls, he hit seven boundaries and one sixer. Currently, Ajinkya Rhane(29) is on the crease along with KS Bharat(5).
WTC Final IND vs AUS Day 1 Highlights
Opting to bowl first after winning the toss, India watched as Australia's opening batsmen David Warner and Usman Khawaja took to the crease. Unfortunately for Khawaja, he failed to make a mark on the scoreboard after facing 10 balls. However, Marnus Labuschagne and Warner managed to form a solid partnership of 69 runs off 108 balls after the early setback. Although Warner scored an impressive 43 runs off 60 balls with eight boundaries, he eventually departed. Labuschagne followed suit by scoring 26 runs off 62 balls before returning to the pavilion. Further, Travis Head played an exceptional inning, scoring 146 runs off 156 balls, which featured 22 boundaries and one sixer, and he remained unbeaten for the day. Steve Smith is on the verge of achieving his century as he is just five runs short. With the game at its 85th over and the team's score at 327, they decided to call it stumps.
The Indian bowlers displayed their prowess as Mohammed Siraj managed to take the wicket of Khawaja at zero run, Shami successfully bowled out Labuschagne, and Shardul Thakur effectively sent Warner back to the pavilion.
INDIA: India's impressive performance in the World Test Championship saw them climb up to second place in the points standings with a PCT of 58.80. Led by both Virat Kohli and Rohit Sharma over the course of 18 matches during WTC 2023, India won 10, lost 5, and drew 3 games to secure their spot in the playoffs. This outstanding record allowed India to rise through the ranks and earn a well-deserved place amongst the top contenders in the championship.
AUSTRALIA: Australia has emerged victorious in the race for World Test Championship points, securing their qualification for the upcoming WTC championship match. In a total of 19 Tests across 6 series, Australia displayed an outstanding performance by winning 11 games and losing only 3. Additionally, they managed to draw five games. With a remarkable win percentage of 66.67, Australia outclassed every other team in the league.
IND vs AUS Head-to-Head Record
The cricket rivalry between India and Australia is one of the most intense in the sport, with 106 Test matches played between them to date. Out of these, Australia has won 44 matches while India has triumphed in 32 games. The two teams have settled for a draw in 29 matches, and one game ended in a tie.
IND and AUS Playing XI's
India squad: Rohit Sharma(c), Shubman Gill, Cheteshwar Pujara, Virat Kohli, Ajinkya Rahane, KS Bharat(wk), Ravindra Jadeja, Shardul Thakur, Umesh Yadav, Mohammed Shami, Mohammed Siraj
Reserve Players: Ishan Kishan(wk), Axar Patel, R Ashwin, Jaydev Unadkat

Australia squad: Pat Cummins(c), Alex Carey (wk), Cameron Green, Scott Boland, Marnus Labuschagne, Travis Head, Usman Khawaja, Nathan Lyon, Steve Smith(vc), Mitchell Starc, David Warner
Reserve Players: Josh Inglis, Todd Murphy, Michael Nesser, Marcus Harris